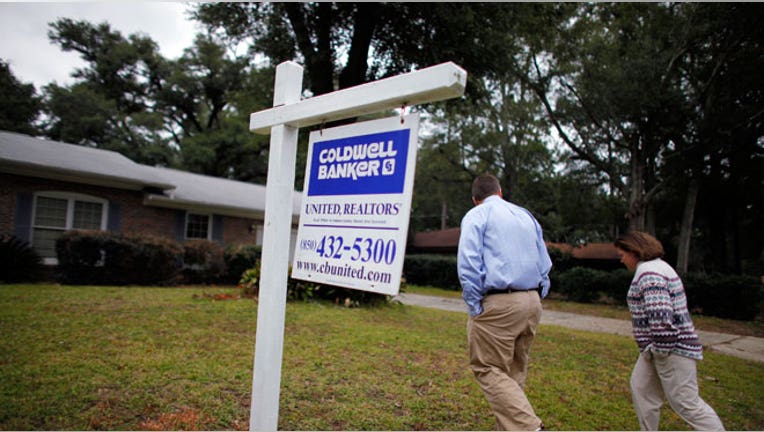 Deflated home prices and near record-low interest rates have many young homebuyers looking to jump into the housing market, and experts say, now is the time to make the leap if they afford it.
According to Trulia's year-end 2012 American Dream survey, 93% of millennials (those born between 1980 and 2000) want to own a home someday and if they're diligent about saving, they could fulfill this dream sooner rather than later.
"Savings rates have gone up, rates are low, people are still afraid of the stock market so it could be a good time to make a move," says Michael Goodman, certified public accountant and president at Wealthstream Advisors.
Saving for a down payment and buying a home requires a lot of fiscal responsibility and planning to avoid overcommitting to a house. "You have to have a plan in place," warns David Giancola, director for Merrill Edge. After all, there's more to being a homeowner than just paying a monthly mortgage.
Before a millennial buys a home, experts suggest evaluating whether you are ready to make the commitment.
How Much Can You Really Afford?
Before launching the hunt, it's important to know how much you can afford and still be able to save and continue your lifestyle. Giancola suggests meeting with a mortgage broker to talk about how much you can borrow.
"There are never-ending homeowner costs," says Michael Corbett, Trulia's real estate expert. Mortgage payments comprise two-thirds of all your home-buying expenses and the rest of the budget will need to cover taxes, homeowner's insurance, hazard insurance, utilities, maintenance and for some, Home Owner's Association (HOA) fees. "The HOA fee might cover the common grounds but that does nothing when you have a leaky roof or what's inside your walls."
Once you know how much you can afford each month and the mortgage balance, a mortgage lender can tell you the down payment required for that loan.
When it comes to buying a home, Corbett warns against overextending. "Whatever the bank will lend you, take 20% less," says Corbett. If the bank says you can afford a $200,000 home with a $160,000 mortgage, borrow 20% less and buy a home that's 20% less. "Even if rates are low, don't overextend." By borrowing less, you won't have to save as much for a down payment and emergency fund and can buy the house sooner.
Once you know the down payment amount, factor in a 5% higher number as a buffer when you close the loan, says Giancola. "Set a timeframe and back into what you need to save each month to hit that mark—then you create a budget."
What are your income and expenses?
To determine your budget and what you can afford, subtract your monthly expenses from your monthly revenue.
"There are two ways to increase your bottom line—increase income or decrease expenses," says Goodman. Be very disciplined and keep your spending within what you earn to avoid racking up too much debt or becoming "house poor"
Find some unexpected income sources. To help save for a down payment and emergency fund, certified public accountant Ernest Almonte, suggests asking for cash instead of physical gifts during holidays, and put this money towards your new house.
What are your expenses? To boost your budget, reduce your expenses for a couple years before you plan to become a homeowner. "Ask yourself how important it is for you to own that home," says Giancola.
There are fixed expenses, like rent, food and heat and then discretionary, like entertainment—know what these are, says Goodman. "The reality is that until you get a handle on your expenses, you can't get a handle on what you can save."
As you go through your budget, Almonte suggests reviewing every line item to figure out what you can do without. Prioritize your expenses and make sacrifices, says Almonte. Eat more at home and take lunch to work. Cut back on gym memberships, cell phone plans, one-time purchases, travel, entertainment and cable TV. "Go through every single expense and pay yourself first."
Rent would be replaced by a mortgage but you may still be able to save here, says Almonte. "If you're renting a two bedroom home, take in a roommate or move to a one bedroom and save that money towards a down payment."
To keep yourself on track, use software tools or websites so you don't overspend, suggests Goodman. "Hypothetically speaking, if you put your dining threshold at X, you get an email if you exceed it."
How do you save? "People underestimate the value of small savings over time—it adds up," says Goodman.
Make your tax return part of your down payment savings and put money into your down payment fund each time you use the ATM, says Giancola. "Make it fun. Once that money really starts to grow, you'll feel proud."
Through this, continue to contribute to retirement plans. Goodman suggests pulling back on the reigns for a little bit only if you've maxed out your contributions every year since you started working. Borrowing some money from your 401(k) for your down payment is okay as long as you're able to pay the loan back, says Goodman. "You have to have a disciplined strategy to put it back."
Where to keep your home savings
Open up an interest savings account at a local bank to grow your home-buying account, recommends Giancola. "When you figure how much you need to save each month, set up automatic transfers so you're not even seeing it as part of your budget."
As the money starts to accumulate, start looking at money markets and CDs and ladder them out, he adds. "Don't risk money you're saving for the down payment of a house." Experts advise against investing this money in the stock market.
Does it make financial sense to buy a home now?
Consider how much you're borrowing and how you plan to pay the money back—this decision has to make sense, says Goodman. "Don't [buy a home] because you're emotionally attached to something."
Assess your job's stability and whether you'll have a job in three to five years or if you've a major expense in the next few years, says Almonte. Consider whether now is really the best time for you to use your savings for a home
Qualifying for a mortgage can be difficult and you want to know what your payments would be today and 10 years from now. "If you can't put 20% down, it means you're not really ready to buy a house," says Corbett.