Attention College Grads: Protesting Won't Get You a Job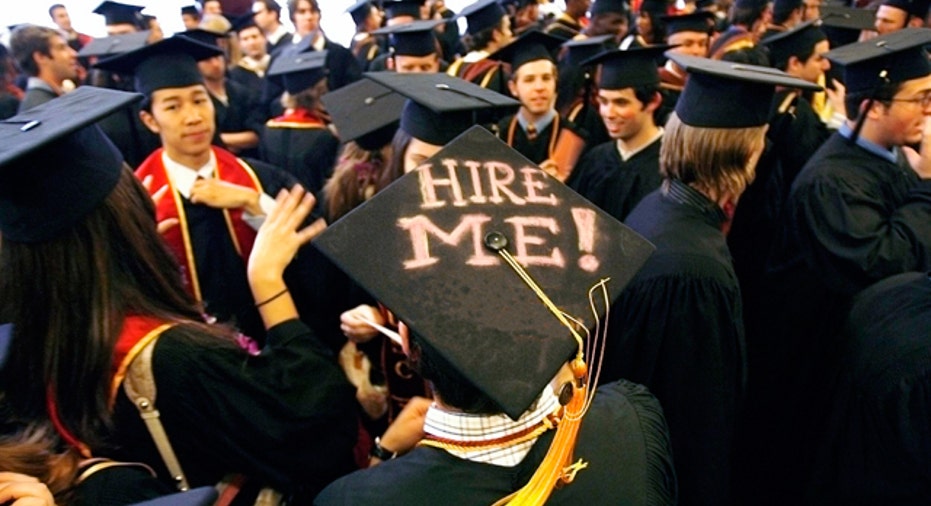 As we've learned from their signs in New York's Occupy Wall Street protest and in related protests across the country, college graduates are disillusioned by their inability to find work in their areas of study. Many grads believed that their degrees were guarantees that they'd land a quality job.
Grads are so incensed that they've even taken legal action: A group of graduates from Thomas L. Cooley Law School in Lansing, Mich. and New York Law School in Manhattan have filed lawsuits against their alma maters. The grads claim that the schools misrepresented their chances of being able to find jobs upon graduation.
The key takeaway from these unhappy anecdotes is that in our current job market, the achievement of a college degree is not an automatic ticket punch to a well-paid dream job, let alone any job.
The problem lies in an incorrect assumption that grads understood to be a reliable expectation: upon graduation, a challenging, well-paying job that was commensurate with their intelligence and abilities would be awaiting them. It's almost as if the grads thought of their college or graduate degrees as claim stubs that they could use to pick up ample offers, and there'd be a smooth transition from academia to gainful employment. Like getting hired was part of the tuition arrangement; it was due to them.
Apparently, the grads confused the idea of being "qualified" with being "entitled." And in this job market, it's abundantly clear that a degree qualifies grads for an entry-level job in their respective fields; the degrees do not entitle them to it.
After racking up massive tuition bills and spending thousands of hours studying and working diligently for four years (and more, for some), is the inability of grads to get hired demoralizing to them? Absolutely. Is it infuriating? Completely. But unfortunately, there's no Judge Judy of employment who can make things right for young job seekers. With no courtroom where they can air their grievances and receive an equitable resolution, jobless grads must instead create a smart plan to help them overcome their challenging situations, rather than protest about the injustice of it all.
The first thing that the grads must do in order to productively confront their employment difficulties is to completely let go of the whole entitlement thing. By obsessing about it, they become increasingly frustrated, anxious, and embittered – attitudinal baggage that's extremely unattractive to a prospective employer. Grads need to understand that irrespective of whether or not a seamless glide from classroom to office cubicle was a reality for past grads, it's not a reality for current grads and may not be for grads in the foreseeable future.
Once cleansed of the off-putting odor of entitlement, grads have to learn that the smartest and fastest way to get hired isn't by presenting themselves as desperate job applicants who want to be given an attractive offer, but rather energetic problem solvers who are eager to provide a needed solution.
In other words, grads need to be less consumed by their own needs, and more attuned to the unique needs of their prospective employers.
This is a tall order for many young 20-somethings; for the majority of their lives, their priorities were paramount. They identified objectives, built strategies to conquer them and set about achieving their goals. Their years were spent attaining one impressive accomplishment after the next, with the ultimate prize being exciting post-graduation employment.
But employers don't care about the priorities of grads: They're concerned about their own priorities, which include generating revenue, saving revenue, and increasing brand awareness. If a job candidate can factually and convincingly explain how he offers the potential to deliver on those goals, then that candidate will be seriously considered. If the candidate is preoccupied by his own needs and is unable to make a case for how he can produce the needed benefits for an organization, he will never be hired by that organization.
The methodology of presenting one's self as the best solution to help an organization achieve its unique goals requires planning, innovative thinking, and deep research – valuable skills which grads successfully utilized throughout for their entire academic careers. If they approach the job search process with the same strategic intellect, ingenuity, and energy that they applied to their studies, they'll gradually begin to see positive results and position themselves closer to the job offer that they want.
Rafe Gomez is business strategy and marketing communications consultant, and the author of the audiobook WHAT'S IN IT FOR ME? Follow him on Twitter at @rehirementcoach.