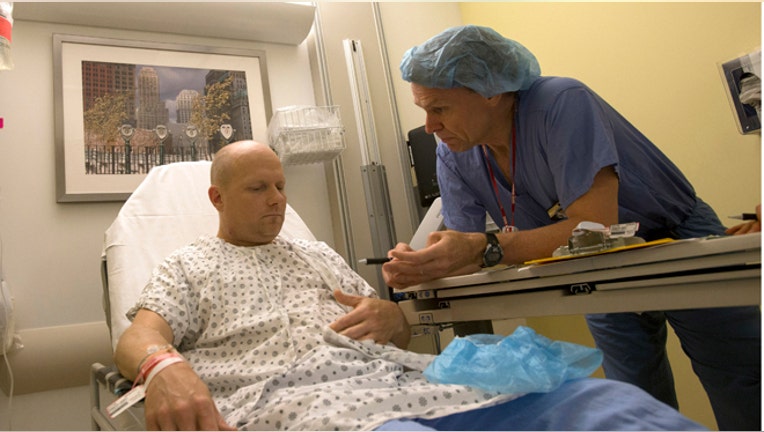 The latest Republican attempt to strip down the individual mandate provision of the Affordable Care Act has seniors on Medicare and doctors caught in the middle.
Members of the House of Representatives  will vote Friday on a bill that would bring a 24% pay cut to physicians if the individual requirement to have health insurance isn't delayed. Lawmakers often pass what's called a short-term "doc fix" to prevent annual cuts to Medicare provider payments, which can lead to less doctors accepting the insurance. The cut is scheduled to go into effect on April 1 if Congress doesn't pass a fix.
Last week, the Republican-led House voted on the 50th bill that would repeal or scale back President Obama's signature legislation, but the likelihood of such a bill passing the Democratic Senate and White House is near impossible, experts say.
Under the individual mandate, every person in the country has to have insurance by the end of open enrollment period on April 1, or they will face a fine of $95, or 1% of their annual income for failing to comply.
Rep. Renee Ellmers, (R-NC), one of the co-sponsors for H.R. 4118, says there are more than 100 bipartisan co-sponsors in the House for the legislation, and that more than 700 state and national medical groups support it. Congress has been doing short-term fixes on how physicians are reimbursed under Medicare (known as Sustainable Growth Rate) for several years, this bill would formalize payments for the next five years, avoiding any potential doctor pay cuts. However, the inclusion of the delay makes it unlikely the bill will land on the president's desk.
Ellmers insists the bill "has little to do with ObamaCare" and instead is about Medicare and stabilization for doctors.
"We propose to put forward a bill that repeals, or pulls back the individual mandate, but this is all focused on Medicare," Ellmers says. "The bill prevents a major cut that is about to expire. It's been years and years of this scheme and cuts to Medicare reimbursement hanging out there."
Putting "short-term fixes" in place costs taxpayers more in the long-run, she adds.
"My hope is that if we can get to a conference committee that can repeal the SGR in full, and put us in a position where we can continue to reimburse our doctors," she says.
The only thing standing in the way, she maintains, is Senate Majority Leader Harry Reid (D-NV).
House Minority Leader Nancy Pelosi, (D-CA),  released a statement Friday chastising the bill.
"This bill represents a new low, even for House Republicans.  Evidently, the 50th vote to repeal or undermine the Affordable Care Act wasn't enough to satisfy their fixation with tearing down the law that is providing quality, affordable health coverage to millions of Americans across the country.
"Now, House Republicans are turning their toxic, empty partisanship onto the health care of America's seniors," Pelosi spokesperson Drew Hammill said in a release. "The Republican leadership is threatening to blow up bipartisan, bicameral progress towards a permanent Medicare 'doc fix,' steering the health and security of our nation's seniors into a legislative dead-end.  America's seniors deserve better than this cavalier and craven treatment, but Republicans are committed to playing politics with this essential issue.  Time is running out, and if Republicans do not come to their senses by the end of the month, seniors will be turned away from their doctors and cut off from the health care they need."
Dan DiSalvo, senior fellow at the Manhattan Institute's Center for State and Local Leadership, says the GOP needs to strike a broad political balance if it wants to strip down health reform if it wants to keep its base.
"The ACA is not popular with a large slice of Americans, so [this bill] is keeping that in the news. And as a messaging tool, Republicans continue to stand against the one particular feature of it, the individual mandate, which is a good strategy going into the midterm elections."
However, he warns that repeatedly trying to revoke already-passed and largely-enacted legislation could also back fire down the road. "Continuing to press this issue means the party can look like it is all against things, and doesn't have an agenda of things they are for," he says.
And the chances of this bill getting through the Senate are next to impossible, DiSalvo predicts.
"Look at the broad lay of the political landscape," he says. "The president being re-elected meant the ACA would go into effect [in 2012]. For Republicans to go back on this, they have to capture the Senate and the White House."