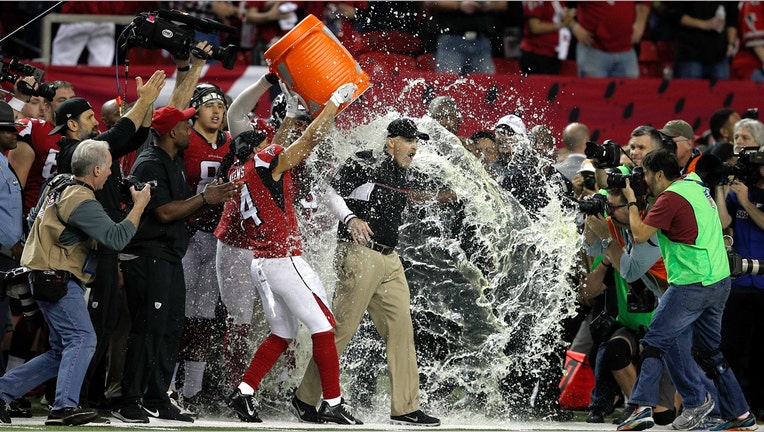 Of all the traditions football fans have come to expect on Super Bowl Sunday, perhaps none is more anticipated than the "Gatorade dunk" that awaits the head coach of the winning team as time expires.
For Gatorade, the surprise sports-drink baths at the end of the Super Bowl have been a massive marketing coup. Since 1987, 20 of 30 Super Bowls have featured a Gatorade dunk by the victorious team near the end of regulation. Those 20 instances have generated more than $17 million in equivalent advertising value across television, radio and other mediums, according to calculations by Apex Marketing, an analytics firm.
"Gatorade has been provided with a unique proprietary eponym and a marketing windfall in everyday discussions," Eric Smallwood, president of Apex Marketing Group, told FOX Business. "No matter what the cooler branding has on it, or what the actual liquid is in the cooler, it is widely known as the Gatorade dunk, reaping the sports drink more unpaid brand value across all levels of sports."
The tradition began during the 1986 NFL season, when New York Giants linebacker Harry Carson started pouring coolers of Gatorade over the head of head coach Bill Parcells after victories. Even Gatorade officials were surprised – the sports drink brand didn't have a direct hand in its invention.
The first-ever championship Gatorade dunk occurred in January 1987, when Carson doused Parcells after the Giants triumphed over the Denver Broncos in Super Bowl XXI by a score of 39-20.
"While I wasn't with Gatorade at the time that the dunk began to pick up speed, I've heard from long-time employees that there was some debate about how to handle the astounding publicity windfall, whether to encourage it or just let it be on its own," Brett O'Brien, senior vice president and general manager of the Gatorade brand, told FOX Business. "I am really happy we have all decided to celebrate it through the years, as it's a great expression of pure joy in sports after such extremely hard work throughout a season."
Through it started as a lucky break, the Gatorade bath has become a signature element of the Pepsi-owned brand's dominance of the sports drink market. Gatorade controls anywhere from 70% to 80% market share, dominating competitors like Powerade and BodyArmour. The brand also sponsors many sports leagues and organizations, including the NFL, MLB and NBA.
"The brand is proud that the Gatorade dunk is a beloved football ritual, as much a part of the game's iconography as players' end-zone spikes and celebrations," O'Brien said.