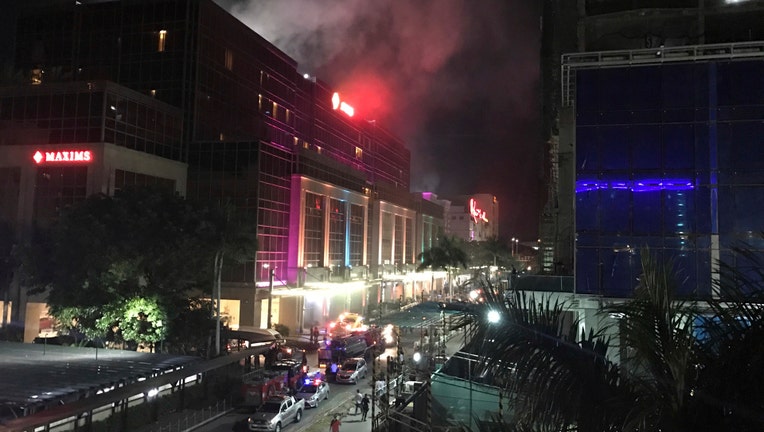 At least 36 people died after a gunman burst into a Manila casino, firing shots and setting gaming tables alight, a spokesman for the Philippine president said on Friday, in what officials believe was a botched robbery attempt.
There was no evidence linking the attack at the Resorts World Manila entertainment complex to fighting between government troops and Islamist militants in the country's south, said Ernesto Abella, a spokesman for President Rodrigo Duterte.
Resorts World Manila is currently on lockdown following reports of gunfire from unidentified men.

— Resorts World Manila (@rwmanila) June 1, 2017
The country has struggled with turmoil in the Mindanao region, due to the presence of terror group Abu Sayyaf, an affiliate of both al-Qaeda and ISIS. Intel officials estimate that an alliance of at least 10 Islamist militant groups have a heavy presence in the southern Philippines.
Last week, the Philippine military launched a failed attempt to capture the Isnilon Hapilon, the self-proclaimed ISIS leader in the Philippines. Late last month, ISIS-linked militants carried out a series of attacks in the southern part of the country.
The U.S. plays a large role in security in the country, providing $441 million in security funding to the Philippines from 2002 to 2013. In 2014, the U.S. and the Philippines signed a 10-year accord allowing the U.S. to establish military bases in the Philippines.
The country is a popular tourist destination with 650,000 Americans visiting the country each year. About 220,000 Americans, many of them military veterans, live in the island nation, according to State Department figures.
Today, the two countries have a strong trade and investment relationship, with over $25 billion in goods and services traded. In late April, U.S. President Donald Trump invited Philippine President Rodrigo Duterte to the White House.