Ashland Sheds Water Tech Business in $1.8B Deal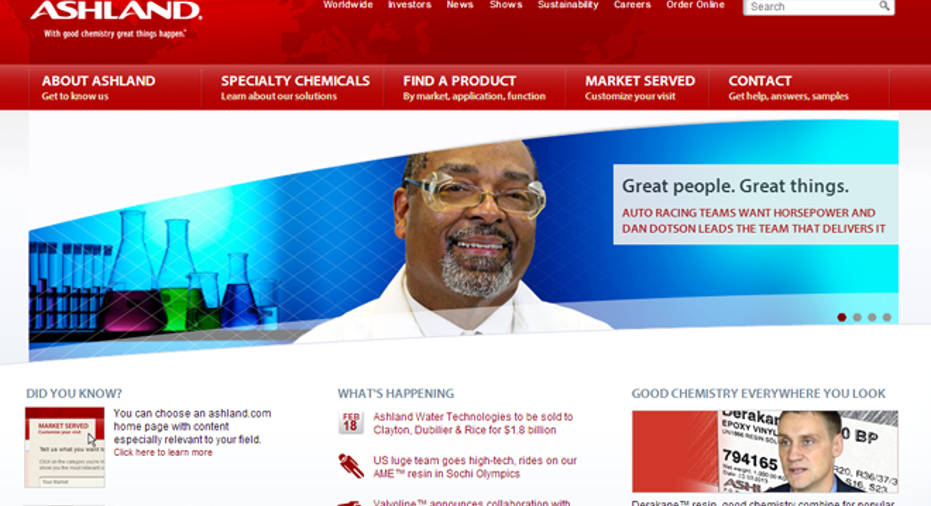 Specialty chemicals maker Ashland (NYSE:ASH) agreed to sell its water technologies business to private investment firm Clayton, Dubilier & Rice on Tuesday in a deal valued at $1.8 billion.
Covington, Ky.-based Ashland is anticipating net proceeds of roughly $1.4 billion from the sale, which it says will be used to fund stock buyback programs.
On Tuesday, its board authorized a new $1.35 billion repurchase program, effective immediately through Dec. 31, 2015, replacing an older $600 million authorization of which there was $450 million remaining.
"This divestiture allows us to focus on our core specialty chemicals business and to accelerate return of capital to shareholders, while Water Technologies should have an opportunity to invest in continued growth under new ownership," Ashland CEO James O'Brien said in a statement.
The transaction is expected to close by Sept. 30, the end of Ashland's current fiscal year, pending customary regulatory approvals and other conditions.
Shares of Ashland were up 1.1% to $97.26 in recent trade.
Operating under 3,000 global employees, the water technologies business, which supplies specialty chemicals and services to the pulp and paper and industrial water markets, recorded annual sales of $1.7 billion in its most recent fiscal year.
"Water Technologies has shown tremendous improvement over the past year, and I believe it is well positioned to build on that momentum under Clayton, Dubilier & Rice ownership," O'Brien said.
Citi (NYSE:C) is acting as financial advisor to Ashland.