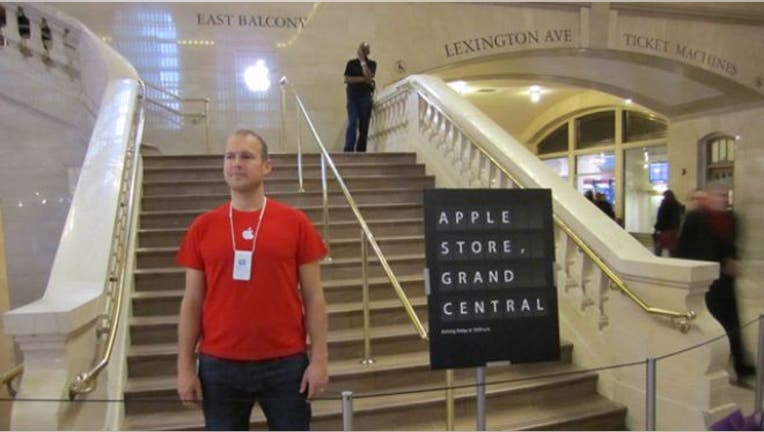 Amid all the hoopla surrounding Apple's (NASDAQ:AAPL) surging stock, one brokerage is taking a backseat to the excitement and warning there may be rougher sledding ahead than some predict.
BTIG downgraded Apple to "neutral" from "buy" on Monday, citing concerns that expensive subsidies used by telecom companies to lure new customers will lead to fewer upgrades, and ultimately, a decline in sales.
The warning comes despite BTIG's belief that Apple will score yet another blow-out quarter when it reports earnings later this month. The tech giant's stock continues to soar to new highs and some bullish analysts have upped their price target to $1,000 and beyond.
The brokerage predicts Apple will earn $10.75 a share during the second quarter on revenue of $40 billion. That would beat average analyst estimates in a Thomson Reuters poll of $9.80 a share on sales of $36 billion.
BTIG also maintains the view that Apple is the primary beneficiary of an accelerating global growth trend as more people adopt smartphones. That is especially notable considering global penetration of smartphones has not yet even reached 30%.
However, BTIG is concerned over the squeezed margins faced by post-paid wireless companies such as AT&T (NYSE:T) and Verizon Wireless, as well as the sustainability of a $600 iPhone.
"Given the run up in Apple's stock and the consensus estimates, we think now is a good time to more carefully consider how it will capitalize on the next and likely much larger leg of growth in the industry and prepare for the inevitable bumps that may occur on the way," BTIG analyst Walter Piecyk said in a note.
Carriers' profit margins have narrowed in recent years because of smartphones, particularly the iPhone, which has high upgrade fees. Wireless companies that were once eager to offer cheap upgrades and subsidies on new phones in an effort to drive up the average monthly bill of their customer base are now starting to pull back some of those efforts.
AT&T, which reported a $6.7 billion loss in January on its failed takeover of T-Mobile and subsidies, doubled its smartphone upgrade fee to $36 in February.
Piecyk expects quarterly upgrade rates to contract further in the second quarter based on "typical wireless seasonal trends and likely increased speculation on the anticipation of a new iPhone in the second half of the year."
As operators charge more for upgrades, sales of iPhones are expected to decline in the second quarter. Even smaller carriers like Sprint (NYSE:S) are expected to lose iPhone sales, which BTIG said is based in part on changes to its upgrade policies last year.
Piecyk notes sales could slow ahead of the iPhone 5 launch, which is expected later this year, similar to how sales slowed in Apple's third quarter last year ahead of the iPhone 4S launch.
Meanwhile, wireless operators are expected to try even harder to promote Apple alternatives such as Microsoft's (NASDAQ:MSFT) Windows phone or Nokia (NYSE:NOK) products to try and relieve the pressure on their earnings.
"These two giant companies and former industry leaders will clearly be putting significant resources behind any new product launched," Piecyk said. "We expect wireless operators to join in that investment as they increasingly fear Apple's stranglehold on their margins."
BTIG says its projection will not be supported in the current quarter, during which the iPhone will launch in 30 new markets. China is still hungry for the iPhone, which should help drive sales.
But while the brokerage expects Apple to sell 33 million iPhones in the second quarter, it only forecasts 27.5 million in the following period, which puts its revenue view about a billion dollars below the consensus.
Of course, the iPhone isn't Apple's only star product. The company saw a surprising amount of demand for the new iPad it launched earlier this year. However, as Piecyk notes, the "iPad is big, but not as important as the iPhone."
Last year, the iPad generated less than half the revenue of the iPhone and BTIG expects that gap to widen in 2012.