As Online Competition Grows, Zagat.com Relaunches With More Free Features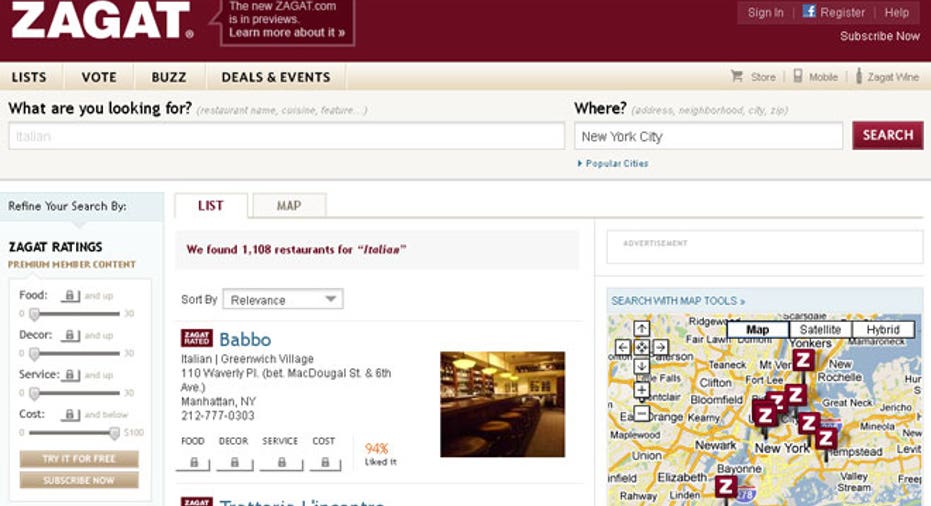 Zagat Survey has relaunched its Web site with more free content for users, amid increasing competition from free online review sites like Yelp.
The iconic restaurant reviewer updated its Web site placing more emphasis on member contributions, according to a press release.
"The free content allows any user to get search results as potent as anywhere else on the web," said Zagat Survey Co-Founder Nina Zagat in the release.
Check out FOXBusiness.com's new technology section at foxbusiness.com/technology
Prior to the relaunch, much of the site's content had been behind a pay wall that only subscribers could access.
Some new features include enhanced search tools for finding restaurants in particular neighborhoods or near certain landmarks, more member recognition for being active reviewers, member-uploaded photos, as well as third-party reviews from other publications.
Users who want full access to Zagat's ratings and reviews, however, will still need to subscribe for $24.95 per year.
But Zagat faces plenty of competition in the user-submitted review space online from several free competitors like Yelp, Urban Spoon, and Google Places.
Zagat's Web site update comes as user-review site Yelp saw 26 million visitors last month, according to comScore, as tech site TechCrunch.com pointed out.
This compares to just 269,000 during the same time for Zagat's site, TechCrunch reported.  Further, Zagat's unique visitors remained flat during 2010, while Yelp's grew from 10 million.