Armed Utah Fish House Serves Up Second Amendment Support
The owners of a Utah fish house not only serve you the eateries staple item of fish and chips, but they also pack heat in full display while waiting on tables.
Monika and Tony Siebers, the married co-owners of Utah's Sea Bears Ogden Fish House, and their four children wear kilts around their waists and guns on their hips.
"The reason we decided to open carry [our guns] was more just to start a conversation with our customers and to support the second amendment. It's a pretty normal thing in Utah; it's not as a big of a deal as it may seem to other people," Monika told the FOX Business Network's Stuart Varney.
The family first decided to obtain the right to carry firearms at their restaurant simply because it's a normal business practice in Utah.
"When we started this out, we were just getting our concealed [permits] because most businesses do that in Utah," Siebers said. He continued, "My wife was waiting for her concealed permit and while you are waiting you are not allowed to conceal a gun. You have to do open carry."
Monika Siebers started receiving a lot of comments, especially from women, who noticed the restaurant co-owner openly carrying her Smith & Wesson (NASDAQ:SWHC) Shield 9mm. Interest then spiked among women who wanted to learn more about the process of getting a concealed weapon.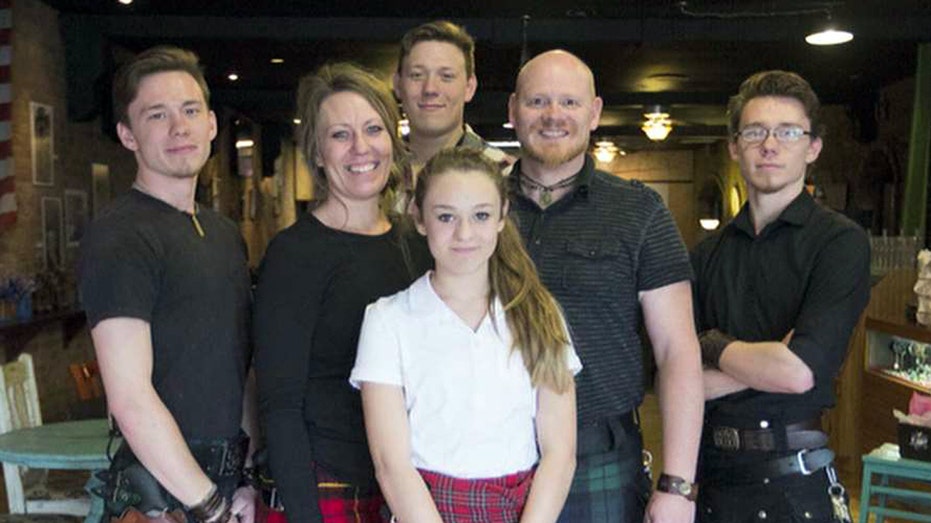 The Siebers have been serving their customers while openly caring their handguns for almost a year and recent media attention has benefited their business.
"The last week has been insane and crazy because of the press, which is welcomed. It's a little overwhelming for our little family. But, it's been very positive and people feel safe and that's the overwhelming majority of responses we've gotten," Monika concluded.
When asked by Stuart Varney the reason behind wearing kilts, Tony explained, "My grandma was Scottish and my son said we need to wear kilts and be a Scottish fish house."
The origin of the kilt dates back to the 16th century and was worn by men and boys in the Scottish Highlands as a traditional dress code. Since the 19th century, it has become associated with the wider culture of Scotland.