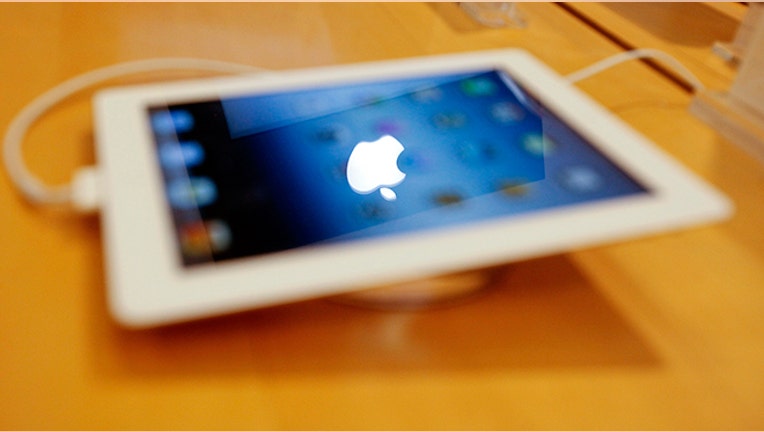 As tablet shipments for the first quarter rose 120% year-over-year, Apple's (NASDAQ:AAPL) reach of the market rose to 68%, while Google (NASDAQ:GOOG) Android devices took a hit, according to market intelligence firm International Data Corporation.
"Apple reasserted its dominance in the market this quarter, driving huge shipment totals at a time when all but a few Android vendors saw their numbers drop precipitously after posting big gains during the holiday buying season," IDC Mobile Connected Devices research director Tom Mainelli said in a press release.
Total worldwide tablet shipments for the first quarter hit 17.4 million units, up from 7.9 million in the same quarter last year, the firm said. According to IDC, Apple shipped 11.8 million iPads during the first quarter, less than the 15.4 million sold in the fourth quarter of 2011.  Despite the lower numbers, it saw its share of the tablet market rise from 54.7% to 68% during that time.
Apple's positioning of the iPad as an all-purpose tablet seems to be resonating well with buyers, said Mainelli.  This contrasts with Amazon's (NASDAQ:AMZN) more content-oriented Kindle Fire Android tablet, which saw its share of the market drop from 16.8% in the fourth quarter of 2011 to about 4% in the first quarter of 2012, handing the second place title in market share to Samsung.
Behind Samsung and Amazon were Lenovo and Barnes & Noble (NYSE:BKS), which came in at fourth and fifth place, respectively.
Barnes & Noble on Monday landed a $300 million investment from Microsoft (NASDAQ:MSFT), creating a new division of BN that will house its Nook tablet and college businesses.  Part of the tie-up includes a deal for BN to create a Nook application for Microsoft's upcoming Windows 8 operating system, which is being aimed at tablet devices.
On the Windows 8 front, which is expected to ship in the fourth quarter, IDC says the OS's impact on the tablet market is yet to be determined as pricing on upcoming tablets hasn't yet been announced.  "Consumer reception to the new OS and the success of integration with traditional Windows systems will also be critical," IDC said in the press release.