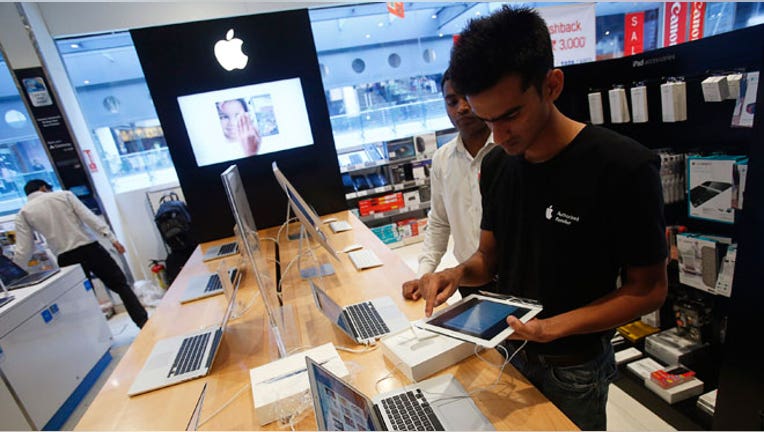 Revenue growth may have slowed last year at Apple's (NASDAQ: AAPL) retail stores, but the division remains one of the world's strongest retail chains and a key strategic focus of the tech-giant's future.
With revenue exceeding $20 billion for the fiscal year ended Sept. 28, Apple's bricks and mortar unit exceeded the total annual revenue at big name retailers such as Nordstrom (NYSE: JWN), The Gap (NYSE: GPS), or AutoNation (NYSE: AN).
The stores are practically hallowed ground for entrepreneurs who supply accoutrements for Apple's "iOSphere." They say the cache and cash flow at Apple's retail outlets combine to make it a unique and unrivaled platform for introducing their products.
"It was a game changer," Greg Appelhof, President of the Americas for Equil, says of securing shelf space in Apple stores.  "When you're launching a product specific to the iOS (Apple's mobile operating system), if you have the opportunity to start with Apple, that's the place to start,"
Equil, a new consumer products division of South Korea's PNF Co., introduced its first product, the JOT smart pen, in Apple stores in the fall.
Analysts and executives say Apple's stores not only attract a coveted customer base, they bring in motivated buyers.  The Equil exec notes, "The benefit of being in Apple is the store traffic -- the high dollars per square foot."
An analysis of data provided exclusively by research firm Retail Sails for Fox Business shows Apple's virtual registers rang up $4,650 in sales per square foot in fiscal 2013.  That's about $500/sq. foot less than the previous year but the data show Apple manages to get more out of its stores than its publicly-traded rivals at the mall, or on 5th Avenue for that matter.  Tiffany (NYSE: TIF), for example, posted sales of $2,990/sq. ft. last year while Michael Kors (NYSE: KORS) hauled in $1,746/sq. ft.  Signet Jewelers (NYSE: SIG) took in $1,276/sq. ft.
How much is enough?
Apple added 26 stores in 2013 and finished its fiscal year with 416 global locations. According to Retail Sails, the average Apple store size has increased to more than 10,500 square feet—that's up from 7,500 square feet three years ago. But the tech company reported its average revenue per store slipped to $50.2 million, down from 2012's $51.5 million, as sales growth receded, apparently in part because Apple stores are increasingly competing with each other for consumers.
"That is the issue," says Marc Heller, CEO at Retail Sails, "you get over-retailed.  It's great to add (locations) but at some point you get cannibalization.  That holds true for all the retailers."
Heller says it's an open question whether Apple has crossed that threshold, especially as he sees online sales taking more revenue away from real-world storefronts.  He also forecasts more retailers will soon shutter additional brick and mortar locations just as Macy's (NYSE: M), JC Penney (NYSE: JCP), and Sears (NASDAQ: SHLD) have all recently announced plans to do.
The retail data expert says Apple's stores have one distinct advantage over its rivals: "The experience there is second to none.  What they do is inundate the store with so much help, and the help is so educated.  It's rare you ask someone who doesn't have the answer.  The customer service is impeccable."
Curation:  An Apple Advantage?
Tom Forte, an analyst with Telsey Advisory Group, says the service, a narrow focus, and in-store availability create an Apple advantage for third-party partners. "The productivity is so much greater than the average mall store; if you can get your accessory or merchandise in there it can be a boost to your sales," he said.
"Generally speaking, the number of items in Apple Stores is so much more curated. There are fewer to choose from so there's less competition.  If you are selling a case or a speaker set you have a huge advantage (over your competition not sold at Apple stores)."
Former Apple retail head Ron Johnson famously strived to stock the stores with the "six best" accessories in a category.  Johnson said that would help customers choose from a small, hand-selected group of products which Apple thought worked best with its hardware.
Apple would not comment on its third-party partner policies, but visits to Apple locations on both U.S. coasts found only a handful of products for sale in each category.
Some consumers say they appreciate the winnowed-down, hand-picked selection of products.  "If there were 10-15 choices, I wouldn't have looked at all of them," says an Apple-user named Walker from Denver, after purchasing a pair of Philips earphones and two Apple-brand chargers at the tech company's Third Street Promenade location in Santa Monica, CA.
That is why "iOSphere" accessory makers say securing a spot in the Apple store is akin to having their products stamped with a tacit seal of approval.
"(Apple) is always looking to provide the customer with an amazing product," says Santiago Merea, co founder and Head Chef (CEO) of The Orange Chef. Merea said his startup is launching its forthcoming iOS-compatible Prep Pad smart scale in Williams-Sonoma and hopes to expand to the Apple Store, "It would be an honor to be there…As a small company, it's a huge pat on the back."
Established companies have also taken note of this halo effect.  Oakley CEO Colin Baden says it was "very important" to launch its iOS-compatible Airwave goggles in Apple stores.  Baden would not reveal how much product the company sells through the Apple channel, only saying it "represents a nice sized portion of our retail distribution."
"Apple is a premium brand that aligns well with Oakley's positioning," Baden adds, "We have a great deal of respect for how they operate their stores."
A slice of Apple's pie
Third-party partners would not divulge their agreements with Apple, but generally said these deals were no different (no more costly or onerous) than with other retailers.  Forte, the analyst from TAG, thinks the revenue-sharing deals "should be at least as good at Apple" as with other retailers, and maybe even better because "there's not a lot of markdowns at Apple."
One common thread executives did mention is the high-degree of collaboration with Apple to create seamless compatibility with the core devices.
"It's the integration with that Apple ecosystem that is different than any other retailer today is presenting," says Equil's Appelhof.  His company's JOT smartpen uses infrared technology to allow users to write or draw on any piece of paper and save their work digitally on an iPad or iPhone using the company's free downloadable Apps.
Appelhof says Apple worked closely with the company to make sure their technologies were in sync.  "Apple's interest and excitement helped us refine the product and fit better with the Apple customer and work with the Apple world."
Still, no matter how many accessories are sold in the sleek shops, Apple's retail store revenue is inextricably linked to the popularity and sales of the company's own devices.  If products fail to attract consumers, traffic and store sales will slump.  And if they are popular, then it's a bigger, sweeter pie for partners, too.
Some analysts and investors watching Apple's retail operations for clues on the company's outlook are keeping an eye on investment and expansion of the brick and mortar locations.  It's a sign, they believe, of the company's confidence in its own sales growth and its philosophy of helping consumers better understand and utilize Apple products and accessories.
Tech Accessories as Fashion
Apple is known for its trademark sleek device designs that have catapulted it from near bankruptcy to become the world's most valuable company.  And Apple signaled it is consummating the marriage of fashion and tech by announcing in October the hiring of Burberry CEO Angela Ahrendts to head up the tech firm's retail group beginning later this year.
It's a sign of the times as consumers identify more closely with their smart devices than other products and as technology has become a fashion accessory.  Advances beyond clunky first-wave wearables and into the connected home and auto will only accelerate this trend.   Of course it remains to be seen if Apple will remain in the vanguard or if fickle fashion and tech trends will favor new names.
TAG's Forte says he is "extremely excited" about Ahrendts' appointment.  "She could invigorate the stores.  What she did so well at Burberry--the store was part of the experience. At a fashion show, they used iPhones to buy items being displayed at the show.  She gets the role of the store within the whole (company)."