Apple's Car Faces a Long Road Ahead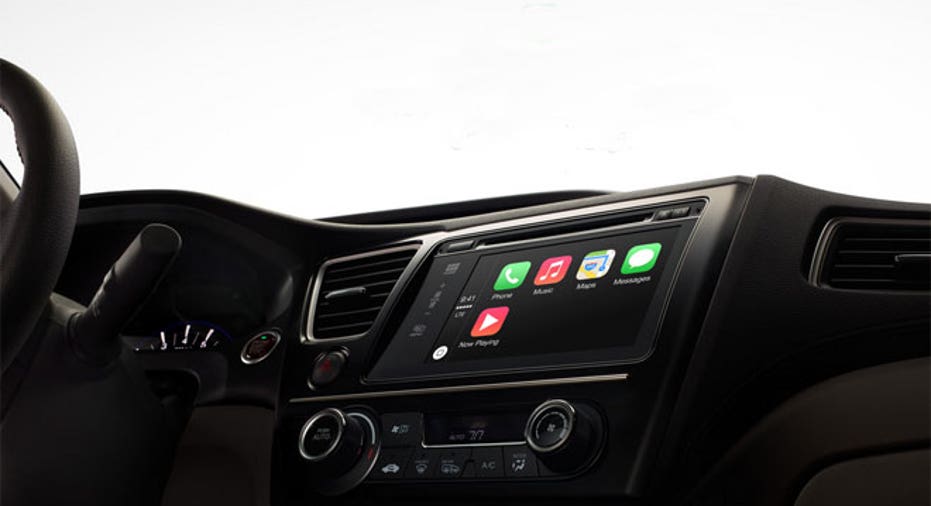 Impossible, no. But Apple's (NASDAQ:AAPL) hopes of making an electric car by 2020 will face plenty of roadblocks.
Apple is said to have an aggressive timeline for its newly constructed automotive team, according to Bloomberg News. Car companies like General Motors (NYSE:GM) and Ford Motor Co. (NYSE:F) often spend five to seven years developing a new vehicle. If the project gets a green light, Apple wants its cars on the road in five years.
That may be a tough goal to meet. Apple doesn't have manufacturing facilities or dealers ready to go. Plus there's crash testing and regulatory hurdles that must be cleared before sending a car to the assembly lines.
"There's a lot of red tape to get through before a new model can be ready for retail sales," said Alec Gutierrez, a senior analyst at Kelley Blue Book. "It's possible, but Apple definitely has a very aggressive timeline. Can Apple have a prototype in five years? That doesn't seem too unreasonable."
Talk of Apple's five-year goal has the industry wondering if the tech giant will seek out a partnership with an established automaker. For instance, the Cupertino, Calif.-based company could handle the design and engineering, then hand the car off to an automaker that can handle production and retail sales.
Gutierrez suggested that a partnership remains less likely, given Apple's history of controlling both software and hardware. Also consider that entering the car market would be a long-term proposition, and the Apple brand carries enough weight on its own.
"Apple has a loyal-enough fan base to get the attention of consumers," Gutierrez explained.
Based on multiple reports, Apple is certainly acting like they have no plans to team up on an electric car.
Tesla Motors (NASDAQ:TSLA) Chief Executive Elon Musk has said Apple is trying to recruit employees from the electric car maker. Battery maker A123 Systems even sued Apple this month for allegedly poaching engineers to create its own battery division. In a court filing, A123 said some workers accepted similar roles at Apple, a violation of their employment agreements.
Apple, which declined to comment on the car speculation, also has the cash to build an automaker from scratch. It has a total cash reserve of approximately $178 billion.
Thilo Koslowski, vice president and automotive practice leader at Gartner, said the auto industry is a prime target for Silicon Valley. For Apple, taking control of the in-car experience keeps consumers inside the iOS ecosystem from door to door.
"The car is the ultimate mobile device," Koslowski said, adding that software makers can achieve "digital lifestyle convergence" by entering the car. "It's about finding a good way of transferring that digital life into the car. The car industry is getting better about it, but people are complaining that it's not up to date."
Competition on the Way
As Apple works on its own electric car, automakers are well on their way to kicking off production.
Tesla plans to roll out a Model X crossover later this year, followed by a Model 3 sedan in 2017. The Model 3 is expected to be more attainable than Tesla's current sedan, the Model S, with a starting price of $35,000.
GM is investing more in electric cars, too. The nation's largest automaker recently confirmed that its Chevrolet Bolt concept car will go into production in 2017. Like the Model 3, Chevrolet's Bolt will travel around 200 miles on a single charge. GM aims for a price tag of $30,000 after a $7,500 federal tax credit.
Some analysts see Apple entering the market at the higher end, but competition will be tough nonetheless. BMW, Mercedes-Benz, Cadillac and other luxury brands are dabbling in electric and hybrid cars. Tesla also occupies a spot in the premium market. Its Model S sells for at least $70,000.
"If Apple enters the $50,000 to $60,000 space, competition is stiff. In the mass market, you open up your customer base, but competition is growing and margins are thinner. Challenges are bound no matter what direction they go in," Gutierrez said.
Consumer demand is a challenge facing the entire industry. Electric cars accounted for just 0.5% of the entire auto market last year, and Gutierrez said it's hard to imagine a market share of any more than 5% in five years.
As a result, Gutierrez left open the possibility that Apple travels a different route and chooses to develop an electric hybrid or a hydrogen-powered car.
"[Apple is] in a good position where they can wait in the wings and see how things play out," he said.
Infotainment Route
There's also a chance that Apple scraps its car aspirations to refocus on providing in-car technologies.
Apple already has deals with 30 auto manufacturers that plan to use the company's CarPlay infotainment system, according to Goldman Sachs analysts. CarPlay allows iPhone users to access messages, maps, music and other apps on the dashboard.
Many automakers plan to adopt both CarPlay and Google's (NASDAQ:GOOGL) Android Auto to serve a broader group of smartphone users.
Koslowski sees a path for Apple to create its own hardware powered by CarPlay, a move that would put Apple in competition with traditional auto suppliers. Last year, electronics maker Pionner introduced an aftermarket multimedia system that uses CarPlay.
Apple and its rivals naturally see the benefits of creating in-car software. Morgan Stanley noted that U.S. drivers spend an average of about 25% of their free time in cars. Analysts at the investment bank believe Apple will "start with what it knows best," infotainment, even if its auto business expands beyond software over time.
"Apple continues to broaden the reach of its iOS ecosystem into multiple aspects of a user's life, thereby increasing the stickiness of the platform," Goldman Sachs analysts wrote in a research note to clients.
Gutierrez said it "makes perfect sense" for Apple to focus on improving auto software. "Before CarPlay and Android Auto, automakers were looking for ways to better integrate apps into the vehicle."
However, the amount of hiring reportedly taking shape in Cupertino signals that Apple's aspirations "are larger than just infotainment," he added.
Capturing Value
Autonomous vehicles present another opportunity for Apple. Rather than build its own self-driving car, Apple could work on the underlying software. Morgan Stanley estimates that over 60% of the value of autonomous cars will come from software, up from 10% for today's cars.
Once a far-away vision, autonomous vehicles are inching closer to reality. GM's Cadillac is promising to include a new feature called Super Cruise in its top-of-the-line CT6 sedan, which is due out next year. Super Cruise will allow the CT6 to practically drive itself on highways, keeping the vehicle inside a lane while managing speed.
"Apple wants to get involved in automotive, and they have a wide spectrum they can choose from. An autonomous vehicle is an option. It's not crazy at all," Koslowski said.
Talk of Apple's ventures into autonomous driving was fueled early this month when a Dodge Grand Caravan registered under the company was spotted on the streets of San Francisco. The minivan had a camera system mounted to the roof.
No matter which direction Apple travels, the company can match the value of the entire smartphone industry by capturing just 25% of the value of cars, according to Morgan Stanley.
The analysts also believe that Apple can overcome traditionally low margins in the auto industry. GM posted a North American gross margin of 8.7% in the final three months of 2014. During the same period, Apple's overall gross margin was 40%.
Like its core business, Apple would bank on its ability to attract buyers who are willing to pay higher prices.
"This isn't about creating a car in high volume that provides a couple percentage points in margins," Koslowski said.