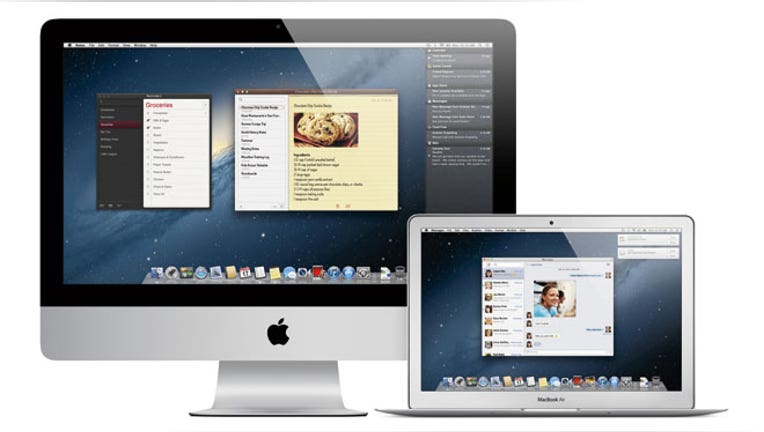 Apple (NASDAQ:AAPL) on Thursday announced a developer preview of its next iteration of the OS X operating system, dubbed Mountain Lion, bringing popular features from its mobile platform iOS to Mac desktops and notebooks.
The consumer technology giant said OS X 10.8 will add more than 100 new features, including iMessage support, Notification Center, Game Center, AirPlay Mirroring, and Twitter integration.   Many of the new features are borrowed from its iOS platform, which runs on iPhones, iPads, and iPod Touches.
Other Mountain Lion features include Gatekeeper, more iCloud support, and an enhanced multi-touch API for developers to take advantage of when creating applications.
Gatekeeper, according to Apple, is a new security feature, which users can enable to ensure that only safe software can be installed on their computer.  It works by checking for a unique developer ID from Apple.  Users, of course, can still install any software they like if they choose not to use the feature.
The new iMessage client called Messages will replace the existing iChat application in OS X, enabling users to send and receive unlimited messages, photos, and videos between iOS devices and Macs.   Like iChat, it will work with AIM, Google Talk, and other IM services.
Can't wait to get your hands on Messages?  You don't have to.  Apple released a beta version of the software for OS X Lion on Thursday as well.
Apple said the new OS will be released via the Mac App Store in late summer 2012.
Microsoft (NASDAQ:MSFT) in September announced its own developer preview for its upcoming Windows 8 operating system, which will also incorporate several mobile/tablet-friendly features, including an entirely-new touch interface and support for ARM mobile processors.