Apple Suffers Worst Day Since '08 TARP Rejection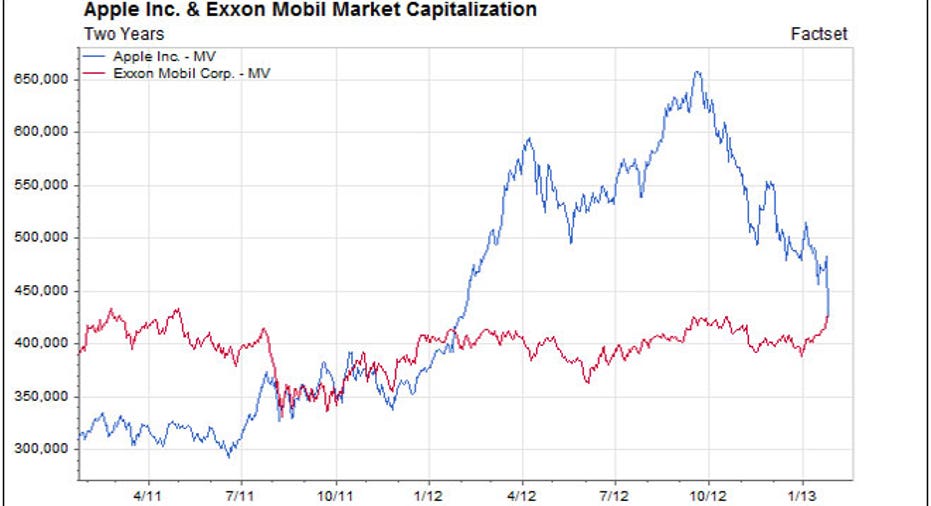 Shares of former tech darling Apple (NASDASQ:AAPL) tumbled 12% on Thursday in their largest selloff since the 2008 financial crisis as Wall Street worries the iPhone maker's incredible growth pace may be over.
The steep selloff leaves Apple at fresh 11-month lows and knocked the consumer-electronics giant off its perch as the world's most valuable company by market capitalization, allowing ExxonMobil (NYSE:XOM) to retake the top spot.
The bad day for Apple comes after the company disappointed shareholders on Wednesday evening with gaudy quarterly results that failed to meet Wall Street's lofty expectations.
In response, a number of analysts downgraded their ratings on Apple, including Jefferies (NYSE:JEF) and Scotia, and Morgan Stanley (NYSE:MS) removed the stock from its best ideas list.
The "slowdown in iPhone sales is real and material," Jefferies analyst Peter Misek wrote in a research note on Thursday. "While management was somewhat evasive on the call, it appears that demand in the second half of the quarter and into CQ1 was much weaker than management or we expected."
Apple, which plunged 11% out of the gate on Thursday, hasn't closed with a loss greater than 10% since September 29, 2008 when it plunged 17.9% after the U.S. House of Representatives initially rejected the $700 billion TARP bailout.
The steep descent since hitting all-time highs in September has evaporated an incredible $226 billion in market value for Apple, leaving it at about $424 billion, compared with over $428 billion for Exxon.
Admitting it was wrong on Apple's growth slowdown, Jefferies downgraded the iPad and Mac maker to "hold" from "buy" and slashed its price target by a whopping $300 to $500.
In addition to the iPhone jitters, Jefferies cited forecasts for margins to continue to contract and disappointment with Apple's guidance for the current quarter.
After at first running away with the smartphone revolution, Apple has suddenly run into fierce competition, especially from South Korean electronics heavyweight Samsung and its Galaxy line of devices.
"Moving away from Samsung, with its huge scale, high quality and excellent execution, is proving difficult and expensive," Misek wrote, forecasting gross margins staying below 39% and trending lower.
Misek also noted that Apple, long known for its overly conservative guidance, is no longer beating expectations by the same magnitude as in the past.
Therefore, Apple's forecast for sales of $41 billion to $43 billion is meant to "more accurately reflect" the company's "likely results," Misek said. "We believe this signifies management's recognition that the company is unlikely to exceed expectations in the future," he added.
Besides Jefferies, analysts at a slew of brokerages axed their price targets on Apple, including Stifel to $650, UBS (NYSE:UBS) and Credit Suisse (NYSE:CS) to $600 and Nomura to $490.
Apple plummeted 12.35% to $450.50 on enormous volume Thursday afternoon, falling to its lowest level since February 2012.
The selloff weighed heavily on the Nasdaq Composite, where Apple has a hefty 9.85% weighting.