Apple Stumble Seen Opening Door for Rivals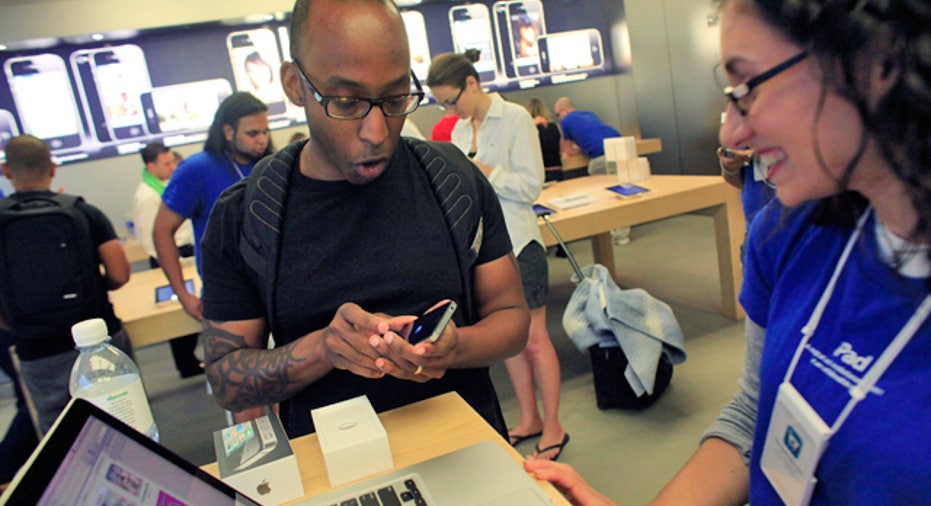 Rival smartphone makers could exploit a rare letdown by Apple in the launch of its new iPhone 4S model, which failed to wow fans, and grab a bigger share of the most lucrative part of the phone market.
However, analysts also noted that Apple has decided to keep older iPhone models and slash their prices, potentially helping the company to expand sales in lower-end and developing markets, where Nokia and Samsung have dominated.
"Apple no longer has a leading edge, its cloud service is even behind (Google's mobile operating system) Android; it can only sell on brand loyalty now," said Gartner analyst C.K. Lu in Taipei.
"Users may wait to buy the next iPhone; if they can't wait, they may shift to brands with more advanced specs."
The iPhone -- introduced in 2007 with the touchscreen template since adopted by rivals -- has proved to be the gold standard in the booming smartphone market, and its surging sales have hit the ambitious plans of many competitors.
In Europe shares in Nokia and Ericsson, half-owner of Sony Ericsson smartphone venture, were both 2.4 percent higher by 0815 GMT on Wednesday.
"Nokia should benefit from the fact that Apple chose not to play the design card this time around and that unlike some rumors, there will not be anything new aimed at the key mid-range market," analysts from Nordea said in a note.
The new iPhone 4S is identical in form to the previous model, disappointing fans who had hoped for a thinner, bigger-screened design of a product that had not been updated for more than a year.
While the device's high-tech wizardry such as voice commands -- for sending messages, searching for stock prices and other applications -- caught the attention of many analysts, it might not be enough to make it a must-have for consumers.
"Major concerns for Samsung had been that its smartphone momentum will decelerate with Apple's new iPhone, but that is now less of a concern as the new iPhone failed to excite many," said Kim Young-chan, an analyst at Shinhan Investment Corp in Seoul.
On Wednesday Samsung also said it would file for a sales ban on the new iPhone with courts in France and Italy, alleging that the phone infringed its mobile technology patents, widening an already extensive legal battle with its arch rival.
MID-MARKET STRATEGY
Apple also revealed on Tuesday that it is cutting the price of the previous iPhone 4 model to $99 on a network service contract, and said the even older 3GS model will be available for free on contract. This allows Apple to hit the low-end smartphone market it had once eschewed.
Even before the low-cost phone, Apple was set to exponentially grow its China business as it stitches deals with operators in the world's largest mobile phone market, home to more than 900 million subscribers.
Apple faces a tough battle in India, the world's second-biggest market for mobile phones with more than 850 million subscribers, where smartphones account for just over 5 percent of the total mobile handset sales.
"Very aggressive pricing in the higher-end category of smartphones is unlikely in India in the near future, primarily because the volumes are not strong enough to justify that kind of play in that segment," said Deepak Kumar, research director at IDC India.
TOP SELLING SMARTPHONE
Phones based on Google's Android, which is available for free to handset vendors such as Samsung, HTC, LG and Motorola, have a greater combined market share than Apple's iPhone, which is still the world's biggest-selling smartphone.
"There are still many consumers who don't have the iPhone experience, and Apple still has a lot of markets and carriers to enter, so when there's a new model with better specs, it helps to lift shipments," said Ming-chi Kuo, analyst at Concord Securities in Taipei.
"The iPhone 4S targets users who are expiring on their two-year 3GS contract."
The lukewarm reception given for the new phone also hit shares in Apple's suppliers.
Taiwan's Hon Hai, Apple's biggest supplier, was down 1.9 percent, while casing company Foxconn Technology fell 6.9 percent. Camera module maker Largan Precision shed 6.6 percent.
"The casing companies should be the most-hit, correcting from the previous rise, because the market has expected a metal case for the new iPhone," said Mike Fang, a fund manager of Paradigm Asset Management.
In Japan, the country's second-largest mobile carrier KDDI will sell Apple's new iPhone, ending rival operator Softbank's reign as the sole provider in Japan.
(Additional reporting by Tarmo Virki in Helsinki, Argin Chang in Taipei and Devidutta Tripathy in New Delhi; Writing by Anshuman Daga; Editing by Alex Richardson, Greg Mahlich)