Apple Slips Below $400B Level, Falls Behind ExxonMobil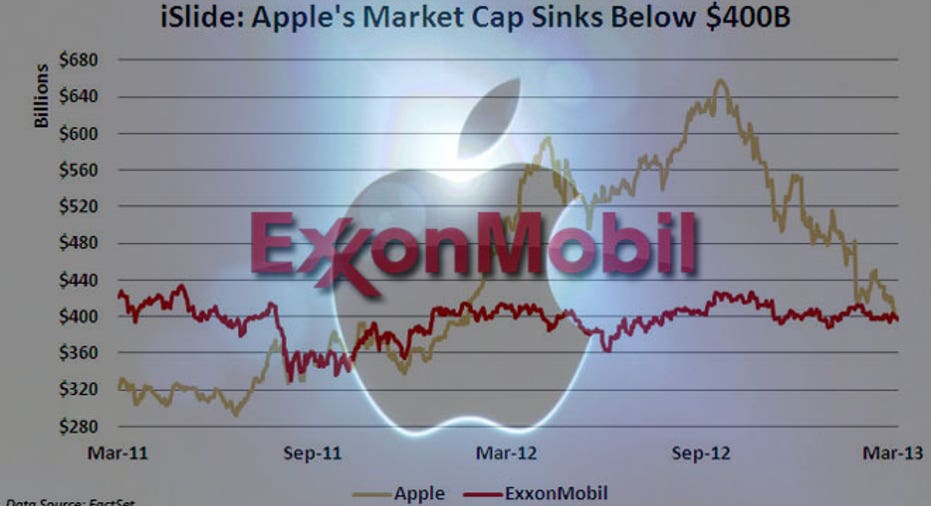 Apple's (NASDAQ:AAPL) market cap tumbled below the $400 billion threshold on Monday for the first time in over a year, allowing ExxonMobil (NYSE:XOM) to retake the top spot as the world's most valuable company.
The decline of 2.4% marks the latest stumble for Apple, which has now seen its stock plunge as much as 40.6% since topping out at all-time highs of $705 back in September.
Apple has come under heavy competitive pressure, especially on the smartphone front from the likes of South Korean electronics giant Samsung, whose Galaxy line has achieved marketing and sales success.
Last week Samsung scored a big victory when a judge cut a $1.05 billion jury award to Apple for alleged patent infringements by more than 40%.
Underscoring the months-long slump for Apple, the tech giant's stock is now trading more than 26% below its 200-day moving average for the first time since the end of the last bear market in March 2009.
While that could indicate an oversold state, a bounce may not necessarily be imminent as Apple traded more than 25% below its 200-day moving average from late September 2008 to March 2009.
At the close of trading on Monday, ExxonMobil sported a market cap of $400.45 billion, edging by Apple's market cap of $394.00 billion.
Since 2011 when Apple first took the top spot, the two corporate powerhouses have jockeyed for the title as the world's most valuable. Earlier this year Exxon briefly overtook Apple as well.
Monday marked the first time Apple slipped below the $400 billion level since late January 2012, according to FactSet data.
Shares of the Cupertino, Calif.-based company declined 2.42% to $420.05 on Monday.
FOX Business reporter Adam Samson contributed to this report.