Apple Shares Slip, But Gold iPhone 5S Sells Out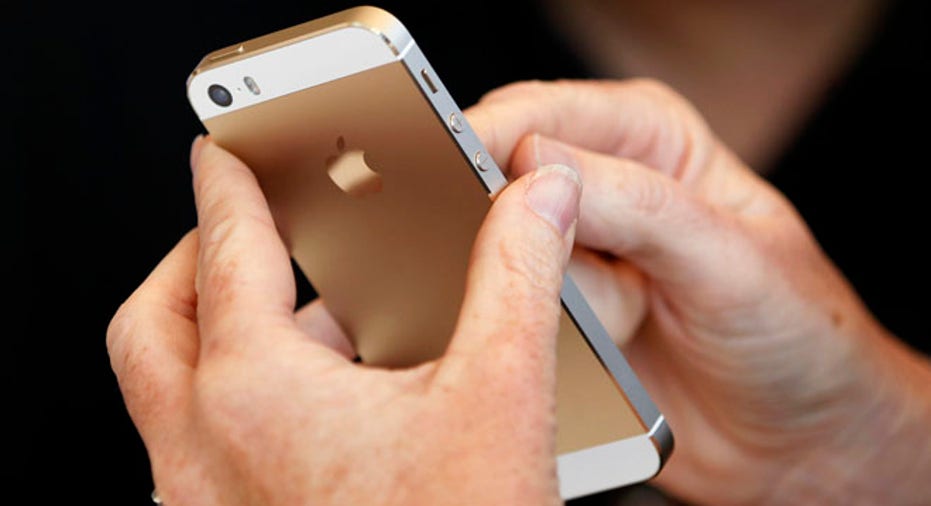 Thousands of iPhone enthusiasts queued up at Apple Inc (NASDAQ:AAPL) stores around the world on Friday as two new models of the smartphone went on sale, but Apple's shares ended slightly lower as investors wait for initial sales figures, due as early as next week.
Long lines formed outside stores in Sydney, Tokyo, New York, San Francisco and other cities as Apple broke with tradition and launched two iPhone models - the new top-of-the-line 5S and the less-expensive 5C - on the same day.
Apple watchers said early signs pointed to more demand for the 5S than last year's new model. But some cautioned that the size of the crowds this year may not be an accurate gauge because consumers were unable to order the more expensive model online ahead of time, as with previous launches.
"While it is likely some of this line is due to not having an early pre-order option for the 5S, we still believe it shows loyalty to the iPhone remains strong among Apple's installed base," said ISI Group analyst Brian Marshall. He estimates Apple will sell about 6 million units in the first three days.
Apple sold more 5 million of the previous iPhone 5 units during its opening weekend last year.
A survey done by Piper Jaffray of 416 customers standing in lines outside of stores in New York, San Francisco and Minneapolis found that 95 percent of the people were planning to buy the 5S. Gene Munster, analyst with Piper Jaffray, estimates Apple will sell 5 million to 6 million iPhones over the weekend.
While Apple's stock dipped one percent by the close of trade, shares of Avago and TriQuint ended higher after they were identified as component suppliers for the new models.
The gold-colored version of the 5S, which also comes in silver and gray, was already sold out as of Friday and will now ship only in October, according to Apple's website. The gray and silver versions can still ship in 7 to 10 days.
Supplies of both the new models has been disappointing, a source at a U.S. wireless carrier had told Reuters earlier.
WINNING CHIP FIRMS
Analysts have questioned whether the technology of the new top-end 5S is enough to persuade people to trade up. But those concerns did not seem to apply Jimmy Gunawan, the first in line outside an Apple store in Sydney.
"It's been one year since iPhone 5. It's about time to upgrade I guess," he told Reuters TV.
The new iPhones use chips made by Avago Technologies Ltd, TriQuint Semiconductor Inc and Skyworks Solutions Inc, according to repair firm iFixit, which opened up the iPhone 5S and 5C on Thursday.
Broadcom Corp's chip is used for the touchscreen controller in both phones, iFixit said. All these suppliers also featured in last year's iPhone 5.
Another teardown expert, Chipworks - which opened up Apple's A7 chip - found that Samsung produced the application processor while NXP Semiconductor made the new M7 co-processor chip. The iPhone's M7 can track motion data continuously without heavily draining the battery.
Including the M7 processor on the same chip as the main A7 processor would be more efficient than adding it as a discrete chip and would help the two processors communicate more easily, said Real World Technologies analyst David Kanter.
Investors have also questioned whether Apple has priced its new plastic-backed 5C too high to compete with cheaper smartphones that use Google's Android operating system, particularly in China and other emerging markets.
The 5C, which comes in a range of bright colors, carries a price tag of $549 for an unlocked 16 GB model in the United States, though Apple has a history of cutting iPhone prices once a model has been on the market for a while, ISI's Marshall said.
"We believe it will do the same for 5C after initial pent-up demand is met," he said in a note.
Tech analysts this week praised the fingerprint scanner in the 5S model, which lets users unlock their devices or make purchases by simply pressing their finger.
The sensor technology that powers the fingerprint scanner in the new iPhone 5S was developed by AuthenTec, which was bought by Apple a year ago, iFixit said.
Apple shares initially traded up, hitting the day's high of $478.55 on the Nasdaq before easing back to close 1 percent lower at $467.41.
Avago shares closed up 2.1 percent, TriQuint shares finished with a 1.8 percent gain, while Skyworks closed down 0.2 percent.
(Additional reporting by Noel Randewich and Aurindom Mukherjee; Editing by Rodney Joyce and Tim Dobbyn)