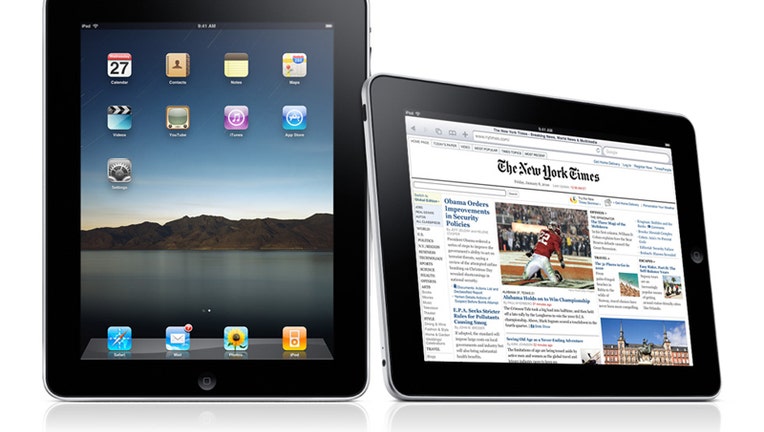 The U.S. Department of Justice on Wednesday filed an antitrust suit against Apple (NASDAQ:AAPL) for allegedly conspiring to fix the price of e-books with five of the largest book publishers.
In court papers filed in New York, the Justice Department alleged that Apple and the publishers colluded together over the past three years to limit pricing competition in the booming business for e-books.
"Beginning in the summer of 2009, we allege that executives at the highest levels of the companies included in today's lawsuit – concerned that e-book sellers had reduced prices – worked together to eliminate competition among stores selling e-books, ultimately increasing prices for consumers," U.S. Attorney General Eric Holder said in a statement. "As a result of this alleged conspiracy, we believe that consumers paid millions of dollars more for some of the most popular titles."
Three of the publishers named in the suit -- Hachette, News Corp.'s (NASDAQ: NWSA) HarperCollins and CBS Corp.'s (NYSE: CBS) Simon & Schuster -- have settled the claims. News Corp. is also the parent company of FOX Business. Also named in the suit are publishers Penguin and Macmillan.
Sales of e-books have exploded in recent years. According to the Association of American Publishers, e-book sales jumped 117% in 2011 to $970 million. In 2010, e-book sales rose 164%.
Consumers armed with tablets and electronic readers are quickly altering the publishing landscape. The shift away from printed books to e-books allows publishers to increase their profit margins by reducing printing and shipping costs.
The illegal pact between Apple and the book companies is alleged to have been brokered prior to Apple's introduction of its iPad in 2010. At the time, Amazon.com (NASDAQ: AMZN) dominated the e-book market and prices had fallen to about $9.99 for newly released books.
According to the DOJ's complaint, the publishers agreed to alter the selling model for e-books such that publishers would set the price rather than the online retailer, which was the model established by Amazon. Under the illegal agreement, retailers such as Amazon and Barnes & Noble (NYSE: BKS) would have no say in pricing e-books sold via their online outlets.
Apple is alleged to have spearheaded the agreement. In 2009, a year ahead of the iPad introduction, Apple decided it could "trounce" Amazon if it opened its own e-book store. Apple CEO and founder Steve Jobs was personally involved in bringing the publishers on board for the collusive effort, the complaint alleges.
Holder said charges are still pending against Apple, Penguin and Macmillan.
Apple did not immediately respond to a request for comment. Spokesmen for the publishing companies could not immediately be reached.
Holder said executives from Apple and the publishers met regularly "as part of a conspiracy to raise, fix, and stabilize retail prices." As part of their agreement to fix prices in their favor, Apple allegedly received a 30% commission on books sold through its iBookstore.
"Our investigation even revealed that one CEO allegedly went so far as to encourage an e-book retailer to punish another publisher for not engaging in these illegal practices," Holder said.
If the settlement reached with the other three publishers is approved, retailers such as Amazon and Barnes & Noble could once again set the price of books sold via their outlets. The settlement also requires the publishers to terminate their anticompetitive most-favored-nation agreements with Apple and other e-books retailers, Holder said.
"In addition, the companies will be prohibited for two years from placing constraints on retailers' ability to offer discounts to consumers.  They will also be prohibited from conspiring or sharing competitively sensitive information with their competitors for five years," the statement reads.
Also scheduled to attend the announcement is Connecticut Attorney General George Jepsen.
Jepsen has gone to battle with Apple in the past, demanding information from the tech giant a year ago to determine whether Apple's iPhones, iPods and iPads keep a complete history of each device's whereabouts.
Apple's shares were up slightly at $628.63 in midday trading but well off session highs after rising more than $4 earlier Wednesday.