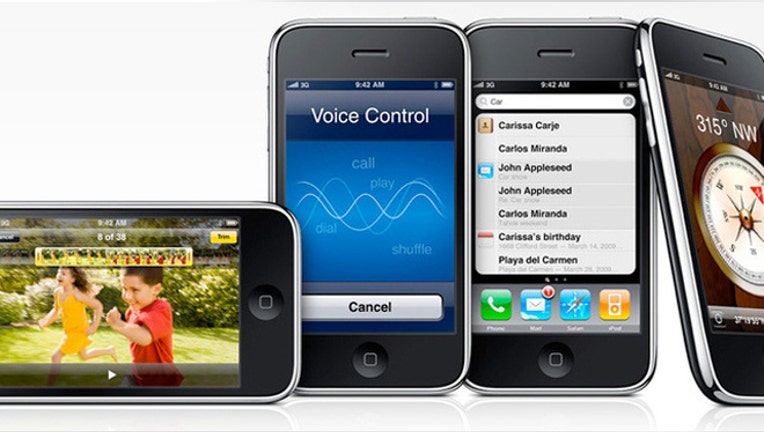 Apple was the top smartphone vendor in the United States last quarter according to new data released on Monday. A new report from market research firm The NPD Group suggests that the three best-selling smartphones in America last quarter were all iPhones. Apple's new iPhone 4S was deemed the top-selling smartphone this past holiday quarter, followed by the iPhone 4 and the iPhone 3GS, which is now free on contract from AT&T. Two versions of Samsung's Galaxy S II smartphone rounded out the top-5.
"Attracted by a faster processor, improved camera and the Siri speech-driven agent, most iPhone buyers paid a premium for the iPhone 4S, making it the top-selling handset in Q4," NPD analyst Ross Rubin said in a statement. "The iPhone 4S outsold the iPhone 4 by 75 percent, and outsold the iPhone 3GS, available for free on AT&T, five to one." Apple reported last month that it sold more than 37 million iPhones into channels last quarter.
See more tech stories on the FOX Business Technology homepage.
While Apple was the top smartphone vendor in the U.S. last quarter, Android maintained its operating system share lead according to NPD's data. 48% of smartphone buyers opted for an Android device during the holiday quarter, while 43% chose iOS. The discrepancy was even greater among first-time smartphone buyers — 57% chose an Android device compared to an estimated 34% who chose an iPhone.
"Android has been criticized for offering a more complex user experience than its competitors, but the company's wide carrier support and large app selection is appealing to new smartphone customers," Rubin noted. "Android's support of LTE at Verizon has also made it the exclusive choice for customers who want to take advantage of that carrier's fastest network."
This content was originally published on BGR.com
More news from BGR: