Apartment List Gives Renters 3D 'Look' With New App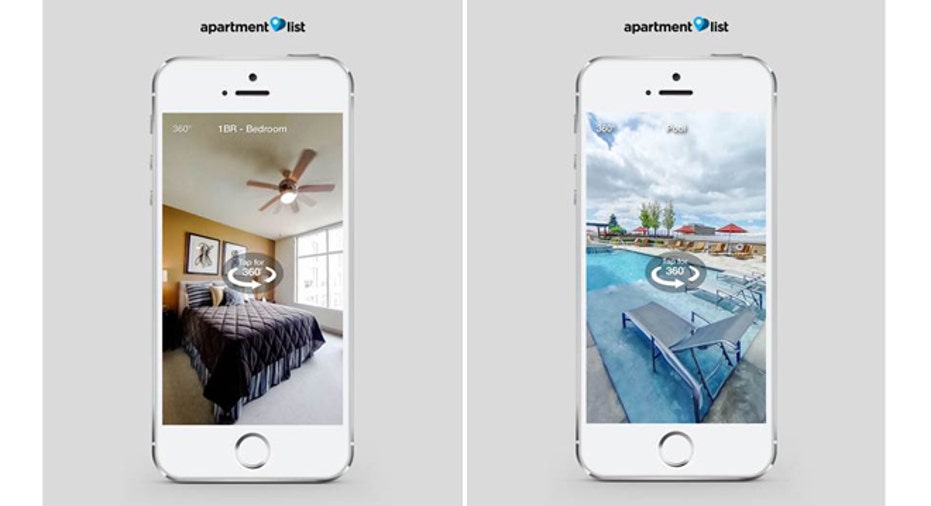 Thanks to Apartment List, renters now have the ability to take a three-dimensional "look" into listed apartments that functions similar to Google's (NASDAQ:GOOGL) Street View.
Last week, the rental website launched this new "Look" feature in five major cities across the U.S. after months of developing the right technology for the task.
According to Apartment List CEO and co-founder, John Kobs, the added feature has "tripled engagement" for online listings while staying true to the vision of the San Francisco start-up.
"We wanted to build transparency that is virtually non-existent in the current system and allow potential renters the ability to see what an apartment might look like to live in," Kobs says.
The new feature offers two advantages: clusters of listings on interactive, three-dimensional city maps and 360-degree interior and exterior pictures of listed apartments. Apartment List has the highest rated rental app for iPhone and the rentals marketplace is the growing fast.
Despite mild privacy concerns (the 360-degree navigable pictures or "photospheres" stay online until renters move in), the superior visual information shows signs of real value, adding pressure to competitors in the rentals industry.
According to privacy experts, the concern with the feature is not so much privacy as it is security.
Lisa J. Sotto, attorney and three-time winner of Computer World's privacy expert ranking, says "pictures are now ubiquitous on mobile devices and the public is now being photographed in every which way with little or no notice." Sotto adds that she doesn't "see this contributing additional risk to renters because the law is so very much behind the technology."
When pressed about potential security risks, Kobs says he doesn't "anticipate that being an issue. I think the bigger issue is scam artists and I take that very seriously." Apartment List's goal is to proactively shield renters from fraudulent brokers. In fact, the rentals marketplace has crafted an algorithm that detects scam listings before they appear before renters.
As for privacy concerns, he explains that the company is "very upfront" about how they take photos and where they will display images.
Kob's personal confrontations with fraud served as a catalyst for founding Apartment List. He recalls an instance when he and his roommates were charged a $10,000 broker's fee for viewing an apartment. ("All he did was open a door.")
A 2013 Gallup survey ranked the U.S., along with Australia, Canada, Norway and Sweden, among the "most mobile" countries in the world for working adults. Apartment List aims to minimize the obstacles that come with searching for the right rental for mobile professionals, including finding roommates.
Last year, Apartment List launched their "Roommate" app, which matches up renters with renters and which he describes as "the Tinder for roommates." So far, over one million renters have been viewed on "Roommate."
"We are trying building a better renting experience," Kobs says.