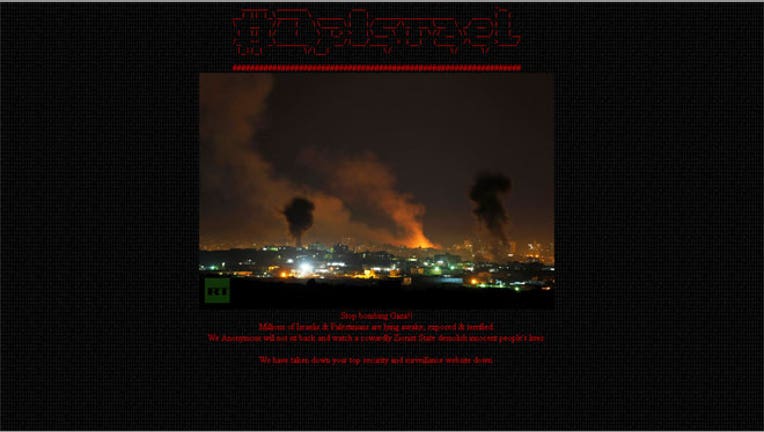 Cyber hackers at Anonymous launched a cyber onslaught on Thursday aimed at the Israeli government and corporate websites in retaliation for Israel's airstrikes in the Gaza Strip this week.
The cyber attack represents the latest efforts by hackers to influence geopolitical events and comes just weeks after the websites of a slew of U.S. banks were brought down by attackers believed to be tied to Iran.
"We see this more and more. Cyber attacks are now part of political conflicts," said Ronen Kenig, director of security product marketing at Tel Aviv-based security firm Radware (NASDAQ:RDWR).
The new Anonymous effort began at 3 a.m. ET on Thursday and deployed sophisticated distributor denial of service (DDoS) tools, according to Radware.
In a letter posted on Pastebin and addressed to the government of the state of Israel, Anonymous laid out a three-step "crusade" aimed at "systematically removing you from the Internet."
The cyber effort is targeting a cluster of Israeli websites, including those tied to the Israel Defense Forces, which carried out the airstrike on Wednesday that killed Ahmed Jabari, the head of the military wing of Iran-funded Hamas.
Anonymous is also targeting the websites of the Israeli Prime Minister's office as well as Israeli banks, airlines and infrastructure sites, according to Radware.
The effort successfully attacked the website falcon-s.co.il, which Anonymous referred to as Israel's "top security and surveillance website."
The homepage now shows an image of burning buildings and a message signed by Anonymous and "#OpIsrael."
"Stop bombing Gaza!! Millions of Israelis & Palestinians are lying awake, exposed & terrified," the message reads. "We Anonymous will not sit back and watch a cowardly Zionist State demolish innocent people's lives."
Overall, Radware said the operation doesn't appear to have been successful so far in taking down many big-name websites, though some smaller private companies have had their sites defaced.
"We are seeing a lot of traffic," but the Israeli websites the hackers are targeting are "protected and they're protected pretty well," said Kenig.
However, he said the blog of the IDF had an outage earlier on Thursday that may have been caused by the Anonymous hackers.
Anonymous warned in its message on Pastebin that step two of its operation against Israel "will be later disclosed and is already in initiation" and said "as for step three, well think of this one as a present from Anonymous to you."
The message also includes a series of anti-Israeli language and accused the country of "crimes against humanity."
It's not clear where the hackers taking part in the Anonymous operation are located, but Kenig said he is seeing a lot of Arabic messages in online forums related to the operation.
Anonymous has a long history of targeting companies and governments it disagrees with, launching attacks against Sony (NYSE:SNE) and Amazon.com (NASDAQ:AMZN) in recent years.
In September cyber attackers slowed or brought down the websites of some of the largest U.S. financial institutions, including Bank of America (NYSE:BAC), J.P. Morgan Chase (NYSE:JPM) and Wells Fargo (NYSE:WFC).
U.S. intelligence officials have signaled they believe Iran may be tied to those DDoS attacks.
So far the Anonymous operation against Israeli websites isn't nearly as sophisticated or as powerful as the campaign carried out against U.S. banks, said Kenig.