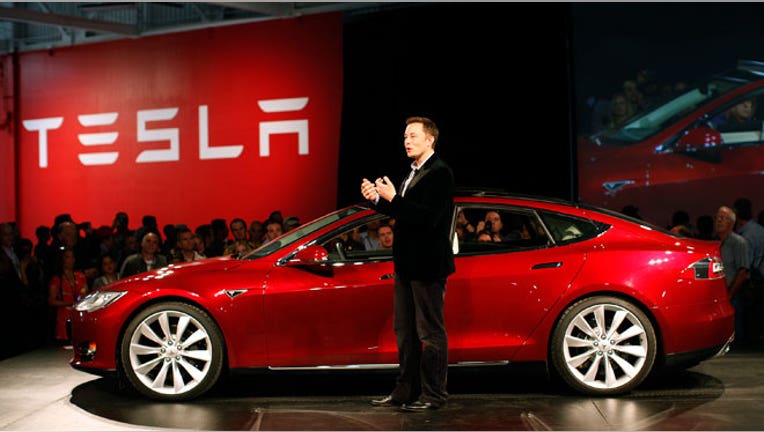 Shares of Tesla (NASDAQ:TSLA) soared close to 11% to fresh highs on Tuesday as investors cheered a bullish note from Morgan Stanley (NYSE:MS) that said the electric-vehicle maker is poised to shake up other markets outside of its automobile niche.
The brokerage also raised its price target on the Model S maker to $320 from $153 and maintained its "overweight" rating on the stock. Shares of Tesla were up 10.67% to $240.88 in recent trade, pushing them up some 609% over the last 12 months.
Analysts at Morgan Stanley pointed to Tesla's potential ability to disrupt markets such as  batteries that are outside of its traditional automobile niche. This comes amid reports that CEO Elon Musk plans to build a so-called gigafactory, producing lithium ion batteries in bulk.
Panasonic and Tesla are reportedly in talks to build an automotive battery plant in the U.S., according to a report by Reuters and a note last week by Baird analyst Ben Kallo.
A manufacturing partnership would speed up battery innovation -- a mission key to Tesla's bottom line -- and enable Tesla to construct batteries internally rather than relying on third-party suppliers, which would potentially improve its production capacity and lower costs.
Panasonic called its relationship with Tesla "collaborative" and said the companies "continue to look into a variety of options to strengthen this relationship," though it said "nothing has been decided" on the potential U.S. battery plant.
Tesla declined to comment.
In a note to clients on Tuesday, Morgan Stanley analyst Adam Jonas said Tesla's quest to disrupt the trillion-dollar car industry offers an "adjacent opportunity" to equally disrupt the trillion-dollar electric utility industry. Should it be able to become the preeminent low-cost producer of next-generation batteries, its impact may have far larger reverberations, he said.
"We reflect the potential for lower battery costs through higher sales volume nearly doubling Tesla's share of the global car market to 90 basis points by 2028, driving our target increase," Jonas said.
He added that a bull case price target in that battery-dominating scenario would be around $500.
The note comes less than a week after Tesla posted better-than-expected earnings growth and forecast stronger deliveries in 2014. The Palo Alto, Calif.-based company predicted full-year deliveries of 35,000 Model S sedans, which would mark a 55% year-over-year improvement.
Tesla currently makes 600 cars a week but plans to up that to 1,000 units by the year's end.