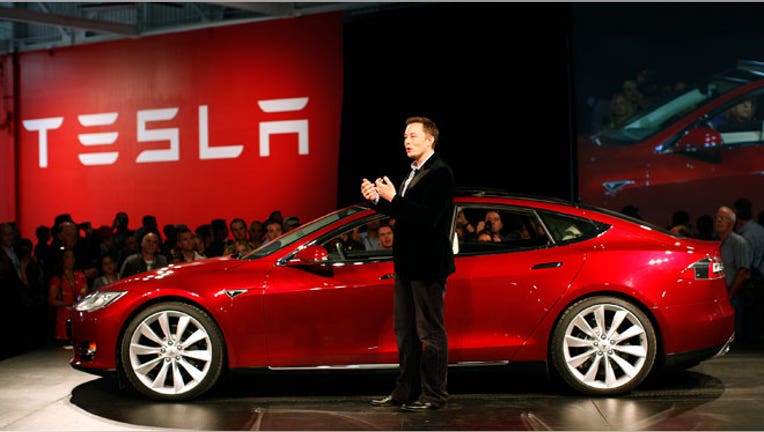 Shares of Tesla (NASDAQ:TSLA) soared 4% Friday after Deutsche Bank (NYSE:DB) raised its rating to "buy" and said success has "only just begun" for the electric car maker.
The brokerage also upped its price target on Tesla to $160 from $50. Tesla on Friday was trading up about 4% to $129.
Deutsche Bank says Elon Musk's Tesla is "well on its way to proving" that electric vehicles have the potential to "drive a paradigm shift in the industry."
The brokerage highlights Tesla's first mass-produced vehicle, the Model S, which has been touted the best car of its kind by several third-party testers, according to DB. It also says it believes the "Gen 3," a smaller version of the $72,000 Model S, will generate 25% gross margins, helping Tesla to "more than double inside of 3-4 years."
"We now expect the Gen 3 to fully close the cost gap to non-EV competition," DB said in a note to clients.
U.S. orders have risen to 20,000 annualized, which helps ease concerns regarding the sustainability of demand, DB says. It believes Tesla will reach 200,000 units across all of its models by the end of the decade, which would make up about 5% of what DB sees as the addressable market of comparable vehicles.
Meanwhile, Tesla's supercharger network build-out has the potential to extend and sustain the automaker's competitive advantage, and DB says it sees the market experiencing high-growth "well into the 2020's."
Among the lingering risks are manufacturing efficiencies and price assumptions that could impact demand, as well as future vehicle residual values, though DB believes Tesla vehicles will hold their value well due to software updates that will keep its systems modern and the car maker's pledge to refurbish batteries for $10,000 after 10 years.
Of course, not all analysts are as bullish. Tesla shares were slammed earlier this month when Goldman Sachs (NYSE:GS) unleashed a bearish note on the electric car industry, laying out a worst-case scenario for Tesla where just 105,000 vehicles would be sold.