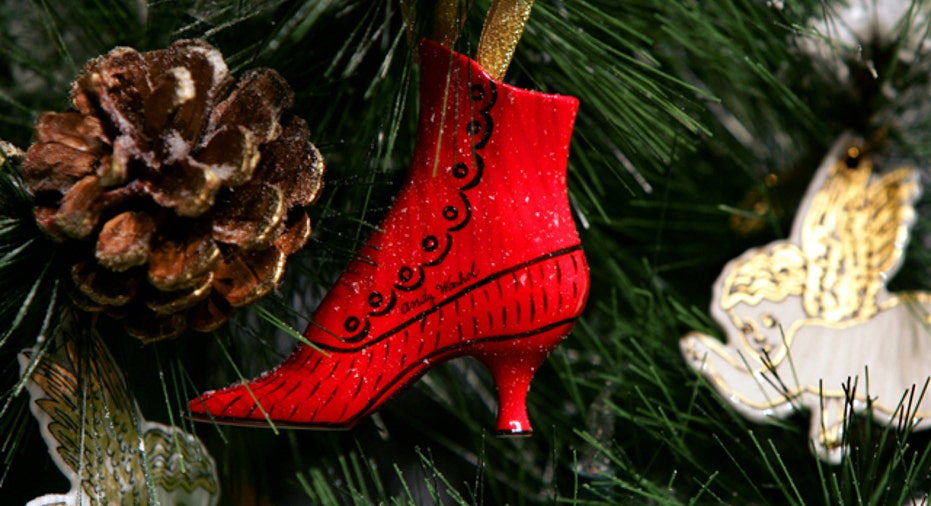 Every year the ornaments on my Christmas tree thrill me to no end. They are all expression in one form or another – the turtle with long lashes and a feather hat flaunts my inner diva and the white and silver owl is a stunning representation of wisdom.
But this year my really special tree-trimming moment came when I unwrapped the tissue around a little brown church ornament. It is a replica of El Santuario de Chimayo in New Mexico – a place of prayer and miracles -- purchased on a trip last spring. Ironically, the fact that the ornament is in my possession is in itself a kind of miracle.
While visiting New Mexico for a professional coaching conference, I was staying just outside of Albuquerque and decided to drive up to Taos a few days prior to the conference. The concierge at my hotel suggested I take the "high road" to Taos and if I was in the mood for a stop she recommended this lovely sanctuary that draws people from all over because of its healing powers. They come for, among other things, a sampling of the dirt which is said to be sacred.
I was happily driving along on a perfect sunny day with big puffy clouds when I saw the sign for El Santuario de Chimayo. I nearly passed it, but made a point of stopping because, well, I didn't believe it was by chance I was sent there. As I walked through the gate, I saw a sign indicating mass was beginning in five minutes and so I strolled into this tiny, beautifully rustic adobe church and was immediately moved to tears.
Later, I was miles away from the premises when I realized I had forgotten to get some sacred dirt. I opted not to turn back. Two days later, while in a Christmas shop in Santa Fe with friends, one friend pointed out the quaint church ornament.
"Isn't that your sanctuary?" she said.
I had related the story to my friends earlier, specifically a personal epiphany I'd had since visiting there. When I inspected the ornament, I saw writing scrawled on the bottom indicating it was made of the sacred dirt from El Santuario de Chimayo. It made me gasp.
And while I have since read of the crutches left behind there, the pilgrimages that regularly make it their destination, the history of the U.S. soldiers who survived the Bataan Death March giving thanks there, I realize my own awareness of everyday miracles has been heightened since that visit in the spring.
"Sometimes, however, the miracle is not the one that cures our tormented bodies," writes Margaret M. Nava in an article on the sanctuary's Web site. "Sometimes the miracle is faith itself."
Faith – and the eyes to see -- that there are miracles in moments, miracles in epiphanies, miracles all around us. The holidays have a way of bringing them all to the forefront.
As I decorate and in some cases overhaul parts of my home for Christmas, I realize that the friend helping me is actually a sort of angel who sprinkles pixie dust filled with encouragement around to all her friends and then backs it up with action. Isn't a friend who helps you see what your home can be, gets her hands dirty, and makes you want to open up the place to others a miracle?
And what of the blaring horn car alarm that, just when you've reached your limit, stops and gives way to church bells playing God Bless America? Or, at a time in life when so many in my generation are losing their parents, my mother being a phone call away to fill in the blanks on an old family recipe?
Sometimes discovering just the right chair in a remote little shop of treasures feels miraculous. Or branches spray-painted silver to light up a corner of your home. Or that perfect, thoughtful gift you find for a loved one. Or the way the guy in the frame shop takes a sweet 5x7 photo and blows it up into the inspiration piece for a room.
What a magical place, El Santuario de Chimayo. It changed me so. The ornament was a poignant reminder of the everyday miracles, but also the big ones that imprint our hearts and souls and change the course of our lives.
Another friend who greatly appreciated the sanctuary story encouraged this column and he added, "Wrap it up with the importance of faith to achieve anything -- faith in yourself, faith in those close to you, faith in mankind, faith in a power greater than ourselves."
Done.
Thank you and amen.
Nancy Colasurdo is a practicing life coach and freelance writer. Her Web site is www.nancola.com. Please direct all questions/comments to FOXGamePlan@gmail.com.