Amid Sales Warning, UA Partners With NBA On Fitness App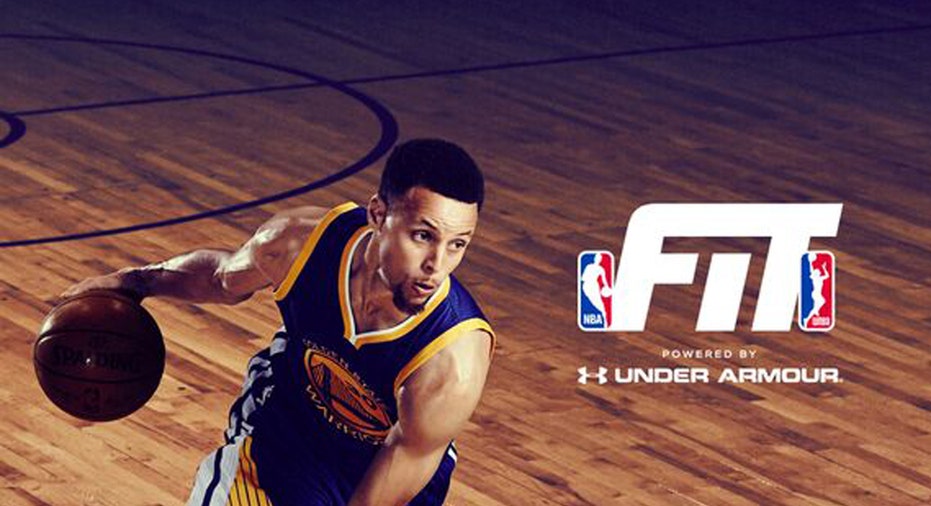 The National Basketball Association partnered with Under Armour on Wednesday to launch NBA Fit, a fitness app powered by the apparel brand's digital health platform Connected Fitness.
The NBA Fit app will provide users with a variety of training videos and fitness tips from top NBA and WNBA players – including Golden State Warriors guard Stephen Curry and Chicago Bulls forward Joakim Noah – as well as content from several of the league's strength and conditioning coaches, according to a joint press release. The program is free and available for download via the App Store and Google Play. Under Armour will post additional NBA Fit content on its blog.
The partnership is the first of its kind for Under Armour (NYSE:UA), and a minor coup in its bid to catch industry leader Nike Inc. (NYSE:NKE), which has been arguably slower to embrace digital fitness. Todd Jacobson, the NBA's senior vice president of social responsibility, said the size of Under Armour's digital community made it the perfect vehicle for the app's launch, adding that it provides a new way for the league to interact with its base of more than one billion social media followers.
"We just felt it was a great partnership for us. As we look at different opportunities and built this out, the Under Armour Connected Fitness world just provided that great ecosystem," Jacobson told FOXBusiness.com. "We are always looking at opportunities for people to connect with our fans in fun and interactive ways to make them more healthy and active."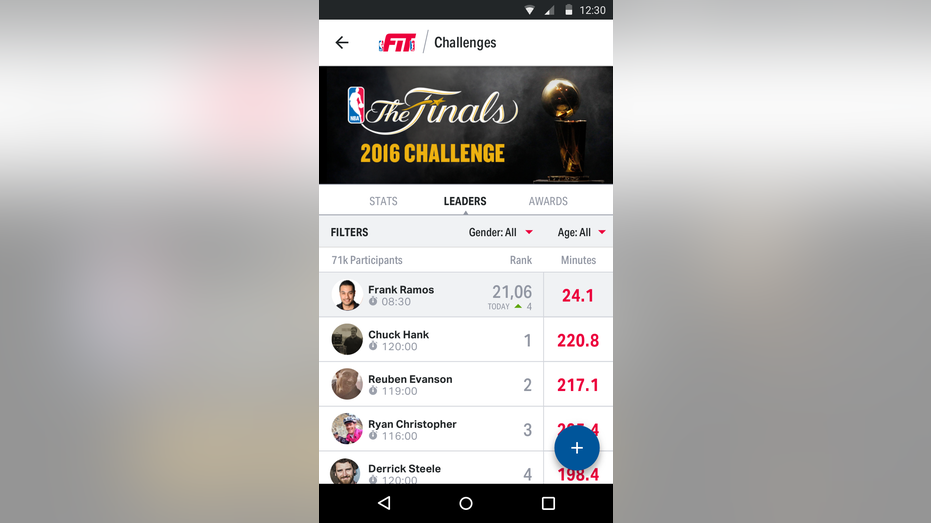 Under Armour's new collaboration with the NBA comes amid widespread struggle in the retail space. Nike shares tumbled in early trading Wednesday after Morgan Stanley cut its rating from "overweight" to "equal weight." Meanwhile, Under Armour reduced guidance for its 2016 fiscal year, citing Sports Authority's bankruptcy.
Aside from basketball-related workouts, the NBA Fit app's curated content will include fitness and health videos, such as footage of Curry playing golf or WNBA star Tamika Catchings' exercise routine. The NBA will also offer fitness competitions and other incentives to consumers.
The first, called the NBA Finals 2016 Challenge, asks users to complete a 30-minute basketball workout every day through June 19. Each participant is asked to meet or exceed the NBA Finals single-game record of 16 three-point shots during each workout. One randomly selected participant will win tickets to the 2016 NBA Draft, presented by league sponsor State Farm.
Under Armour CEO Kevin Plank has repeatedly identified the Connected Fitness platform as a key pillar in the company's efforts to reach $7.5 billion in revenue by 2018. Under Armour's digital community consists of more than 170 million registered users across its UA Record, MapMyFitness, Endomondo and MyFitnessPal platforms.
"The app reinforces Under Armour's commitment to the Connected Fitness space and validates our capabilities as a technology and a connected fitness platform," Peter Murray, Under Armour's vice president of global sports marketing, told FOXBusiness.com. "Ultimately, it's a fan and consumer engagement platform. We're excited to activate the NBA relationship, leveraging our connected fitness capabilities. And it will also engage Under Armour's Connected Fitness universe of users as well as bring new users to the UA Record platform."
Aside from social outreach, the NBA Fit app collaboration will also provide opportunities for both the NBA and Under Armour to build relationships with advertisers and sponsors, Murray said.
"The Under Armour brand will be integrated into the app experience organically, along with providing users with experiential and product benefits. In addition to that, it is a media platform that the NBA and Under Armour will continue to advance, so other brands and advertisers and sponsors have the ability to participate within the app," Murray said. "Our goal there is to expand the user base, to bring other relevant partner brands on board with the NBA to expand overall usage of the NBA Fit app."