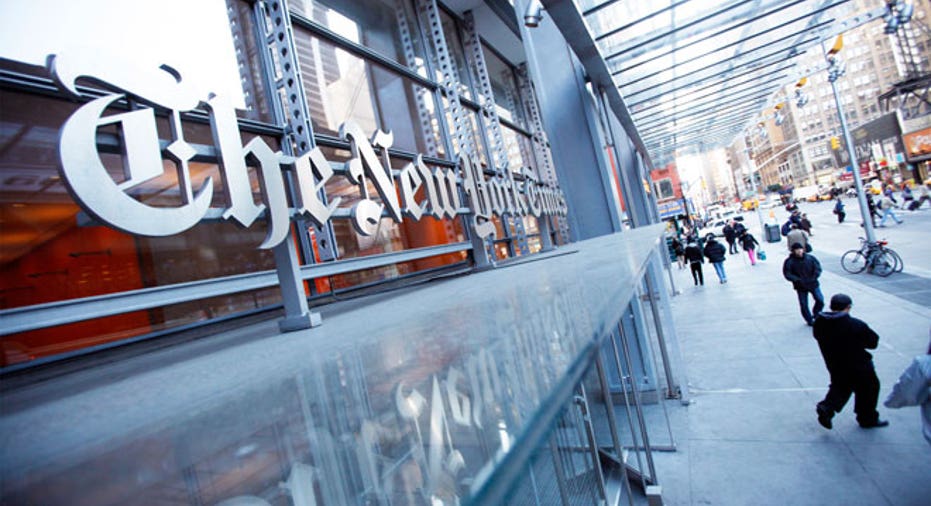 Consumers, it seems, are always after the shiny new product. For some industries, the latest version is always the most popular — the newest smartphone, tablet and sneaker are always the products in highest demand. Not surprisingly, some of the most valuable brands are relatively young. Apple, Google and Nike is each worth tens of billions of dollars and has tens of millions of customers.
This story was originally published by 24/7 Wall St.
Nevertheless, many of the most well-known brands with the most valuable brand equity include some of the country's oldest companies. American Express, founded in 1850, is one of the hundred most valuable brands in the world, according to a list published by Interbrand, a branding consultancy. Coca Cola, Heinz and Jack Daniels are also on the Interbrand list and are all over a hundred years old.
24/7 Wall St. went in search of America's oldest brands. To be considered, the brand had to have remained the same — the same name and consistently associated with the same consumer product. While almost all of the brands were not nationally available in the 19th century, the products had to be nationally available today.
Many of the oldest products were not included. Though it has been around for over 200 years, Jim Beam was previously sold as Old Tub and its name did not change to Jim Beam until the 1930s. The company that makes King Arthur flour was founded in 1790, but didn't adopt the name until the end of the 19th century.
While there are a number of companies that were founded in America over 150 years ago, most remained small regional brands. Yuengling has been brewing since 1829, but continues to be a beer that's almost exclusively distributed in the Northeast.
Of course, some brands made the cut. Remington does not make the same rifles it did in 1848, but the current models are continuations of the brand's core product. The New York Times (NYSE: NYT), founded in 1851, has a different typeface and trim size today, but is very similar to the one printed 150 years ago. Even NYT.com has the same front page layout.
What does it take for a brand to survive and thrive for over 150 years, which is as long as Brooks Brothers' ready-to-wear suit brand has been around? Most brands on our list have done well for many decades because they continue to be well-regarded by consumers. Remington rifles are among the best made in the world. Tiffany silver is still considered the "gold standard" for products in its category. Each of these products may have different competition than a century ago, but continues to be relevant in the current industry.
Will Apple (NASDAQ:AAPL) or McDonald's (NYSE:MCD) survive into the next century? There is no assurance of that. They could become unexpectedly overwhelmed by competition, or they could radically change their businesses. There is no way to predict product longevity, as least based on the variety of brands on this list and the competition each has had to survive.
These are America's Oldest Brands.
10. The New York Times > Product: Newspaper > Product launched: 1851 > Company founded: 1851 The first edition of the New York Times was published on Sept. 18, 1851. The paper began publishing its Sunday issue in April 1861. After the paper's acquisition by Adolph S. Ochs in 1896, the Times adopted its present motto, "All the News That's Fit to Print." In 1912, the paper was the first to report of the Titanic's sinking. In 1918, the Times was awarded its first Pulitzer Prize, the second year the price was offered. To date, 108 Pulitzer Prizes and citations have been given to the newspaper.
Read: Ten Brands That Will Disappear In 2013
9. Tiffany & Co. > Product: Silver > Product launched: 1851 > Company founded: 1837 Tiffany & Co., originally founded as a "stationery and fancy goods emporium," has been a leader in the industry for over 150 years. The company's importance can be seen in the impact it has had on the silverware and jewelry business. Tiffany & Co. has used the same 925/1000 standard for silver purity since 1837 — a standard later adopted by the United States government for sterling silver. At the 1867 Paris Exposition Universelle, Tiffany was the first American company to win an award for its silverware. In 1871, the company introduced a flatware pattern, called "Audobon", which to-date remains the company's best-selling flatware. Today, Tiffany sells silver bracelets, necklaces, piggy banks, and silverware among other items.
8. Brooks Brothers > Product: Menswear > Product launched: 1849 > Company founded: 1818 Brooks Brothers was founded in 1818 by Henry Sands Brooks, with the first store located in New York City. The company made the first ready-to-wear suits in 1849, and it has sold them ever since. The company notes that those flocking to California in the 1849 Gold Rush could not wait for tailors for custom clothing, relying on Brooks Brothers for their suit needs. Today, the New York-based company has approximately 200 stores in North America and an additional 130 stores in other parts of the globe. The company has greatly expanded its offerings since 1849 too, selling formal and casual wear for men, women and children.
7. Merriam-Webster > Product: Reference books > Product launched: 1847 > Company founded: 1831
In 1843, G. & C. Merriam Co. purchased the rights to Noah Webster's 1841 edition of An American Dictionary of the English Language, Corrected and Enlarged. In 1847, Merriam published its first Merriam-Webster dictionary. Though one of the country's oldest brands, Merriam-Webster makes significant efforts to keep track of the latest linguistic trends. In Aug. 2012, the company released its list of new words to be added to its Collegiate Dictionary. The list included words such as man cave, underwater (to describe mortgages), aha moment, and gastropub.
Also Read: America's Worst Companies to Work For
6. Scientific American > Product: Magazine > Product launched: 1845 > Company founded: 1845
Scientific American, a magazine dedicated to science and technology, was founded in 1845 by Rufus Porter. At the time, it was a weekly broadsheet carrying the subtitle, "The Advocate of Industry and Enterprise, and Journal of Other Improvements." Porter sold the magazine after 10 months to Orson Desaix Munn and Alfred Ely Beach for $800. The publication also founded the first branch of the U.S. Patent Agency in 1850 to give technical and legal advice to aspiring inventors. More than 140 Nobel laureates have written for Scientific American in its history. Today, the publication is owned by Macmillan Publishers Ltd. Scientific American notes that the monthly print magazine is read by 3.5 million people worldwide, and 3.88 million people a month visit its website, ScientificAmerican.com.
5. Poland Spring > Product: Beverage > Product launched: 1845 > Company founded: 1845
Though people tend to think bottled water is a relatively new product, Poland Spring proves them wrong. In 1845, the Ricker family began bottling and selling spring water. By 1860, Poland Spring was being sold all over the country. Driving the brand's early fame was its affiliation with the Poland Springs Resort and its purported health benefits. The brand remains as popular as ever: Poland Spring was named the strongest bottled water brand in 2012 by the Harris Poll EquiTrend study.
Read: America's Most (and Least) Livable States
4. Schaefer Beer > Product: Beer > Product launched: 1842 > Company founded: 1842 F. & M. Schaefer Brewing Company, which makes Schaefer Beer, was founded by brothers Frederick and Maximilian Schaefer. Frederick had immigrated to the U.S. from Germany in 1838, and Maximilian followed him in 1839, bringing along a formula for lager. By 1842, the two brothers purchased a small brewery in New York City. Over the 19th and 20th century, the company, and its beers, developed a wider following. An advertising campaign created the famous jingle, Schaefer — "the one beer to have when you are having more than one." By 1971, more than 5 million barrels of beer had been brewed. In 1981, the F. & M. Schaefer Brewing Company was purchased by the Stroh Brewing Company, which was purchased by the Pabst Brewing Company in 1999. Despite these changes in ownership, Schaefer Beer is still sold today.
3. Remington > Product: Rifles and rifle barrels > Product launched: 1818 > Company founded: 1818
Remington was founded in Ilion Gulch, New York by Eliphalet Remington II. Though it started by making gun barrels, according to the National Firearms Museum, Remington made its first completed firearm in 1848, when it was contracted by the U.S. Navy to manufacture 1,000 Jenks carbine rifles. The company has evolved somewhat since its founding. It incorporated as a stock company called E. Remington & Sons in 1865. In 1888 it was acquired by Marcellus Hartley and partners and renamed Remington Arms Company. From 1933 to 1993 it was partly, and later wholly owned by E.I du Pont de Nemours & Co. Despite all these changes, Remington rifles have been a constant. Of course, the rifles Remington makes have evolved to the present semi-automatic, autoloading models manufactured and sold today.
2. Crane & Co. > Product: Stationery > Product launched: 1801 > Company founded: 1799
Crane Paper has been made since 1799, when Zenas Crane began milling cotton paper. Under Zenas, the company began producing stationery paper in 1801.  Among those who used stationary crafted from Crane's paper were Franklin and Eleanor Roosevelt, and the Queen Mother—who announced the celebration of her 100th birthday using Crane's paper. Crane & Co. has continued to use cotton paper, even as other companies have moved to tree pulp for making paper, a cheaper alternative. The company's cotton paper is not just used for stationary, but also for currency. Since 1879, the company has provided the U.S. Treasury with currency paper, a business which accounts for a lion's share of their revenue.
Read: America's Most Dangerous Luxury Cars
1. Baker's Chocolate > Product: Chocolate > Product launched: 1780 > Company founded: 1780 Baker's Chocolate has, as a brand, been produced consistently since 1780, when Dr. John Baker purchased the outstanding shares in his own company from his partner's widow. One representative of Kraft Foods, present owners of the brand, told 24/7 Wall St. that "not much has changed, except the packaging." Yet even the packaging has remained remarkably consistent over time. La Belle Chocolaterie, the female figure seen on packages of Baker's, has been featured on Baker's Chocolate packages for over 100 years.