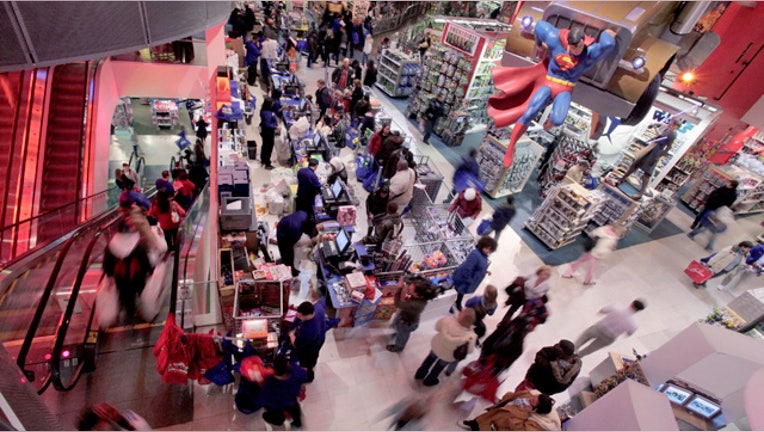 Some retailers are opening their doors on Thanksgiving day to offer heavy deals to entice consumers into their doors, and it might be for good reason as Americans plan to spend less this holiday shopping season.
A new Gallup poll finds American consumers plan to spend an average of $704 on holiday giving this year, compared to $786 last year. However, the average consumers shelled out more than they originally planned last year, which was $770.
When consumers were asked about their spending plans for this holiday season, 57% said they planned to spend the same amount as last year, 26%  plann to spend less and 15% expect to spend more.
ShopperTrak, a store traffic measurement firm, reported in September that this holiday season was on track to bring in the weakest sales numbers since 2009. Retail sales for November and December, which is when the bulk of holiday shopping is done and are crucial for retailers' bottom lines, were expected to rise 2.4%, less than the 3% increase in 2012 and the 4% uptick in 2011 and 2010.
Julia Scott, founder of BargainBabe, says the economic recovery has been so slow post-recession and a pullback in spending is expected.
"We have had people realizing the recovery is slow and experiencing economic hardship over the past several years," Scott says. "So it's not surprising many consumers have very little wiggle room in their budgets. At Christmas there is so much pressure to buy gifts for a lot of people, and sometimes it adds up to be too much."
But Scott estimates 2013 shoppers will mirror those of last year and spend a bit more than they planned for, especially since stores are opening earlier to extend the holiday shopping season.
"Every year shopping season starts a bit earlier," she says. "People aren't waiting for their Thanksgiving turkey to be digested to start shopping this year. And the longer you shop, spending will creep up—it is inevitable."