Americans Look Abroad to Avoid Student Loan Blues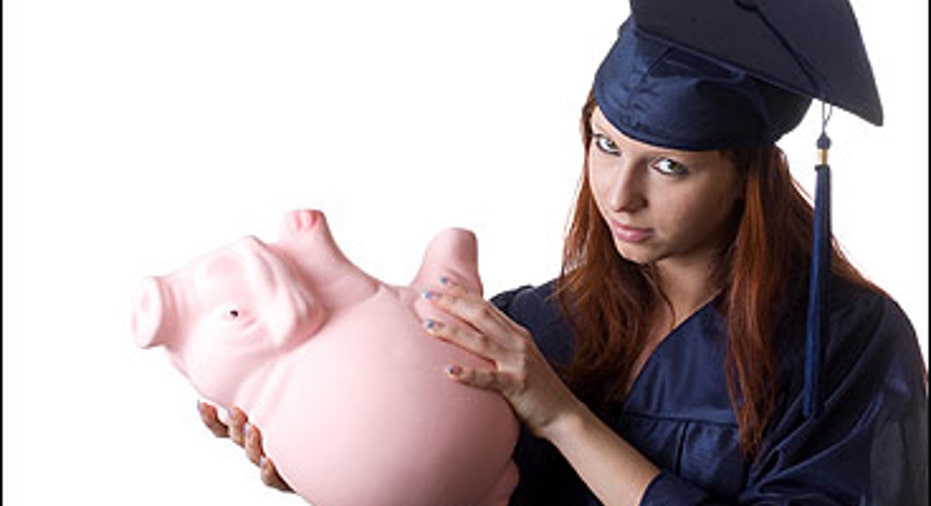 Frustrated by the lack of affordable college options at home, American students are increasingly looking beyond our borders for ways to get an education without jeopardizing their financial future. Universities in Canada and even farther afield offer comparable quality at a lower cost -- but you have to know where to look.
When you run the numbers, it's no wonder U.S. students are looking abroad. Two-thirds of college seniors who graduated in 2011 had student loan debt, with an average of $26,600 per borrower, according to the Project on Student Debt. That represents a 5 percent increase from just a year earlier -- an annual rate of growth that has become standard in recent years.
The reason students need to borrow so much money? Soaring tuition costs. Statistics from the U.S. Department of Education show that annual prices for undergraduate tuition, room and board at public institutions rose 42 percent to more than $13,600, and prices at private not-for-profit institutions rose 31 percent (after adjusting for inflation) to $36,300 for the period between 2000-01 and 2010-11.
From an academic standpoint, there are many high-quality choices outside of the United States, at least judging from the QS World University Rankings, which rates hundreds of the top universities worldwide. Elite U.S. and U.K. institutions dominate the top 10 on the latest QS list, but numerous other foreign schools earn ratings that are very similar to American schools in the top 50. (See slide show below to compare five top U.S. schools against international counterparts on cost).
Seeking education across the pond The Organisation for Economic Co-operation and Development -- which compiles data on students studying at various countries worldwide -- shows the U.K. as the top country of destination for U.S. students. (Those figures include students who are participating in study abroad programs temporarily -- the OECD doesn't have specific breakdowns as to how many students are permanently enrolled in a foreign school as their "home" institution.)
According to the U.K.'s Higher Education Statistics Agency, the number of students from the United States at British higher education institutions in 2011-12 was 16,335 -- a 5 percent increase from the previous school year.
Evaluating the cost of a U.K. education is a bit tricky, because fees are based on several factors, including the specific region where you'll be studying, and whether you qualify for the less expensive "home" fee or the higher "overseas" fee. Assuming you would be charged the overseas fee, the cost can range from £3,500 to about £18,000 per year (about $5,400 to $27,800) depending on the institution, the level of course and the type of course, according to the U.K. Council for International Student Affairs.
Heading northFor many U.S. students, Canada has become an attractive option for a more affordable education. In fact, Americans make up the biggest percentage of foreign students in Canada. (OECD research shows Canada as the second most popular educational destination for U.S. students.)
CollegeWeekLive, a website that offers free online college fairs, has noticed rapidly growing interest in fairs related to Canadian colleges. "We've had 10,500 among our student registrants from the U.S. say they wanted to study in Canada in the last two years -- and these are those who explicitly self-identified as interested in studying in Canada," says Martha Collins of CollegeWeekLive. "I suspect the true number is greater."
A "Study in Canada" fair the site held in November 2012 attracted 4,388 student attendees, with 14 higher education institutions from Canada participating. "Students and their parents are becoming more cost-conscious about their investment in higher education, and attending college in Canada provides a compelling combination of quality education, value from an investment perspective, and a study abroad experience for all four years that also happens to be relatively close to home," says Collins.
Things to considerBesides costs, there are some issues that U.S. students considering a foreign school must think about. For one thing, options for financial aid will be limited. At many schools, scholarship opportunities for foreign students are minimal or non-existent. International schools do not participate in the U.S. Department of Education's grant programs, so U.S. students would not be able to obtain a Federal Pell Grant to get a degree at an international school.
However, you can use funds from a 529 plan at many international schools. To see which ones, visit the website for the Free Application for Federal Student Aid (FAFSA). On the "state" pull-down tab, choose "Foreign Country" and you'll get a list of 441 schools.
Loans may also be available. Karen McCarthy, policy analyst at the National Association of Student Financial Aid Administrators, says some foreign institutions participate in the Federal Direct Loan Program, but you should double-check with the specific school you're interested in because schools must apply to be eligible to participate. (This information is often found on the school's website.) McCarthy says it's always a good idea to complete the FAFSA while you're deciding which school to attend, so your information will be available, just in case you decide to attend an international school that does participate in federal loan programs.
You also may not be able to use your U.S.-based medical insurance in an international location. Many insurance companies offer special policies just for international students, but of course this would be an additional cost.
The bottom lineWhile non-U.S. schools may indeed seem like a bargain compared to their pricey American counterparts, the issue isn't as clear-cut as it may first seem. For one thing, you want to factor all financial aspects into the equation -- including the cost of living. Many Canadian and overseas urban centers will be more expensive than the U.S. And, of course, travel costs will be involved, especially if you plan to make frequent trips home.
You also want to be sure you are comparing schools that have similar academic quality and other criteria. (See chart for some example comparisons.)
The best strategy: do your homework and be sure you are well-informed about all financial (and other) considerations. Once you've identified your target schools -- in the U.S. and elsewhere -- research housing costs and other expenses, along with the academic quality and educational opportunities. Find out what (if any) financial aid opportunities may be available, and consider any other costs you may incur, such as premiums for a new insurance policy and transportation costs.
Once you have gathered all of the essential information, you can then make an educated and objective analysis as to which options may truly be the best for you.  
See related: Why not leave country and bail on student loans?, How to move student loans out of default, Using plastic to pay off student loans: A bad idea