American Franchise Spotlight: You Won't Find a Cocktail at This Bar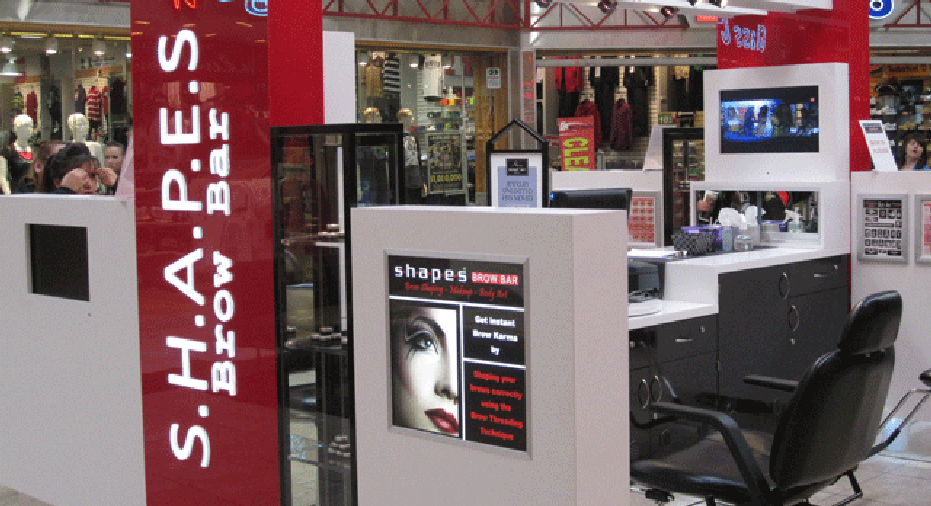 A new kind of bar is hitting malls across America. You are not likely to find your favorite cocktail there or a potential mate, what you will find at this bar is an array of hair removal and beauty services, which are part of an estimated $1 billion industry. In this edition of American Franchise Spotlight, we go inside s.h.a.p.e.s Brow Bar to find out what it takes to run a beauty business.
Reema Khan, s.h.a.p.e.s' founder and CEO, opened her first beauty salon in 2003. Inspired by the women who would drive from the suburbs to the North Side of Chicago to have their eyebrows threaded at her salon, Khan, a licensed cosmetologist, said she decided to open her first s.h.a.p.e.s Brow Bar at a local mall.
Since opening that first bar in 2004, s.h.a.p.e.s has grown to 62 locations in seven states.  One of those 62 locations is a franchise.
"I came to realize that in order to multiply the vision of financial success and keep the process of brow education, franchising appeared to be the most viable option," said Khan.
The company is just starting to expand its franchising program. They plan to first sell franchises in the states where corporate stores exists, which include California, Arizona, Texas, Illinois, Louisiana, New Jersey and Georgia, and then to penetrate new markets in Oregon, Washington, Utah, Michigan, Indiana, North Carolina, South Carolina, Oklahoma, and Virginia.
Franchisees can opt for either a cart, kiosk or an in-line store. A total investment for carts can range from $32,450 to $42,400, which includes a franchising fee of up to $17,500. A kiosk's total investment ranges from $60,450 to $83,100 and an in-line store's investment ranges from $88,050 to $175,300.  The franchising fee for a kiosk is up to $17,500 and for an in-line store up to $25,500.  Over the five years that the franchising agreement lasts, franchisees pay royalties of 8% of gross sales bi-weekly.
In addition to covering how to operate a s.h.a.p.e.s location, the company's training program also teaches hands-on technical methods of the various services offered. Depending on the services provided and state laws, employees at s.h.a.p.e.s Brow Bars may require a cosmetology or esthetician license.  However, franchisees are not required to be licensed.
"The basic qualities we are looking for in a franchisee is someone who has a passion and love for beauty," said Mosin Mohammed, vice president of Operations and Franchise Sales, "We also look for someone who is caring and genuinely enjoys serving people while making them feel good about themselves."
For Mohammed those qualities are evident in s.h.a.p.e.s' first and only franchisee, Hai Khan, who was managing four locations in Louisiana prior to becoming a franchisee in 2011.
Khan, no relation to the company's founder Reema Khan, has since installed a kiosk in Metairie, LA and hired four employees.
"I was overwhelmed initially with the idea of additional responsibilities including payroll and hiring, taxes and maintaining the paperwork," recalled Hai Khan, "but, at the same time, I felt a sense of pride about owning my business and being able to grow financially. Now, I have the opportunity to grow further with the company by owning more franchises."