American Eagle Upgrades '12 View Despite 3.3% Dip in 2Q Net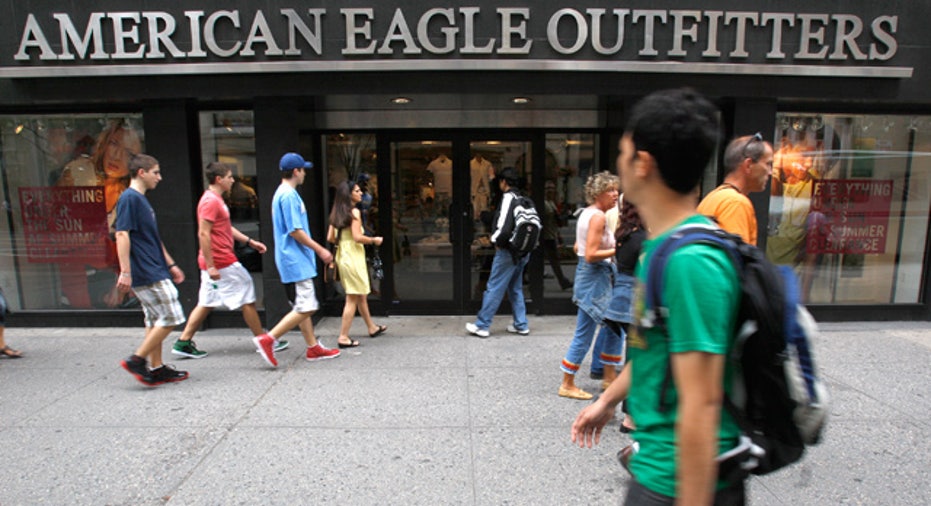 Boosted by a 9% jump in same-store sales, American Eagle Outfitters (NYSE:AEO) met Wall Street's expectations on Wednesday with a 3.3% decline in second-quarter earnings and hiked its full-year earnings targets.
Shares of the Pittsburgh-based retailer climbed 4% in response to the news, giving them a shot at extending their impressive 2012 rally of 36%.
American Eagle said it earned $19 million, or 9 cents a share, last quarter, compared with a profit of $19.7 million, or 10 cents a share, a year earlier. Excluding one-time items, it earned 21 cents a share, up from 13 cents a year before and matching estimates from analysts.
As was previously reported, revenue jumped 11% to $740 million, beating the Street's view of $719.3 million. Same-store sales leaped 9%.
CEO Robert Hanson said management is "pleased" with its results, but said the company continues to "drive for long-term performance improvement through fortifying our brands, further strengthening our products, marketing and customer experience, enhancing operational disciplines and pursuing growth across North America."
American Eagle pleased shareholders by projecting third-quarter EPS of 37 cents to 38 cents, compared with forecasts from analysts for 37 cents.
Even better, management boosted its full-year EPS projection to $1.33 to $1.36, compared with a prior forecast for $1.16 to $1.22. Even the low end of the new range would surpass the Street's view of $1.32.
American Eagle also said it expects to take an after-tax loss of about $35 million due to the previously-announced plans to get out of the children's business through the sale of its 77kids brand.
Wall Street bid American Eagle's shares 4.9% higher to $21.85, putting them on pace to add to their 12-month surge of about 80%.