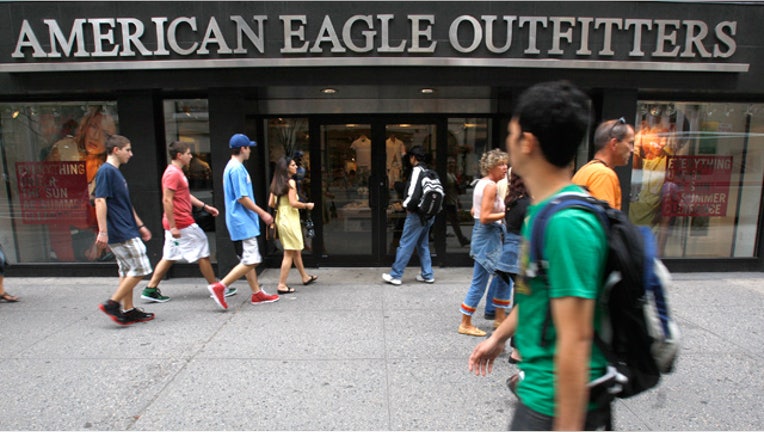 American Eagle Outfitters (NYSE:AEO) revealed an 85% surge in fourth-quarter profits on Wednesday, but the apparel maker's adjusted earnings and tepid quarterly guidance disappointed Wall Street.
Despite hiking its dividend and unveiling a new buyback program, American Eagle's stock tumbled almost 10% in premarket trading.
The retailer said it earned $94.8 million, or 47 cents per share, last quarter, compared with a profit of $51.3 million, or 26 cents a share, a year earlier.
Excluding one-time items, it earned 55 cents a share, trailing consensus estimates from analysts by a penny.
Net revenue rose 9% to $1.12 billion, matching the Street's view. Same-store sales gained 4%, compared with an 11% jump in the year-earlier period. Gross margins expanded to 41.2% from 35.2%.
"In a competitive and volatile consumer environment, we drove a strong top line on leaner inventories, reduced markdowns and achieved cost leverage," CEO Robert Hanson said in a statement.
Looking ahead, American Eagle projected first-quarter EPS of just 16 cents to 19 cents, which compares poorly with projections on Wall Street for EPS of 25 cents. A year earlier American Eagle earned 22 cents a share.
Management also warned first-quarter same-store sales are seen declining in the mid-single digit range, compared with a 17% leap in the year-earlier period.
At the same time, American Eagle execs told analysts on a conference call that the retailer plans to close 15 to 20 stores in 2013 and warned that spring mall traffic has not "been as robust as we would like."
Offsetting the gloomy outlook, American Eagle said its board of directors approved a plan to buy back 20 million shares and boost its quarterly dividend by 14% to 12.5 cents per share.
The higher dividend will begin in the second quarter after American Eagle accelerated its first-quarter payout to the end of December amid the fiscal cliff.
"We remain committed to using our strong balance sheet and free cash flow to invest in our business to support long-term profitable growth and to consistently return cash to our shareholders," Hanson said.
Pittsburgh-based American Eagle saw its shares slump 9.62% to $20.38 ahead of Wednesday's opening bell. The bar had been set high as American Eagle had been up almost 10% on the year and 53.5% over the past 12 months.