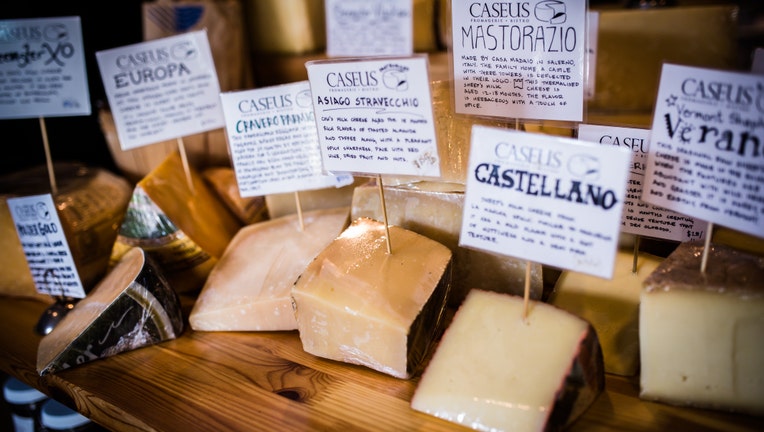 American cheese-makers say proposed EU-restrictions on cheese names are no "gouda" here.
On Tuesday, Sen. Chris Murphy (D-CT) hosted the Connecticut Cheese Challenge at Sankow's Beaver Brook Farm in Lyme, Conn. Local farmer Suzanne Sankow says the senator was on hand to decide which feta was beta: Sankow's own farm-fresh variety or the European-made version.
Sen. Murphy and the cheese makers milked the stunt to draw attention to European Union efforts to limit American farmers' use of common cheese names like gouda, feta, parmesan and cheddar. The E.U. says these names are geographical indications, and should only be used for products made in certain regions.
But American cheese-makers and politicians say the restrictions are sour.
"In country after country, the E.U. has been using its free trade agreements (FTAs) to persuade its trading partners to impose barriers to U.S. exports under the guise of protection for its geographical indications," Sen. Charles Schumer (D-NY) and Sen. Pat Toomey (R-PA) wrote in an open letter, which was signed by over 50 other senators.
The E.U. has already imposed restrictions on U.S. companies' ability to sell cheeses like parmesan and feta under those names in Canada and South Korea, says Chris Galen, spokesman for the National Milk Producers Federation.
The senators call the E.U.'s push a "protectionist measure" that would hurt American farmers' ability to compete on an international stage. The U.S. Dairy Export Council says U.S. cheese exports have been growing by an average of 40% annually over the past five years. Last year, the council says U.S. cheese exports hit a record high of $1.4 billion.
Sankow, whose family farm has been in operation since 1917, calls the E.U.'s efforts ridiculous.
"We've been making cheeses for hundreds of years [in the United States]. Now they want us to not have the names we have?" asks Sankow.
While Sankow understands there's a precedent for geographical indications, referencing the restrictions on Champagne wine, she believes cheese names are more representative of the cheese-making process than any one region.
"Feta cheese is always cured in brine -- it's the only cheese that is," says Sankow, who makes both cow- and sheep-milk feta at Beaver Brook Farm.
Sankow adds that the sheer number of cheese names that could be affected by the restrictions also makes this an unreasonable ask.
"This would be so many cheeses. This is gouda, this is brie, this is camembert," says Sankow, listing just a few.
Jason Sobocinski, a cheese-maker and owner of New Haven's Caseus Fromagerie Bistro and shop, agrees that cheese names are more indicative of style than of anything else. While Sobocinski is not participating in the Connecticut Cheese Challenge, it's an issue he says he feels strongly about.
"There are so many versions of cheddar. There's American cheddar, English-style cheddar, clothbound cheddar … It's kind of ridiculous that they wouldn't allow us to use that classification," says Sobocinski.
He says no matter what ends up happening with the proposed restrictions, he's unlikely to stop using the popular European names when speaking with customers.
"It would pose a challenge. You'd have to re-educate all your consumers … I'm not one for following rules to a tee," says Sobocinski.