American Airlines workers protest in Dallas over outsourcing, contracts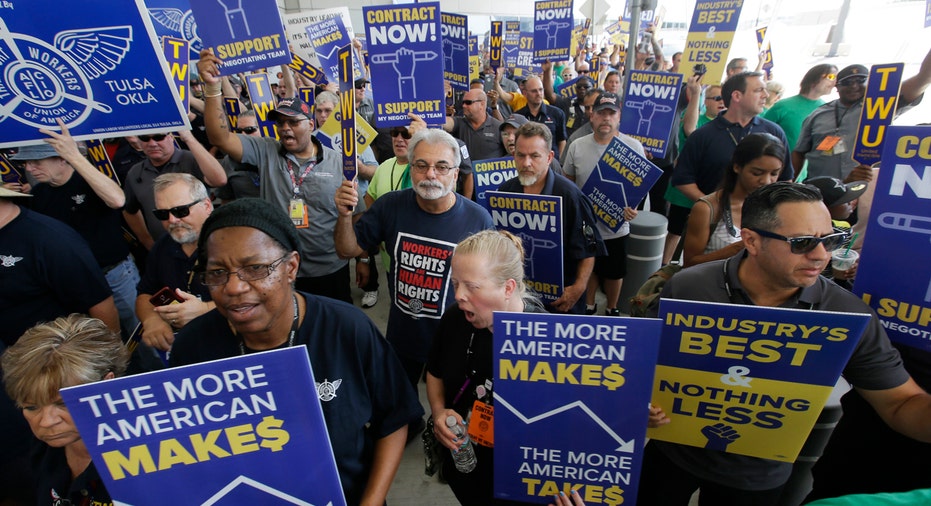 Ground workers who maintain American Airlines (NASDAQ:AAL) planes are protesting Wednesday over a contract issue over outsourcing jobs and contract negotiations.
Three Transport Workers Union locals demonstrated at Dallas-Fort Worth International Airport which are pressing the airline to keep jobs from being moved overseas to Brazil, Chile and China, and to start contract bargaining "in good faith" for the unionized employees.
American plans to open a $100 million facility in the South American country, according to Reuters.
"It's quite clear that there's a serious disconnect between the leadership at American and their negotiating teams," said Gary Peterson, president of Local 591, one of the groups picketing at the airport. "After a year and a half of negotiations, the company's latest effort fell short of the industry standard by every measure."
Other organizations voiced their support for the hundreds of TWU members rallying at the Texas airport, which is the largest hub for Dallas-based airline. The American Federation of Government Employees—the largest federal employee union— as well as the AFL-CIO and members of the Allied Pilots Association, the collective bargaining agent of pilots flying for American.
In a statement to FOX Business, an airline spokesperson said:
"American is incredibly thankful for our skilled and well-trained maintenance and fleet service team. We have a shared goal with the TWU-IAM [International Association of Machinists and Aerospace Workers] Association to make sure our team members are well compensated and work for a company that values them immensely. That was the motivation for last summer's unprecedented pay raises outside of negotiations, which gave our teams the highest wages in the industry. A lot of progress has been made in negotiations recently. We're back at the bargaining table with the Association this week with dates scheduled through August, and look forward to reaching an agreement as soon as possible," an airline spokesperson told FOX Business.