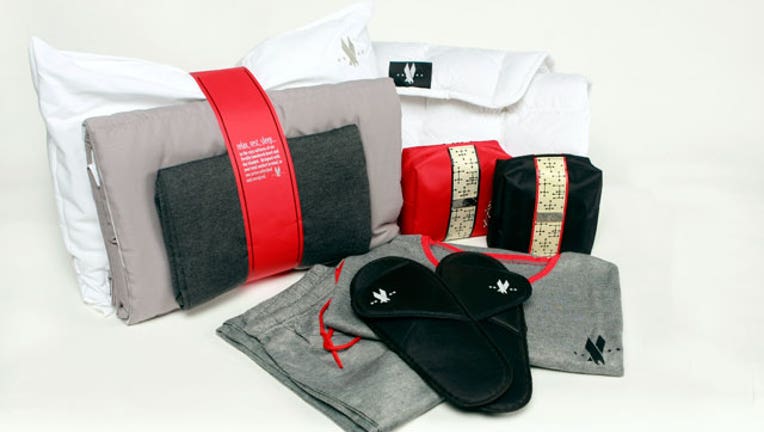 It sometimes happens that travelers in coach get upgraded to first class, but starting today, some first-class passengers are getting upgrades of their own.
Today marks the launch of American Airlines' (NYSE:AMR) new "turndown service" on select flights between the U.S. and London. First-class passengers on these flights will receive pajamas, slippers and a quilted bed topper in addition to a day blanket, a newly-designed duvet and pillow and a case of amenities that includes skincare products from Dermalogica.
Prior to today, first-class passengers would receive a "really nice large pillow," a duvet and an amenities kit that included Burt's Bees cosmetics, says Brady Byrnes, design manager for American's onboard products.
Business-class travelers on these flights will also share in some of the new perks, receiving slippers, the new duvet and pillow and the enhanced amenity kit.
American claims it is the first and only U.S. airline to offer pajamas, slippers and a quilted bed topper as part of its turndown service and aims to bring the service to first-class cabins on all international flights beginning Oct. 1. The new business class amenities are expected to be offered on all international flights on that date as well.
While jazzing up in-flight products may seem like a small move, it's one that American hopes will elevate the customer experience and ultimately sharpen its competitive edge.
"We're here to win over our current customer, but we're also fighting for tomorrow's customer," says Byrnes.
Competition in the airline industry has always been fierce, but that rivalry has been made stronger as the struggling economy has dampened travel demand. In a report released today, the International Air Transport Association said that while demand for international travel was up a stronger-than-expected 7.3% in July, the recession has set back passenger growth by almost two full years.
Because demand isn't what it used to be -- especially not in first class where a single roundtrip ticket can easily run upwards of $10,000 -- several airlines have begun phasing out first class altogether. Since 2009, British Airways, Qantas, Air France, United (NYSE:UAL) and Lufthansa have all either eliminated or dramatically reduced their first-class cabins, according to data compiled by SeatGuru.com.
"More airlines are certainly getting rid of first class than they are trying to improve it," says Matt Daimler, SeatGuru.com's founder.
From a financial standpoint, American certainly has reason to focus on its first-class and business travelers: Premium flyers represent about 20% of American's total customer base, but make up 70% of its revenues, according to Byrnes.
But that doesn't mean everyone else is chopped liver. For those wondering whether or not that means higher-paying passengers will be the only ones getting new goodies, Byrnes says the company is actively looking at improving the economy-class experience and may have some changes in store over coming months.
"There are things that are definitely under discussion," he says.
Another thing American is going to have to discuss is whether or not to upgrade their business-class seats from lie-flat seats to the flat bed seats currently offered in first class, says Daimler at SeatGuru.  He explains that while both seats technically allow passengers to lie flat, the positioning of the lie-flat seats give passengers the feeling that they're slipping down, while the flat bed seats do not. Delta (NYSE:DAL) and United are currently in the long and expensive process of transitioning to flat bed seats in business class, and if American doesn't do the same, it could suffer, Daimler warns.
"Over the next few years, [American will] have to look to more than just pillows and blankets to make up the difference," Daimler says.