Amazon sells $1.6 million in Whole Foods' store-brand products in first month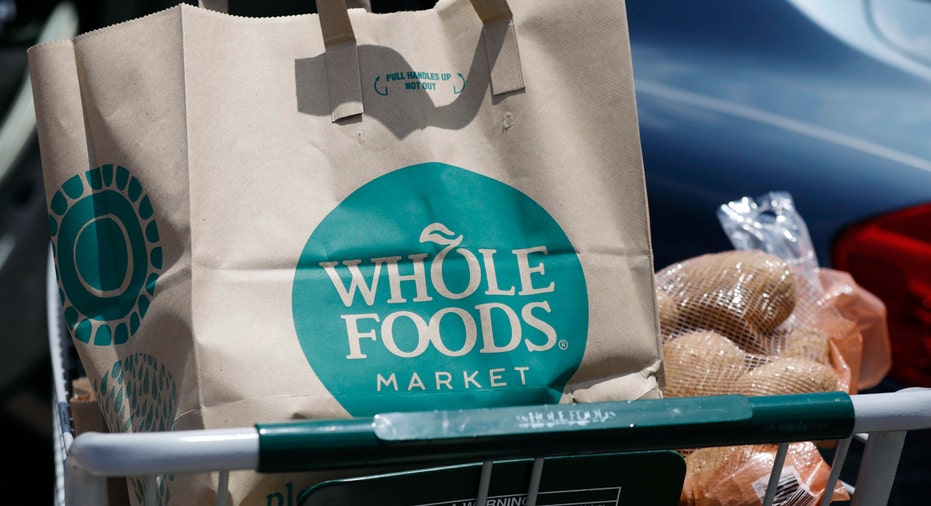 Amazon.com (NASDAQ:AMZN) has sold about $1.6 million in Whole Foods beans, breakfast cereal and other store-brand products in the first month since taking over the organic chain, one of the first infusions of cash the e-commerce giant has delivered to the natural grocer through its site.
Amazon completed $500,000 in online sales in the first week after it started offering Whole Foods' "365 Everyday Value" products, according to the One Click Retail e-commerce data analytics firm that focuses on the site's transactions. Weekly sales fell to about $300,000 during the next two weeks after Amazon ran low on stock for some products but rebounded in the fourth week, the analysis found.
Ticker
Security
Last
Change
Change %
AMZN
AMAZON.COM, INC.
3,392.49
+16.42
+0.49%
KR
THE KROGER CO.
39.48
-0.48
-1.20%
During the past month, 19% of Whole Foods sales on Amazon were of snacks and candy, followed by frozen fruit and vegetables, One Click found. Deli turkey breast and coconut water were the most popular individual items, while condiments and health and beauty items drew the least share of sales.
The sales are small compared with the roughly $8 billion in retail sales Amazon averages a month. Whole Foods brand pasta, packaged meats and other goods already had a loyal following among customers of its 470 stores, with exclusive products accounting for 15% of the company's annual revenue.
But Amazon gives Whole Foods' products the potential for a new mass-market platform, providing new revenue to the struggling grocer, grocery analysts said. "When they blow it out, it'll be a much bigger number," said Bob Goldin, partner for the Pentallect Inc. food consultancy.
A Whole Foods spokeswoman declined to comment. Amazon didn't respond to requests for comment.
The online private-label sales are among the changes Amazon made after taking over Whole Foods on Aug. 28. The online retailer also permanently reduced prices on eggs, milk, bananas and other high-volume items across stores.
Third-party data showed a surge of traffic as curious shoppers flocked to Whole Foods stores several days after the price cuts took effect, but that subsequently dropped. It will take additional measures to turn around Whole Foods' two years of steady sales declines, Mr. Goldin said.
Whole Food stores nationally saw a 10% increase in traffic in August compared with monthly averages for 2017, according to location-based data compiled by the inMarket mobile analytics firm. The traffic is projected to be 4% below average in September, it found.
"I've bought a bit more salmon," said Howard Levy, a 67-year-old retired financial worker, as he left a Chicago Whole Foods. Mr. Levy said he is buying more of the grocer's newly discounted fish but still goes to Kroger Co'.s (NYSE:KR) Mariano's chain in Chicago for many items at less expensive prices.
Amazon and Whole Foods executives have said they planned to institute more discount offers in the months to come.
Grocers across the country are fiercely competing on price to lure shoppers to their stores.
Amazon is mass marketing Whole Foods' store goods just as American consumers are looking for healthy food sold under less-expensive private labels. Of the 2,764 shoppers surveyed by the Bain & Co. data firm earlier this year, 85% said they were open to trying private label goods.
Store brands accounted for more than $150 billion in grocery sales last year, according to the Private Label Manufacturers Association.
Amazon's online sales of Whole Foods products could be a more direct driver of profit given the reach, said Diana Sheehan, director of Retail Insights at the Kantar Retail consultancy. "This is probably one of the most valuable things they got from Whole Foods," Ms. Sheehan said. "The 365 private label has probably some of the strongest brand equity in the nation."
Amazon will need to work on its supply issues of Whole Foods products, said Nathan Rigby, vice president of sales and marketing for One Click Retail. The online retailer hasn't marketed the goods much, nor made the bulk of them available beyond users of its Fresh and Pantry services, Mr. Rigby said.
"I buy a lot of 365 items," said Kai Rose, a Chicago tech worker and mother of a 9-month-old, who had yet to hear about the Whole Foods goods being sold online. "I will be definitely be buying them on Amazon."
Write to Heather Haddon at heather.haddon@wsj.com
(END) Dow Jones Newswires
September 29, 2017 07:14 ET (11:14 GMT)