Amazon.com Unveils 3D Phone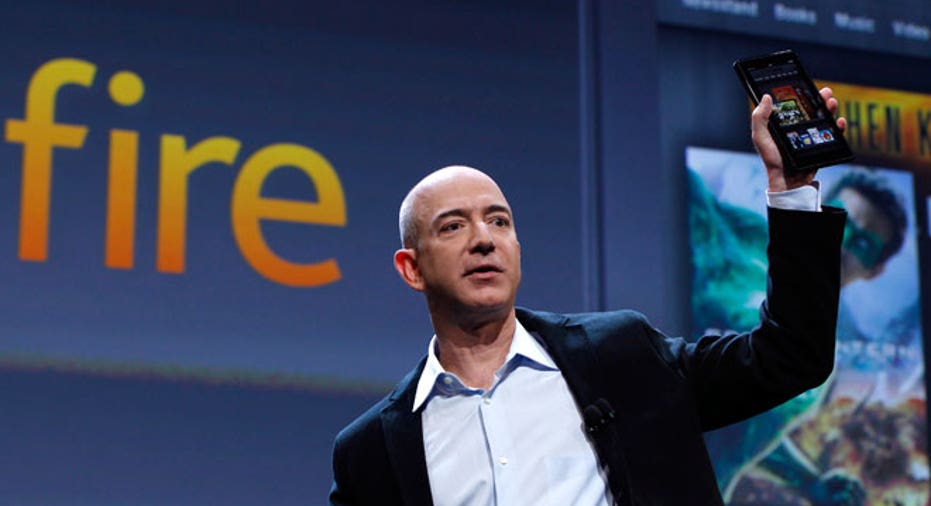 Amazon (NASDAQ:AMZN) CEO Jeff Bezos revealed the company's highly-anticipated -- and first -- smartphone at an event in Seattle on Wednesday.
The new device will have a 4.7 inch screen, a 13 megapixel camera and a 3D-like experience called "dynamic perspective." As far as speed and storage goes, the phone will have a 2.2 GHz quad-core processor and 2 GB of RAM.
Fire Phone's multiple front-facing cameras help create three-dimensional images. The feature is also incorporated into the maps app, showing 3D renderings of buildings.
"We invented a new sensor system called Dynamic Perspective that recognizes where a user's head is relative to the device," Bezos said in a statement. "We can't wait to see how developers surprise us" with their incorporation of this feature.
The cameras can also be used to recognize items, from books to DVDs, on a feature known as Firefly with which users can get instant product information before making a purchase.
Firefly also can identify printed phone numbers and email addresses, and can save them as a contact. Additionally, it can recognize movies and TV episodes, and can show actor information and plot synopses.
The phone will also have a tilt-to-scroll feature, meaning that users can scroll through items without touching the screen. Tilting can also be used for enhanced search results.
Fire Phone users will have unlimited photo storage on Amazon's cloud drive. The phone will also be integrated with Amazon Music and Mayday, Amazon's customer service tool.
Although this will be Amazon's first foray into smartphones, the company has been in the hardware business for a number of years with its Kindle line. (Users will be able to read e-books from the Kindle library on the phone.)
The phone will be exclusively available at AT&T (NYSE:T) and will cost $199 for 32GB of storage and a two-year contract, or $299 for 64GB of storage, as of July 25. It will also come with a free 12 months of Amazon's Prime service, which includes two-day deliveries and digital streaming.
Amazon also announced a partnership with BlackBerry (NASDAQ:BBRY) on Wednesday, where BlackBerry users will have access to the Amazon app store. BlackBerry developers will also be encouraged to create apps that are compatible for both devices.
Amazon shares were up 3% on the news. They are currently trading around $335, with a market cap of $154 billion.