Amazon CEO Jeff Bezos tops Forbes' billionaire list as Trump slides again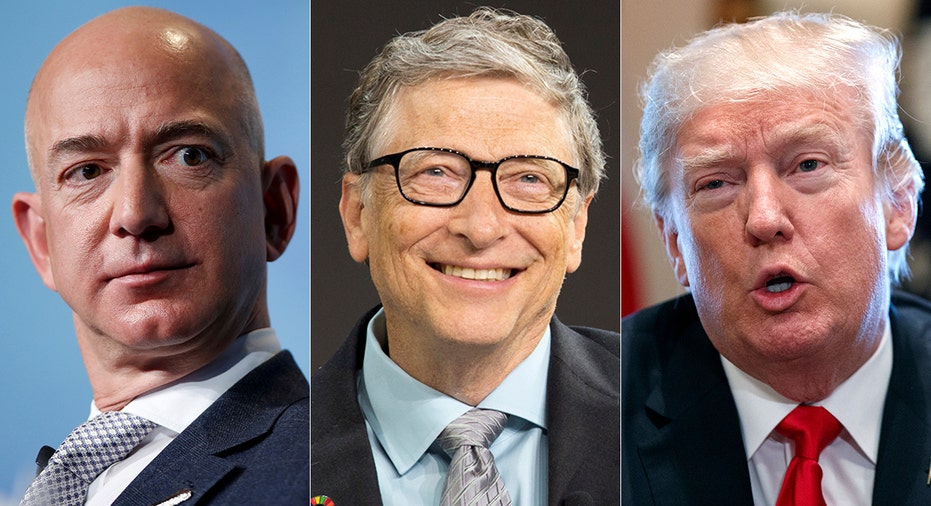 Amazon's Jeff Bezos seized the top spot of Forbes' annual billionaires list for the first time, dethroning long-time holder Bill Gates, while President Trump's spot takes a nosedive.
Bezos' fortune climbed to $112 billion from an estimated $39.2 billion last year, which is the biggest one-year again on record, the outlet reported. 
His rise knocked Microsoft founder Bill Gates from his throne, which he has held for 18 years. Gates' estimated wealth only rose $4 billion from last year to an estimated $90 billion, creating the biggest gap (in dollars) between the top two spots since 2001.
Overall, a record 2,208 billionaires were featured in the magazine's 32nd annual ranking, up from 2,043 last year, with an average net worth of $4.1 billion, a record high. Over 1,490 of them were self-made billionaires, up from 1,371 in 2017.
Warren Buffett, who has also been a notable name on the list for several decades, has fallen to the No. 3 spot, with his net worth only increasing from $75.6 billion to $84 billion in 2017.
Yet, the most well-known name of all, President Donald Trump, who often touts his financial success, took a big dive this year falling 222 places to No. 766 on the list, after his fortune dropped nearly $400 million to $3.1 billion. Forbes said the drop was partially due to a fall in the value of central New York property values and falling revenues at his golf courses.
Here is a list of Forbes' 2018 top 10 billionaires  
1.    Jeff Bezos, $112 billion
2.   Bill Gates, $90 billion
3.   Warren Buffett, $84 billion
4.    Bernard Arnault and family, $72 billion
5.    Mark Zuckerberg, $71 billion
6.    Amancio Ortega, $70 billion
7.    Carlos Slim Helu and family, $67.1 billion
8.    Charles Koch, $60 billion
9.    David Koch, $60 billion
10.  Larry Ellison, $58.5 billion