Amazon bookstores offer peek into Whole Foods' future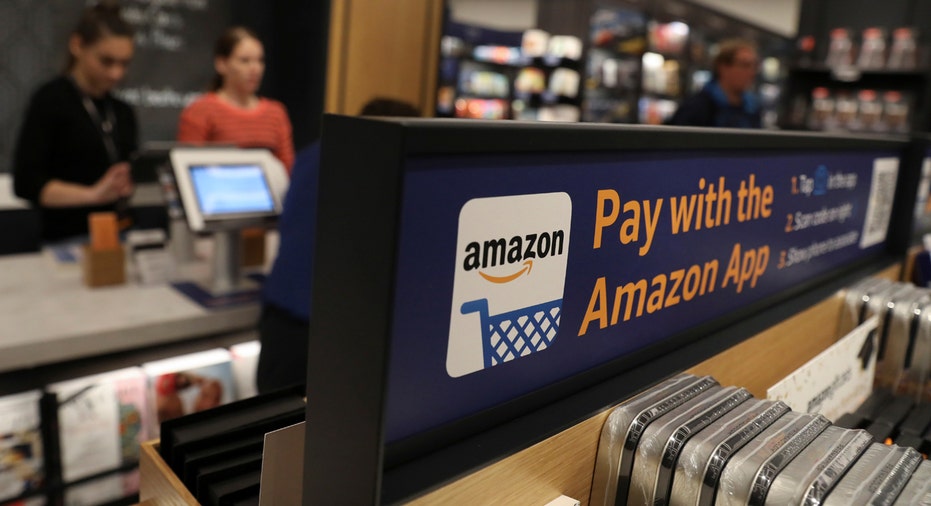 Amazon.com Inc. (NASDAQ:AMZN) is just starting to make its mark on Whole Foods Market Inc. stores. But for clues to what Amazon might have in mind for its new subsidiary, shoppers can look to the retail giant's walk-in laboratories: its brick-and-mortar bookstores.
The Seattle-based company launched its Amazon Books experiment about two years ago and has since used the locations to experiment with in-store pricing and selection.
At its dozen stores in cities such as New York, Chicago and San Jose, Calif., prices aren't marked. Instead, employees instruct shoppers to use their phones to scan a product for a price, which is lower for members of Prime, Amazon's paid membership service. There are also kiosks in store to check prices.
One advantage to Amazon of no price tags on shelves is that it has been able to import its online tool of dynamic pricing, where the price may fluctuate to match other deals. (Nonmembers pay the list price.)
For example, the hard-copy edition of "Notorious RBG: The Life and Times of Ruth Bader Ginsburg" by Irin Carmon and Shana Knizhnik was $10.36 recently, up from $9.72 last month. "60 Hikes Within 60 Miles, San Francisco" by Jane Huber was up $1.75 to $18.93 over the same period.
Amazon is encouraging the practice known as "showrooming," where consumers price-compare on their phones while in store, something that has punished many traditional retailers. Amazon wants consumers to use their phones in-store to see more reviews, purchase the e-book or order it to be delivered.
The scanning also allows Amazon a peek at consumer browsing, information retail experts say it can use to better tailor in-store selection and online customer recommendations.
The bookstores are "a huge way for them to jump ahead and streamline data," says Elaine Kwon, founder of e-commerce management and software firm Kwontified and a former Amazon manager.
Whole Foods shoppers probably will never have to scan a cereal box with their phone to determine that price or any other. But other changes Amazon has made in-store are more likely to be applied, like offering special prices to Prime members and keeping pricing consistent between products online and on the shelves.
Amazon declined to comment on what lessons it might carry over. It has previously said it would add Prime membership benefits at Whole Foods, but hasn't specified what those will entail.
The stakes are now much higher than just books: Amazon spent $13.5 billion in August to acquire Whole Foods and its 470-plus stores.
Most traditional retailers use decades of in-store sales data to inform their selection and pricing. With Amazon, online sales data drives decisions. Amazon is beginning to reap information about Whole Foods sales online after introducing the grocer's private-label goods on the online retail giant's site immediately after the acquisition.
In its first month, Amazon sold an estimated $1.6 million in Whole Foods-branded products on its site.
The online shopping data Amazon uses to shape its bookstores is as specific as what's selling well in the local ZIP Codes.
Amazon opened its first brick-and-mortar bookstore in its hometown of Seattle in 2015, two decades after selling its first books online. Openings have accelerated in the past year, and three more -- in Walnut Creek, Calif., Austin, Texas, and Washington, D.C. -- are slated.
In stores, covers all face outward, which limits selection but promotes browsing. "We think that in today's world, discovery is the best purpose for a bookstore," Jennifer Cast, vice president of Amazon Books, said in an interview last year.
Amazon's bookstores typically have a much smaller selection -- about 5,000 titles -- than a traditional book superstore. Barnes & Noble Inc., for example, carries between about 22,000 and 163,000 titles depending on store size, according to a recent company filing. Amazon stores' merchandisers look at geographical data, book reviews and local trends "to blend it together and give customers more information and a selection that reflects what is happening in the world," Ms. Cast said.
On a recent afternoon, customers streamed into one of the company's newest bookstores, in a high-end outdoor mall in San Jose. A store employee greeted them at the door, explaining that Amazon only stocks highly rated books -- those with four stars or more on the site -- in store.
A couple of shelves highlighted top sellers in the Bay Area, such as "A Man Called Ove" by Fredrik Backman and Paulo Coelho's "The Alchemist," while another narrowed it down to "Popular Books of Santana Row," the name of the development in which the store is located. Amazon borrows from its online features to offer short customer reviews for nearly every title.
In addition to featuring books by local authors or related to a local event, something many bookstores do, Amazon stocks other titles that are popular online with shoppers in the area surrounding the bookstore, based on its localized data.
For example, Chicago's recommendations included "You are a Badass: How to Stop Doubting Your Greatness and Start Living an Awesome Life," by Jen Sincero. Shoppers around the San Jose store bought "Rediscovering Americanism: And the Tyranny of Progressivism" by radio host Mark R. Levin. Meanwhile, New Yorkers were reading Cory Taylor's "Dying: A Memoir."
About a fifth of the San Jose store is dedicated to smart home devices and other electronics, including Philips lightbulbs and Bose headphones. Amazon's Kindle e-readers and Echo speakers dot the store for customers to test.
Eric Jan, an app developer, has visited nearly every day since the store's opening in August to browse and read. He goes for the experience, not to buy. He compares the feel of the store to Apple Inc.'s retail experience. "There's a feeling of exclusivity," says the 24 year-old. "During the weekends there's a line. You never see that for a traditional bookstore."
--Heather Haddon contributed to this article.
(END) Dow Jones Newswires
October 13, 2017 05:44 ET (09:44 GMT)