Alphabet CEO Larry Page Needs Adult Supervision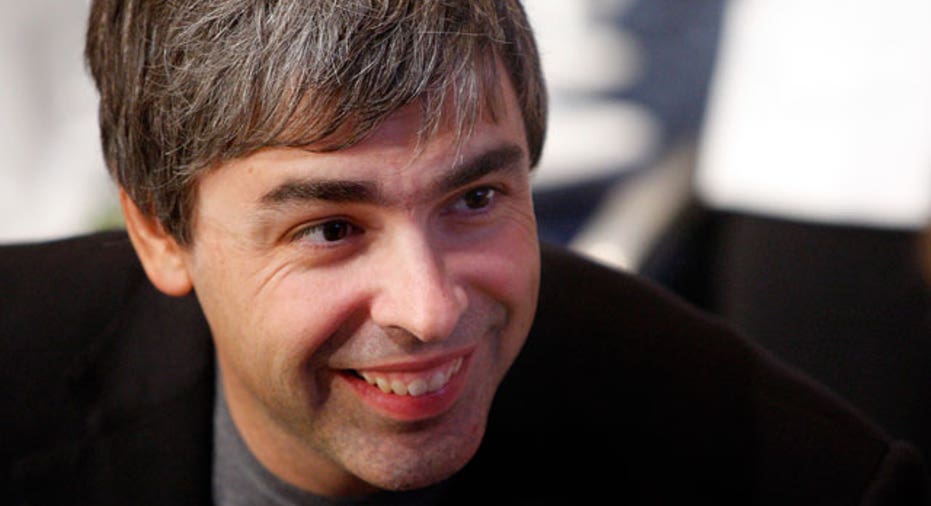 When Eric Schmidt stepped down as CEO of Google and left co-founder Larry Page in charge, he famously tweeted "Day-to-day adult supervision no longer needed." It looks to me like Schmidt may have jumped the gun by at least five years.
Like a teenager planning to throw a wild party when his parents go on vacation and leave him alone for the first time, I can just imagine the mischievous look on Page's face when his boss announced it was finally time to give him the key to the corner office.
Sure enough, Page and his co-founder sidekick, Sergey Brin, embarked on a wild spree of far-out projects, investments and acquisitions they called moonshots. It was as if they found the master switch labelled "Fiscal Responsibility" and flipped it to "OFF."
But when Ruth Porat jumped ship from Morgan Stanley to become CFO of Google last May, it seemed just like the parents had come home, flipped the switch back to "ON," and brought some much needed adult supervision back to the company.
Three months later, Google reorganized as Alphabet – a holding company made up of a search advertising giant that mints money and a long, long list of mostly money-losing moonshots officially known as "other bets." The idea was to hold those ventures accountable and turn them into money-making businesses.
That isn't working just yet, but the increased visibility has been a big step in the right direction.
Don't get me wrong. I'm still sort of shell-shocked by the dizzying array of venture capital units, projects and subsidiaries in Alphabet's lexicon of holdings and investments, some of which compete against each other. But it's comforting to know that Porat is there to temper the grandiose visions of Page and Brin.
Over a four-year period after Page took the reins, shares of Google barely kept pace with the rest of the Nasdaq. But since Porat showed up, the stock has taken off on its own moonshot, rising an astronomical 45% in just 15 months. That's no coincidence. Wall Street likes her brand of fiscal discipline and accountability.
Last week, Google Ventures (GV) head Bill Maris suddenly left the company. Nobody knows exactly why, but I doubt if it's any kind of performance issue. According to venture capital tracker CB Insights, GV has notched some big exits under Maris, including Jet.com's recent acquisition by Walmart for $3.3 billion.
A more likely reason for Maris' abrupt departure would be an upcoming consolidation between GV and Alphabet's later-stage investment arm, Google Capital. Over the past year, GV has all but abandoned seed investments, making it look a lot more like a conventional venture capital firm ... and Google Capital. It makes no sense to have separate competing units, rather than multiple funds under one roof.
Google has also made direct investments in Elon Musk's SpaceX and Florida-based augmented reality innovator Magic Leap. When the secretive startup launches its much anticipated first product, it would presumably compete with Google Glass. Clearly, the company is hedging its bets, but it's simply too costly to have so many units, projects and investments doing the same thing.
Earlier this summer, Tony Fadell abruptly resigned as CEO of Alphabet's Nest subsidiary, which he founded before Google acquired the learning thermostat maker for $3.2 billion in 2014. Rumor has it that the former Apple exec was forced out for failing to launch new products, missing revenue targets and botching the acquisition of Dropcam.
Then again, Google has its own home automation platform, Brillo, and the recently-announced Amazon Echo competitor Google Home. Once again, it would make sense to consolidate one or both of those efforts with Nest. Perhaps Fadell's departure was the first step in that process.
Last fall, Alphabet hired former Hyundai USA CEO John Krafcik to run its highly visible self-driving car unit. Since then, the project has lost three key executives, including two co-founders of the project. I wouldn't be surprised if those departures were in some way related to a strong push to finally monetize the technology.
Alphabet's "other bets" cost the company $859 million last quarter and $3.6 billion in 2015. Of the 10 or so independent units, only Nest, Fiber and life sciences unit Verily are generating significant revenue, generating just $185 million in sales last quarter.
As another sign of increasing scrutiny by Porat, Alphabet reportedly put its Boston Dynamics robot development unit up for sale and integrated its remaining robot projects into a single group under X, the secret research and development facility formerly known as Google X.
I know, it is confusing. Geeks and their toys. I bet Page and Brin have moonshots or investments for every letter of the alphabet. That's why they need Porat … to impart a little fiscal discipline and keep them from playing with their Alphabet soup all day long.