All the Cops in THEIR Doughnut Shop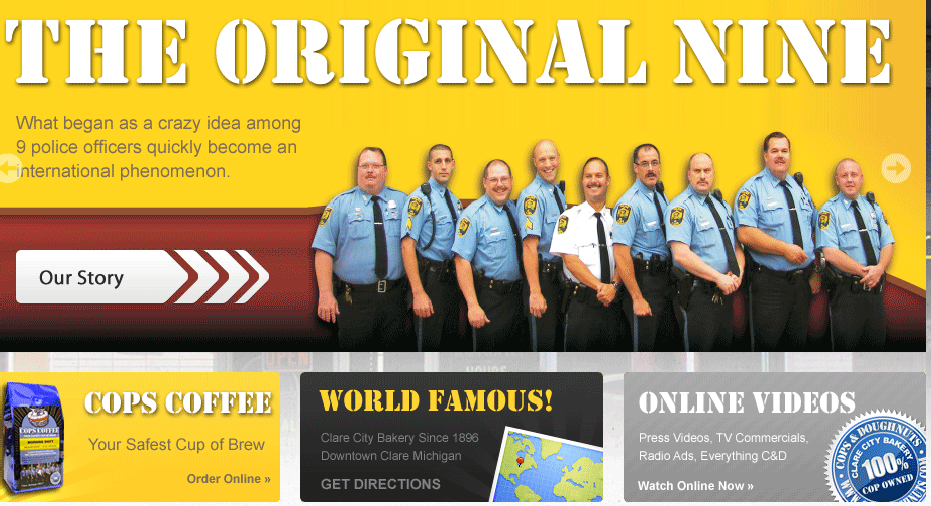 We're highlighting small businesses from around the country as nominated by you, our readers. If your favorite small business is using Twitter to communicate with customers, let us know about it @fbsmallbiz with the hashtag #mysbc, and it may be featured as an upcoming Small Business Spotlight.
Small Business Spotlight: Cops & Doughnuts
Who: Greg Rynearson, @CopsDoughnuts
What: Cop-owned bakery
When: 2009
Where: Clare, Mich.
How: When Greg Rynearson and the eight additional members of the Clare Police Department heard that the Historic Clare City Bakery was set to close its doors, the cops sprung to action. They drew up a business plan on a pizza box and bought the bakery that originally opened in 1896.
Cops & Doughnuts grew to take over storefronts on both sides of the original bakery, and the business recently peaked at 37 employees. But none of the cops take a paycheck, and none of the employees are their family members.
"We put a lot of money back into the community," Rynearson, president of the bakery, said.
Cops & Doughnuts also sells baked goods, apparel and its own coffee brand, Cops Coffee, through its website. Cops Coffee is also available for retail sales. Online sales have shipped to all 50 states and 13 other countries, Rynearson said, and the business hopes to switch to American-made for as many products as possible.
"We meet people in a different light than when we're on the job," he said, adding that the bakery's cop theme attracts people of all ages. "It's become a destination."
Quote from the owner: "Our police department has always been community oriented. Cops & Doughnuts gives us another outlet to reach out to the community."