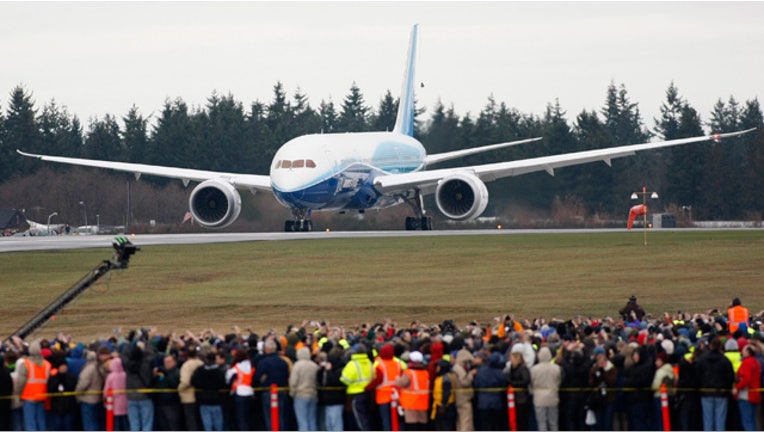 Mounting worries over the safety of Boeing's (NYSE:BA) revolutionary new 787, the Federal Aviation Administration late Wednesday grounded all Dreamliners and issued an emergency airworthiness directive requiring all carriers to temporarily cease operations of the aircraft.
The bold move is an effort to address the ongoing battery problems that prompted both an emergency landing earlier this week and a fire on a grounded jet last Monday.
United Airlines (NYSE:UAL), the only U.S. carrier currently operating the Dreamliner, said it would immediately ground its fleet of 787s under the FAA order and is rescheduling customers on other flights.
"United is complying with the airworthiness directive and is working closely with the FAA and Boeing on the technical review as we work toward restoring 787 service," a United spokesperson said.
Other carriers to ground their fleet include Ethiopian Airlines, Qatar Airways, Japan Airlines and All Nippon Airways.
Even LOT Polish Airlines, which seemed unmoved by the recent 787 mishaps and had planned to conduct the jet's inaugural trans-Atlantic commercial flight late Wednesday, postponed plans – as well as its lavish launch party – due to FAA recommendation.
In an attempt to address the potential battery fire risk, aerospace safety regulators are requiring that before further flight, all operators of U.S.-registered Boeing 787 aircraft demonstrate that the batteries are safe.
"The FAA will work with the manufacturer and carriers to develop a corrective action plan to allow the U.S. 787 fleet to resume operations as quickly and safely as possible," it said in a statement.
Shares of Boeing, however, are trading virtually flat.
Standard & Poor's Ratings Services said Thursday that its rating on Boeing is not affected despite the airworthiness directive, citing the jet maker's ample liquidity -- including more than $10 billion in cash and $4.6 billion in short-term investments.
Fitch Ratings also reaffirmed a stable credit rating on Boeing citing its liquidity, debt reduction and non-787 commercial backlog, though it said the problems will hurt Boeing's profitability and cash flow.
Depending on how complicated and costly the problems are to fix, they could impact Boeing's ability to increase production over the next five to 10 months, the S&P said, hurting revenue generation beyond 2013.
While no airlines have cancelled their Dreamliner orders amid the recent problems, that could change if the issues linger.
Analysts have been mixed on the problems, with some calling them just teething pains – similar to what all new aircraft go through – and many still maintaining their "buy" rating on Boeing's stock.
Others, of course, have underscored the serious importance of the issues and have said all problems must be resolved before the 787, and Boeing, can further evolve.
While they may be hiccups, the FAA rarely issues emergency airworthiness directives grounding entire fleets.
The FAA, which launched an investigation into the battery issues last week along with the National Transportation Safety Board, at first remained nonchalant on the issues. However its tune changed when a battery-fault alert prompted an emergency landing in Japan early Wednesday.
That mounted on a slew of problems in recent weeks, including several fuel leaks, fire in the auxiliary pack of a grounded 787 in Boston as well as a crack in a cock-pit window during a flight.
The root cause of the lithium ion battery problems remains under investigation. However, the FAA said the conditions, if not corrected, could result in damage to critical systems and structure, and the potential for fire in the electrical compartment.