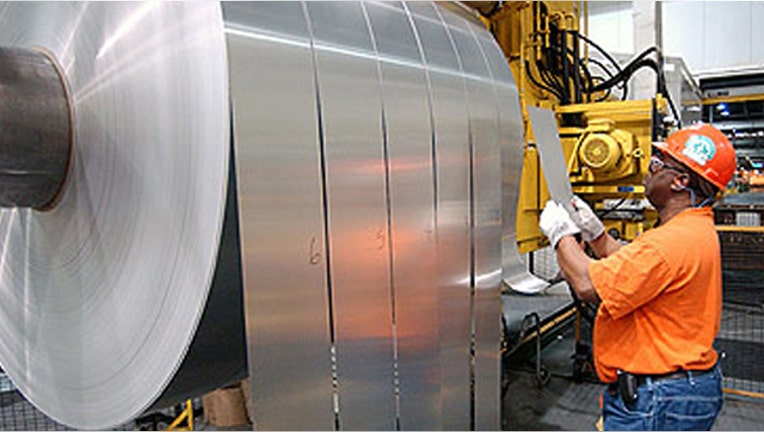 Alcoa Inc. (NYSE:AA) swung to a profit, kicking off earnings season with a beat, as the company posted better-than-anticipated results and forecast strong full-year demand buoyed by increased sales to the aerospace sector.
The aluminum-maker, and industry bellwether boosted its full-year growth forecast for the aerospace sector by three percentage points to between 13% and 14%, and backed its full-year global demand forecast for 7% growth.  Analysts polled by Thomson Reuters are looking for full-year earnings of 48 cents a share on revenue of $24.4 billion.
The company noted that higher productivity and improved market conditions helped to boost first-quarter results.  Alcoa posted net income of $94 million, or 9 cents a share, down compared with year-ago earnings of $308 million, or 28 cents a share. On an adjusted basis, earnings came in above expectations at 10 cents a share.
Revenue rose to $6.01 billion, topping expectations, increasing slightly from year-ago sales of $5.96 billion, despite a 9% aluminum price decline.
The Street had forecast a first-quarter loss of 4 cents a share on revenue of $5.77 billion.
Alcoa has had a rough ride of late; the company has missed the last three quarterly reports and the stock is down 46% over the past year.
Expectations for the industrial giant's first quarter were low, as energy prices have steadily spiked, increasing both shipping and production costs for the lightweight metal.  Couple the increased overhead with weak aluminum prices fueled by sagging demand, and most analysts were expecting a very mediocre quarter.
"Performance rebounded strongly this quarter due to our proactive cash sustainability actions, our relentless focus on profitable growth, and stabilizing markets," said Klaus Kleinfeld, Alcoa Chairman and Chief Executive Officer, in a release.
The company also said it is having success implementing its aggressive expense-cutting program, which is attempting to eliminate $800 million from its full-year production costs
Shares of Alcoa fell 28 cents, or 2.92%, ahead of results, closing at $9.32 a share.  Shares were up 48 cents, or 5.15%, in electronic trading after the bell.