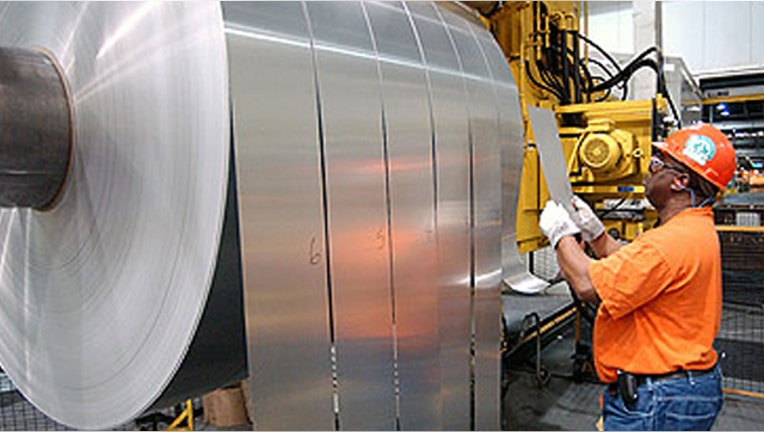 Kicking off earnings season on a mixed note, aluminum maker Alcoa (NYSE:AA) revealed an in-line adjusted fourth-quarter profit on Tuesday but stronger-than-anticipated revenue.
Shares of the blue-chip company, the first to report results for the final three months of 2012, rallied about 2% in the wake of the report before paring their gains a bit.
Alcoa said it earned $242 million, or 21 cents a share, last quarter, compared with a loss of $143 million, or 13 cents a share, a year earlier.
Excluding one-time items, the company earned 6 cents a share, matching consensus calls from analysts.
Revenue eased 2% year-over-year to $5.9 billion, easily topping the Street's view of $5.6 billion. Revenue was up 1% from the third quarter of 2012 thanks to a 5% rise in realized aluminum pricing.
"Alcoa hit record profitability in our mid and downstream businesses, and continued to drive efficiency in our upstream businesses in the fourth quarter, all while cutting debt and maintaining our cash position," CEO Klaus Kleinfeld said in a statement. "We overcame volatile metal prices and global economic instability to deliver on our targets for the fourth year in a row."
Alcoa's results were driven in part by continued cost-cutting efforts. The company said it has now completed a planned closure or curtailment of 531,000 metric tons, or 12%, of its highest-cost system smelting capacity.
Looking ahead, Alcoa projected global aluminum demand will grow 7% in 2013, thanks to up to 10% growth in aerospace and 2% to 7% in commercial transportation demand.
Alcoa also reaffirmed its long-term projection for global aluminum demand to double between 2010 and 2020.
Meanwhile, Alcoa detailed efforts to improve its balance sheet, which carried cash and equivalents of $1.86 billion at the end of 2012. Alcoa said it also ended the quarter with the lowest amount of net debt since 2006 and its net debt-to-capital ratio fell to 34.8% from 36.1% at the end of the third quarter.
On the regulatory front, Alcoa told investors it is "actively negotiating" with the Department of Justice and Securities and Exchange Commission to reach a resolution on the agencies' probes into racketeering and fraud charges filed by Aluminum Bahrain, or Alba.
Alcoa said it isn't able to estimate a "range of reasonably possible loss" tied to any potential settlement. The company agreed to pay Alba $85 million as part of a settlement reached in October.
Pittsburgh-based Alcoa saw its shares gain 1.43% to $9.23 in extended trading on Tuesday. Hurt by low aluminum prices, the stock is off 0.33% over the past 12 months.