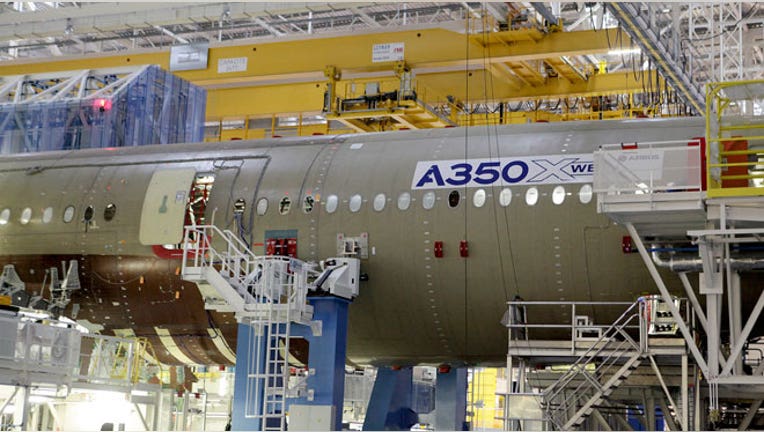 European Aeronautic Defense & Space Co. said on Wednesday that production of its new Airbus A350 jetliner, set for its first flight this summer, has presented challenges related to cost control and a near-full production schedule.
In its earnings release, EADS indicated that there is little room for error amid strong demand from airlines and a production backlog. The Netherlands-based company said "good progress is being made" on its A350 program, but "it remains challenging and there is no room left in the schedule."
"Any schedule change could lead to an increasingly higher impact on provision," the company added.
Airlines are increasingly looking for more fuel-efficient, single-aisle jets based on older models such as the Airbus A320 and Boeing's (NYSE:BA) 737 series.
EADS is currently working through an order backlog equivalent to eight years of production. The company said the A350 wide-body jet program, a competitor to the Boeing 787 Dreamliner, remains on track.
Boeing's new Dreamliner has been grounded as investigators look into issues with the 787's lithium-ion batteries. EADS intended to use the same battery in its A350 but opted to use nickel-cadmium batteries.
EADS also said its A380 superjumbo jet will weigh on revenue growth this year. The A380 has been plagued by higher costs and delays. Production will slow to 25 planes from 30 in 2012 as the company fixes problems with the aircraft's wings.
Despite concerns over the A350's tight schedule, EADS provided a bright outlook for 2013 after reporting fiscal 2012 earnings that exceeded its own guidance.
Meanwhile BAE Systems, a U.K.-based defense contractor, is less bullish about the current year. BAE Systems and EADS attempted to merge last year, but the deal fell apart. Political concerns out of Germany and some concerns at EADS over BAE's large defense business -- during a time when defense spending has fallen in developed countries -- contributed to the deal's collapse.