After NYT Outage, Rival WSJ Takes Down Paywall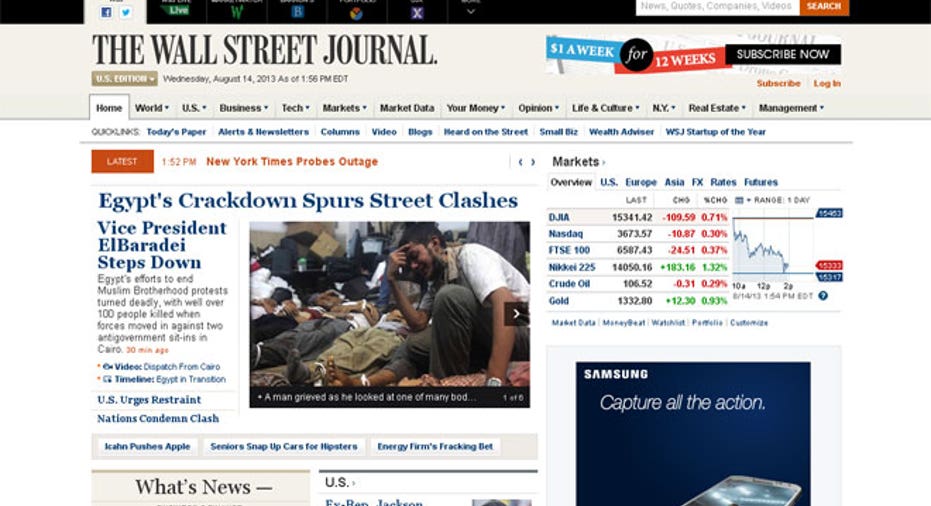 Following what sources told FOX Business was a cyber attack at The New York Times (NYSE:NYT), rival newspaper The Wall Street Journal said it would take down its paywall for two hours Wednesday afternoon.
Parent company Dow Jones said on its Twitter account that it was making the Journal's website, WSJ.com, available for free.
"Bonus lunchtime reading: WSJ.com is free to everyone for the next two hours," Dow Jones said on Twitter at around 1:15 p.m. ET.
When asked if The Grey Lady's outage spurred the move, a Dow Jones spokesperson said the website was made available for free because of the developments in Egypt, where a state of emergency was declared amid violent protests.
Dow Jones is a unit of former FOX Business parent News Corp. (NASDAQ:NWSA), which recently spun off its television and film assets into 21st Century Fox (NASDAQ:FOXA).
Articles on the Journal's website were available for free as of 2:10 p.m. ET. The newspaper's online paywall normally requires a subscription to access most articles, while blogs and videos are available free of charge.
News Corp. shares were trading 11 cents higher at $15.94 in mid-afternoon trading.