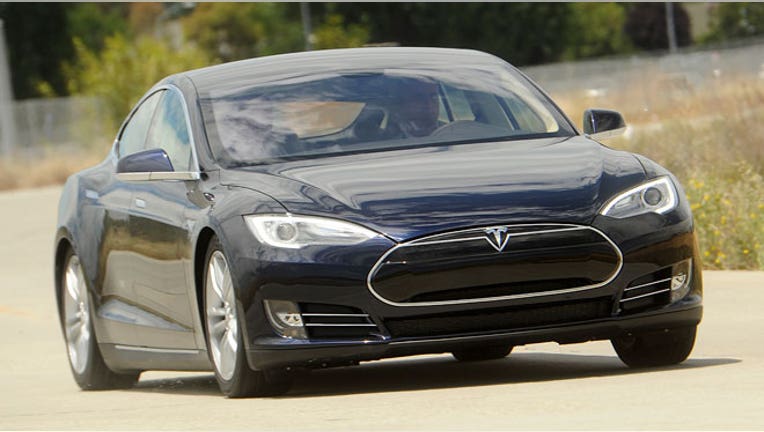 Traders continued to throw cold water on Tesla (NASDAQ:TSLA) after seeing a video showing a Model S on fire, an incident that gave bears more reason to doubt the stock's rapid ascent.
Tesla's slide began on Wednesday afternoon, when investors caught wind of the online video and sent shares down 6.2%. Shares continued to fall Thursday, closing 4.2% lower at $173.31.
The vehicle fire occurred near Kent, Wash., and video showed the front end of the Model S engulfed in flames. The fire department put out the fire after using a jack to lift the car up and gain access to the battery pack.
Palo Alto, Calif.-based Tesla said the fire occurred after a collision with a large metallic object in the middle of the road.
"The car's alert system signaled a problem and instructed the driver to pull over safely, which he did. No one was injured, and the sole occupant had sufficient time to exit the vehicle safely and call the authorities," the company said.
But Wall Street wasn't completely convinced.
Analysts at Stifel Nicolaus pinned the stock's decline on a lack of model diversity for Tesla. In a research note to clients, Sifel said despite the incident being an isolated issue, the bar is set much higher for Tesla since its focus is solely on electric vehicles.
"This report is a negative for not only Tesla, but all global OEMs offering plug-in hybrid vehicles with electric batteries," the analysts wrote. "However, given early stages of growth, we believe consumer perception remains far more critical to Tesla than peers."
The concern is Tesla won't be able to sustain any "onslaught of consumer complaints and incidents that could potentially dent the demand curve for the next vehicle," Stifel added, noting there's been an increase in consumer complaints to the National Highway Traffic and Safety Administration.
Deutsche Bank analysts downplayed the fire, saying the incident "could happen to any vehicle." The stock was already up nearly 500% so far this year, and the fire was an excuse for traders to shift into reverse, they added.
While Tesla's Model S plug-in sedan received the highest safety rating possible from NHTSA, Kelley Blue Book senior analyst Karl Brauer said safety challenges related to electric cars are still being worked out. He added that the wide variety of crash scenarios can't be tested in a lab.
"The Tesla Model S performed well in standard crash tests, yet what sounds like a relatively minor impact resulted in a fire that proved difficult to extinguish," Brauer said.
Meanwhile, NHTSA investigators won't immediately be available to look into the Model S fire as a result of the federal government shutdown, he added.