After Blowing $108M, Antoine Walker Helps Athletes Avoid Bankruptcy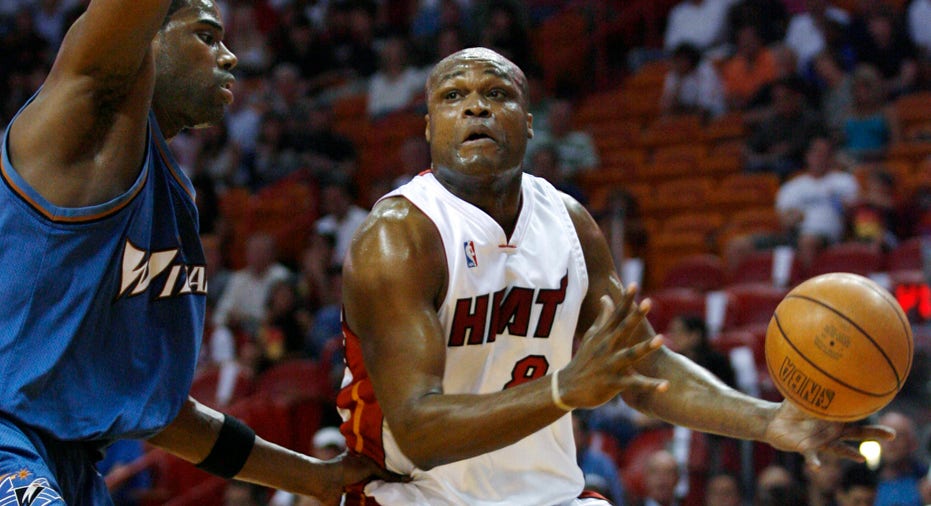 Antoine Walker is uniquely equipped to warn Ben Simmons and the other young players taken in this month's 2016 NBA Draft about the dangers of money mismanagement.
A former NBA champion and three-time All-Star, Walker earned $108 million during his 13-year career in pro basketball. Within two years of his 2008 retirement, Walker declared bankruptcy, his entire savings wiped away by undisciplined spending and a lack of understanding about the value of a dollar.
Now 39, Walker is teaming up with Morgan Stanley's (NYSE:MS) Global Sports and Entertainment division to educate young NBA stars and athletes in other professional sports about how to properly manage their money – and how to avoid the mistakes that can empty a bank account.
"I came into the league at 19 years old, getting drafted so young and having a lack of education of how to handle situations and how to deal with money," Walker told FOXBusiness.com. "I didn't really have a concept of a dollar and when I get to the league, there was a lot of things I wanted to do personally, as far as taking care of my family, brothers and sisters, mom, putting them in better living situations. I had a host of things I wanted to do but didn't know how to do it and didn't know the right way to do it."
Walker is one of several prominent pro athletes, including legendary boxer Mike Tyson and former NFL star Terrell Owens, who have experienced post-retirement financial turmoil. Estimates vary wildly, but an oft-cited 2009 Sports Illustrated report found that 60% of former NBA players went broke within five years of their last game, while 78% of former NFL players declared bankruptcy or experienced financial hardship within two years of their retirement.
In some ways, NBA players are better situated than athletes in other sports when it comes to earning potential. The average NBA player earned $4.6 million during the 2014-15 season – a higher total than any of the United States' other three major sports leagues, according to Forbes. The typical NBA career lasts 4.8 seasons, with career earnings averaging around $24.7 million.
Morgan Stanley's financial education program is specifically tailored to educate college and young pro athletes about how to successfully plan for retirement while avoiding the common mistakes that have derailed so many of their contemporaries. Since last year, several NCAA and pro teams, including the NFL's Seattle Seahawks and Jacksonville Jaguars, have turned to Morgan Stanley's experts for training sessions.
"When I came in at 19, I didn't think about 39. Because the money comes in on the first and the fifteenth, you're young, you're athletic, you're healthy," Walker said. "The biggest thing is we try to help they realize what they're going through."
For Walker, a desire for a lavish lifestyle and an inability to decline requests from friends and loved ones had wiped out his savings just two years after his last NBA game.
But those are just two common financial pitfalls that young athletes face while struggling to adjust to life in the public eye, according to Drew Hawkins, managing director of Morgan Stanley's Global Sports and Entertainment division. Wild spending, a failure to properly account for high tax rates, shady financial advisors, poor saving strategies and risky investments can all lead to bankruptcy.
The program's chief focus is to make money lessons relatable to athletes. Players are instructed on how to maintain a budget, preserve their credit, build their investment portfolios and properly vet agents and financial advisors. Ex-players who have lived through financial difficulties, like Walker, are brought in to talk bluntly about their experiences.
"We wanted to create a platform, an infrastructure with our division that had a big emphasis on the financial education piece, that was not a typical [example] of an advisor coming in with a suit and tie using complex Wall Street investment terms and talking at people or over their head, but to do it in a way that was interactive, that they could connect to and relate to at their level," Hawkins said.
New reports about individual athletes who have burned through their earnings are relatively common, but the exact extent of the issue is difficult to quantify. NBA officials have repeatedly denied the 2009 Sports Illustrated report's claim about the prevalence of financial troubles among its former players.
"We have not found any kind of research or fact based on that number. In fact, we refute that it's true," Greg Taylor, the NBA's senior vice president of player development, told FOXBusiness.com. "What we do say is, if any player ends up in that situation – and we do know that there are players who do end up in that situation – any more than one is too many."
The NBA has a financial education system of its own to instruct young players on some basic principles of money management. Every August, league officials, financial education experts and former players come together for the "Rookie Transition Program."
Held over four days, the symposium is designed to train young pros on everything from healthy personal relationships to social media etiquette. Each player participates in about two hours of mandatory financial training, Taylor said.
"We want our guys to grow skills in some of the basic management, understanding and strategy that we know are tried and true, [including] budgeting, understanding of credit, power of attorney, understanding what are the taxes and the tax structure that are taken out of paychecks and the like," Taylor said.
But ultimately, each player is responsible for their own money and business portfolio. It can be difficult for a newly-rich teenager, already inundated with information while transitioning from amateur basketball to the pro lifestyle, to maintain financial discipline.
Separate training, such as that offered by Morgan Stanley and other institutions, can help a young player stay focused on the realities of the business, Walker said.
"When you come into the league, you just kind of go through a crash course. You don't really get a full understanding of how to take care of your money," Walker said. "But now, when we get an opportunity where we can come in and really let them see it in real life, I think it makes a huge difference."