After 5 Years, Grown-Up Groupon Gets 'Sophisticated'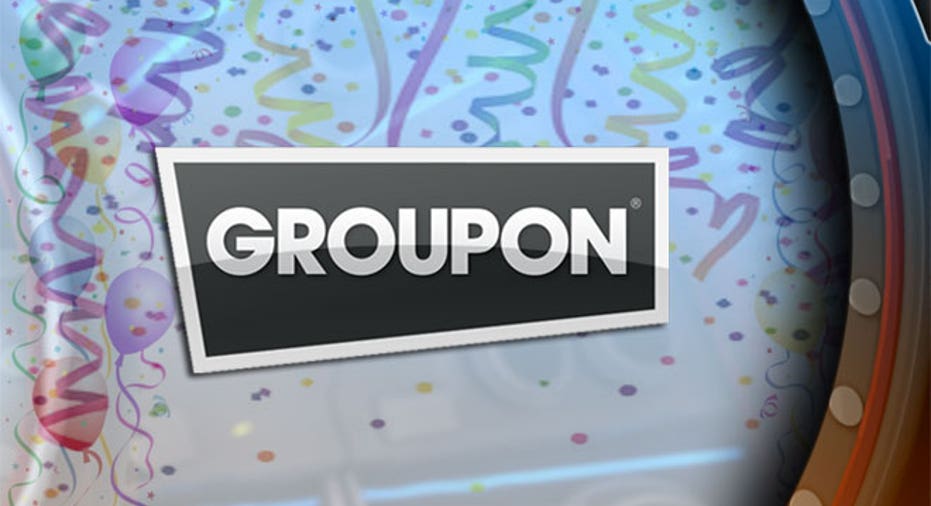 After five roller-coaster years that resembled a teen's awkward adolescence, Groupon (NASDAQ:GRPN) finally seems to be growing up.
As it celebrates its five-year anniversary, the Chicago-based site on Friday rolled out a brand new website that it says gives the site a more "sophisticated new look and feel" with an "uncluttered presentation and bolder imagery."
It also launched upgrades to its Apple (NASDAQ:AAPL) and Android apps aimed at making it easier for customers to shop Groupon, and entered new international markets as it looks to grab an even greater share of the daily deals market.
"In just five years, Groupon has grown from a daily deal website to a true online marketplace with a tremendous mobile following," Groupon's new CEO Eric Lefkofsky said in a statement.
Groupon has sold 400 million deals since its birth as customers traveled to African safaris, bought countless manicures and visited thousands of eateries. It has racked up some 50 million app downloads and featured more than 500,000 merchants.
Yet the company's stock price remains off about 60% from its November 2011 initial public offering price, signaling it still needs to do more to win over frustrated merchants.
Groupon's troubles started weeks before its IPO when the Securities and Exchange Commission pressed the daily deals site on its accounting methods and profitability numbers.
The unwanted SEC attention raised alarms ahead of its market debut, and while Groupon was able to clear that hurdle, becoming the biggest U.S. web company to go public since Google (NASDAQ:GOOG) during its November debut, later headaches emerged when merchants began to complain that they were losing money from the service, and Groupon in 2012 lost 87% of its value.
However, in recent quarters it has started to turn itself around.
Groupon ousted former CEO Andrew Mason in February, appointing Lefkofsky in August, and after reporting a loss of $81.1 million in the fourth quarter, its loss shrunk drastically to $7.6 million in the second quarter.
The company in August also boasted a 7% revenue increase to $608.7 million, topping expectations, and declared a new $300 million share buyback program, sending its shares up about 20% in one day.
Earlier this month, Groupon added video-sharing startup Shutterfly CEO and former eBay (NASDAQ:EBAY) vice president of business development and Internet marketing, Jeffrey Housenbold, to its board.
"It's been amazing to watch Groupon's meteoric rise from an idea to a global business," Housenbold told FOX Business in an interview on Friday.
He noted that while there were initial concerns Groupon's service could be imitated, it learned from eBay and Google (NASDAQ:GOOG) and quickly established an international presence that differentiates Groupon from its competitors.
With Friday's app upgrade, Groupon said its service was pushed into 12 new international markets, including Puerto Rico, Russia, Thailand, New Zealand, Mexico, Ireland, French Canada, Austria, Chile, Colombia, Peru and the Philippines.
There are "still things for them to prove" he told FOX Business, but added that Groupon "can continue to grow to further establish themselves as one of the top e-commerce platforms."
The website upgrade that tones down the cheesy graphics and colors may help give Groupon a more prestigious feel, potentially even helping to attract more affluent customers, notes Rob Enderle, analyst at the Enderle Group.
"People want a deal but they don't want to buy hunk of junk," Enderle said.  "By providing a more highbrow look, they are portraying a more upscale service that provides more value."
Shares of Groupon on Friday were up close to 8% to $9.85, pushing them up about 101% on the year.
Professional Cake Blowers, Anyone?
To mark the celebration, Groupon is hosting a month-long party of special offers.
"Most 5-year-olds grasp the concept of time and learn to follow multi-step directions," Groupon said in a statement. "Groupon has developed emotional prowess and fine motor skills well beyond its years and is celebrating five years of great offerings with five more outstanding deals."
In its hometown of Chicago, Groupon said it was offering a "birthday splurge to celebrate its fifth birthday," including three deals from the Windy City's  Da Lobsta restaurant.
"Da Lobsta is back on Groupon after its success with running a deal to promote its first Gold Coast location," the company said.
Also in Chicago it is offering birthday-specific, just-for-fun deals, including the ability to skydive with a member of the Groupon staff, a five-foot party cake where the cake delivery team will sing "Happy Birthday" five times and a professional candle-blower and wishing team.
In Atlanta, its birthday deal includes a more than half-off coupon for Georgia's five-mile long Callaway Gardens Fantasy in Lights display, which is made up of eight million lights.
The company is also launching a brand new Gift Shop on the website that it says will feature "unique collections and gifts from local businesses, Groupon Goods and Groupon Getaways."
FOX Business reporter Matt Egan contributed to this report.