Affluent Plastic: Are High-End Credit Cards Worth it?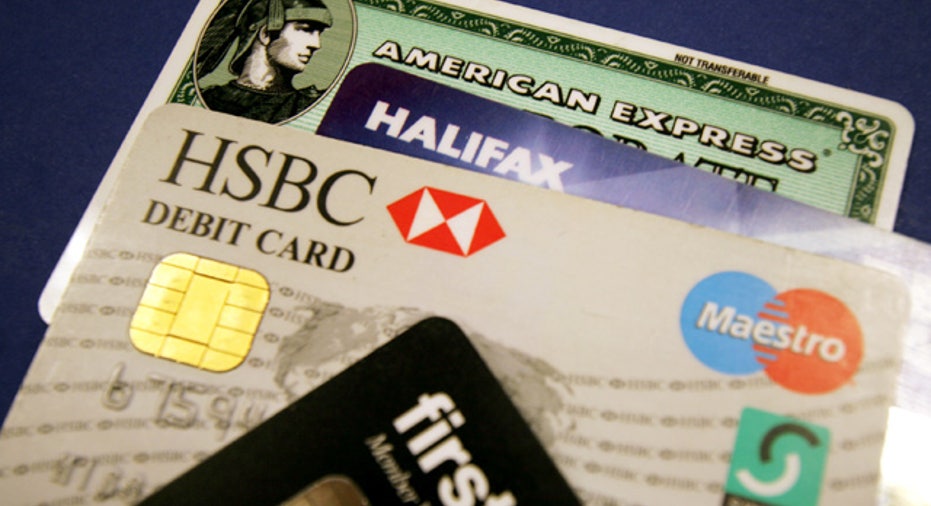 Competition is heating up in the lucrative high-end credit card market, where annual fees can run into the hundreds, or even thousands, of dollars. Issuers are offering luxury benefits and exclusive rewards programs in an attempt to win the loyalty of affluent consumers.
"Many of the larger card issuers covet high-net worth clients because of their huge charge volume, rather than the typical finance charge revenue they might earn from the masses," says Ben Woolsey of CreditCards.com. That charge volume can top $20,000 a month, by some estimates. "People with large charge volume generate significant amounts of interchange revenue for the issuer," he said.
But are the perks of that diamond-encrusted or titanium status symbol worth the minimum spending requirements and hefty annual fees?
Described as "the world's most prestigious and versatile credit card," the Visa Black Card recently made the list of CardHub.com's Worst Credit Cards on the Market.
This patent-pending carbon card carries a $495 annual fee and a 14.99% APR. Benefits include VIP airport lounge access and promises of luxury gifts from leading brands, but only 1% cash back on purchases, falling well below the cash-back rewards of cards with no annual fee, says Odysseas Papadimitriou, CEO of CardHub.com and a former Capital One executive.
"Affluent consumers can get anything they want. For them, it's even more important that they comparison shop and look at all their options so they don't get caught wasting their money on cards that are poor choices for them," he says.
The behemoth in the luxury card market is the "rarely seen, always recognized" American Express Centurion card — known colloquially in top-tier circles as the "Amex Black." So exclusive — the only information on the company's website is: "Available by invitation only, The Centurion Card is the world's rarest American Express Card and confers a level of service that can be extended only to selected individuals worldwide." Amex representatives are quick to uphold the mystique: "We don't share much," says one rep I spoke to, adding only that membership affords personalized benefits based on what is known about the client.
The cloak-and-dagger routine has lead to such devote sites as luxuryplastic.com, which seems obsessed with exposing every detail of these personalized benefits. According to their website, Centurion offers access to:personal assigned concierge servicesprivate yacht program accessinvite-only sporting and performing arts events (think the VIP tent at the Monaco Grand Prix)membership to the Space Adventures' Spaceflight Clubprivate shopping at Bergdorf Goodman
According to a recent Forbes article, the card carries an annual fee of $2,500, has a minimum spending requirement of $250,000 and will cost you $5,000 to open an account. Worth the price of admission? If you're a wealthy spend-thrift, not likely.
MasterCard is also looking for a slice of the pie with their World Elite card. Designed for those with an annual income of $250,000 or more, MasterCard hopes to tap into the post-crisis shift away from materialism by highlighting its experiential perks and benefits, says Edward Olebe, group head of U.S. consumer credit for MasterCard Worldwide.
The strong correlation between affluence and travel has prompted MasterCard to include such services as personal travel advisers, domestic and the soon-to-be-launched global concierge services, along with amenities in luxury hotels, cruise packages and a complimentary membership to Destination Cellars — a luxury travel club that offers personalized travel experiences to global wine properties.
"These are the kind of things that more aptly define people rather than if you have $10 million or $15 million," says Olebe.
A shift in consumer behavior and restrictions on marketing and fees imposed by the CARD Act mean issuers will likely increase their courtship of the high-end consumers as the market grows, says Olebe. Research shows a shift away from compartmentalized spending — gas, retail and airline cards — as consumers opt for fewer cards to meet their needs. As credit card companies compete to be the go-to plastic (or carbon, titanium) for the wealthy, the more exclusive the access and the more lavish the services, the better.
"People view these premium cards as a way to get things that they wouldn't ordinarily be able to get and to have experiences that are more than just a purchase," says Olebe.