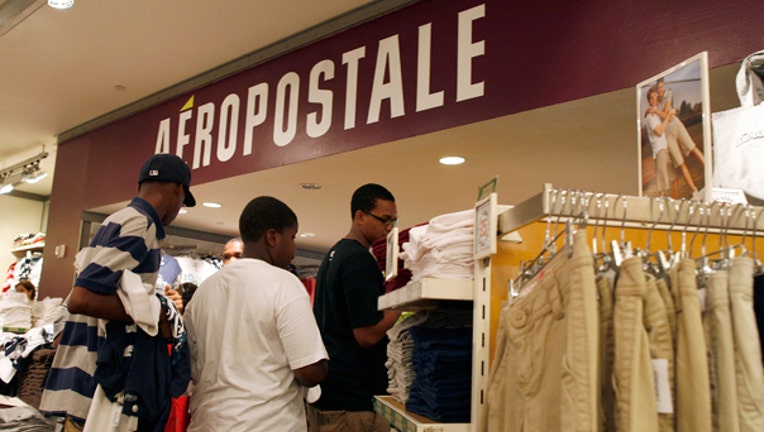 Aeropostale (NYSE:ARO) narrowly beat the Street late Wednesday with a 3% rise in third-quarter profits, but the apparel maker's shares plunged on a dreary outlook for the crucial holiday-shopping season quarter.
The retailer acknowledged a "challenging" environment during the first few weeks of November as consumers brace for the fiscal cliff.
New York-based Aeropostale said it earned $24.9 million, or 31 cents a share, last quarter, compared with a profit of $24.1 million, or 30 cents a share, a year earlier. Analysts had called for EPS of 29 cents.
Net sales increased 2% to $605.9 million, topping the Street's view of $600.4 million.
Same-store sales, excluding e-commerce, slid 2% last quarter, compared with a 9% tumble the year before. Including e-commerce, same-store sales slipped 1%. Overall online sales jumped 12% to $51.1 million.
"Although we experienced pressure on our women's core basics business, she responded positively to our fashion offering," CEO Thomas Johnson said in a statement.
Yet Wall Street was clearly spooked by Aeropostale's outlook as management projected fourth-quarter non-GAAP EPS of 36 cents to 41 cents, down from 44 cents in the same period of 2011.
Even the high end of the new range would badly trail consensus calls from analysts for EPS of 54 cents
"While our performance over the Black Friday weekend was encouraging, the environment during the first few weeks of November was challenging," Johnson said. "We continue to be cautious for the remainder of the quarter given the inconsistency we are seeing in our business against the backdrop of a highly promotional environment."
Shares of Aeropostale tumbled 7.15% to $13.11 in after-hours trading on Wednesday, wiping out a 6.09% rally during regular trading. Aeropostale closed out the day in a 7.41% year-to-date slump.